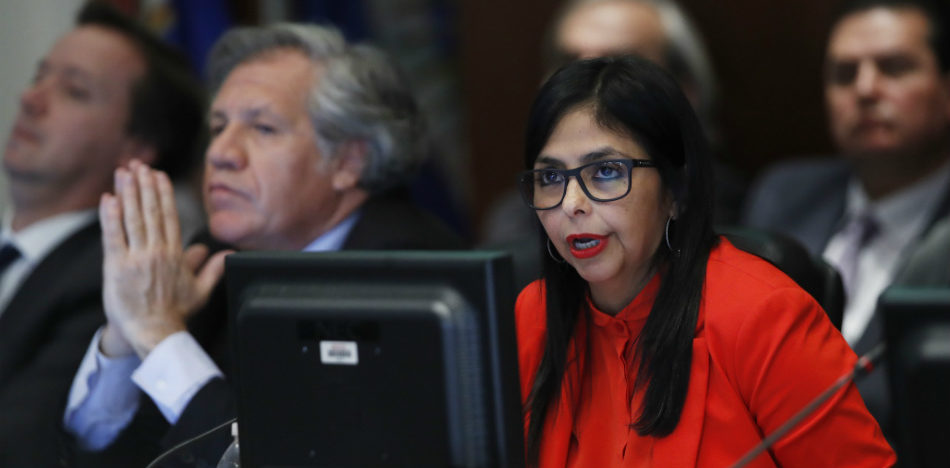 EspañolVenezuelan Foreign Minister Delcy Rodríguez announced this week that President Nicolás Maduro's administration is considering a withdraw from the Organization of American States should its members convene against Venezuela's wishes.
After OAS members met on Wednesday, April 26, Rodríguez said Venezuela will begin the process of separating from the organization.
. @DrodriguezVen: Mañana presentaremos la carta de renuncia a la OEA, #EnVIVOplay por: https://t.co/l2waE3Rq3i pic.twitter.com/qVkkZMkIMa

— VIVOplay (@vivoplaynet) April 26, 2017
Tweet: We will present present a resignation letter to the OAS tomorrow.
ÚLTIMA HORA | .@DrodriguezVen anuncia que Venezuela inicia mañana proceso de retiro de la OEA: El procedimiento tardaría 24 meses.

— AlbertoRodNews (@AlbertoRodNews) April 26, 2017
Tweet: BREAKING Foreign Minister D. Rodriguez announced that Venezuela will initiate a withdrawal process from the OAS. The procedure will last 24 months.
On the night of March 25, the Foreign Minister warned that, in the event of a meeting of Foreign Ministers, Maduro's dictatorship would formally begin Venezuela's withdrawal from the Organization of American States.
"I have received instructions from the head of state, Nicolas Maduro, to begin the withdrawal of Venezuela from Organization of American States if any meeting of foreign ministers of the Organization of American States is not backed by the Venezuelan government," she said at the time.
Well, they kept their word.
"Today, the people of Venezuela are waging a battle for their sovereignty, and we know that our diplomacy has nothing to do with the shameful history of the OAS," Rodríguez added.
The process, she explained, "would take 24 months" and would cost at least US $8.7 million, which is a considerable amount for a country so heavily in debt.
Article 143 of the OAS Charter states that the country that leaves the organization must endure a two-year process and pay the outstanding debt of its installment as a member of the OAS. As of December 2016, the debt stood at $8,764,449.
Despite the Rodriguez's threats, opposition Congressmen Delsa Solorzano stated: "The only way we can no longer be part of these multilateral organizations would be through a constitutional reform," which is why "… Venezuela's eventual withdrawal from the OAS does not seem valid."
Source: Efecto Cocuyo CNN Español