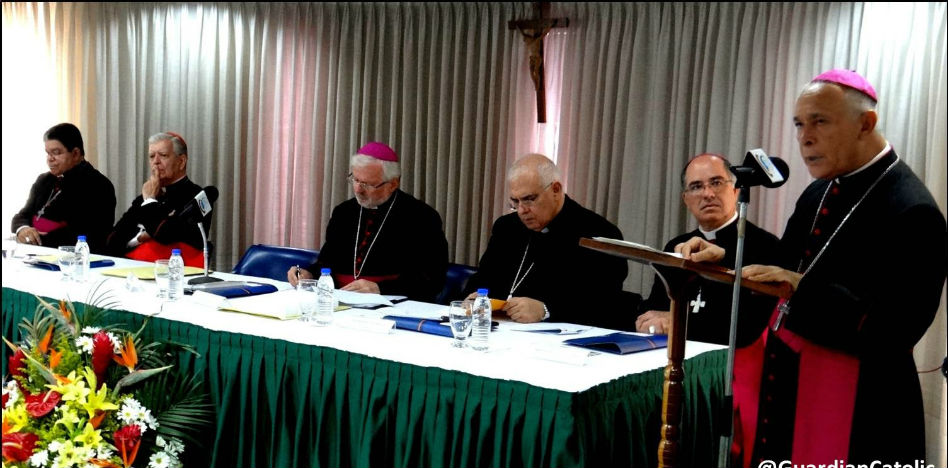 EspañolOn Friday, March 31, the Venezuelan Episcopal Conference (CEV) published a memorandum in which it summons Venezuelan citizens to adopt strategies such as "civil disobedience" or "peaceful protests" in reaction to the "self-induced coup d'état" in Venezuela.
According to the memorandum,
We are very close to Easter. For Catholics, the commemoration of the abuses against our Lord Jesus Christ is an urgent cry to build awareness and act in a peaceful but compelling manner in the face of this assault by the powerful.
Comunicado de la Conferencia Episcopal Venezolana. pic.twitter.com/DcrxY19UHA @AulaAbiertaVE

— DDHH UCV (@Centroparalapaz) April 1, 2017
We cannot remain passive, become cowardly or despair. We have to defend our rights and the rights of others. It is time to ask a serious and responsible question: is it not timely and just to summon civil disobedience, peaceful protests, and fair complaints against the governing power and/or international institutions?
Likewise, the association of Venezuelan bishops stated that "the exercise of power in Venezuela has been distorted…"
It seems like everything revolves around the political, understood as the conquest of power. We have forgotten that the people's real needs demand another vision of power. We are witnessing an incapacity to find a solution to the problem of scarcity and the high prices of food and medicine, to the mounting violence, the incitement of hatred and ignorance of basic norms for a peaceful coexistence.
The statement concludes that
to ignore the existence of others and their rights simply destroys any chance to coexist in a pluralistic democracy. It provokes despair as the fundamental rights that any government should guarantee are violated.
Last Thursday, March 30, the Venezuelan Supreme Court of Justice decided to nullify the National Assembly (Congress) and assume its legislative functions. Immediately, the Venezuelan opposition denounced a coup d'état in the country and a total rupture of constitutional democracy.
Source: Drive