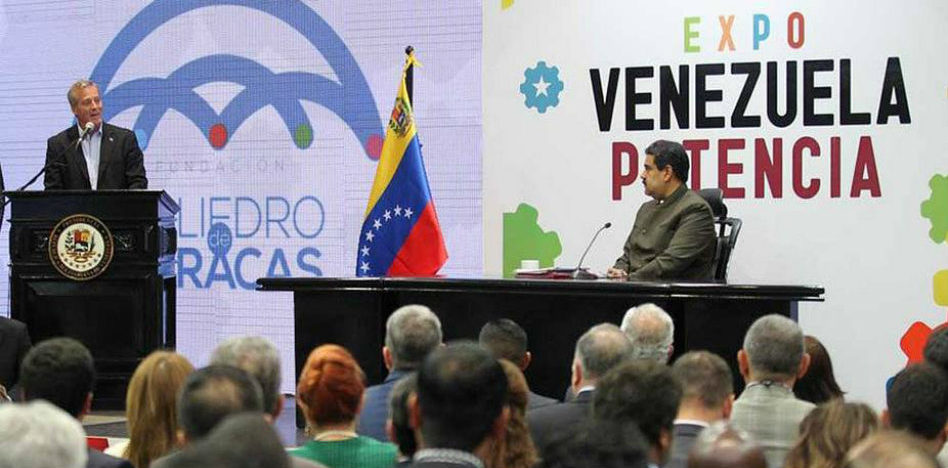 Despite the fact that every day the humanitarian, political and, social crisis in Venezuela is worsening, for the dictatorship of Nicolás Maduro neither food nor medicine is a priority. This Thursday, March 23rd, the company paid Ron Santa Teresa USD $4.3 million to finance the acquisition of assets.
In an event at the Poliedro de Caracas, where the Venezuelan Power Expo 2017 was inaugurated, at a meeting with key businessmen, the president of the renowned rum company Ron Santa Teresa, Alberto Vollmer, thanked the Chavista leader for the organization of the event.
For Vollmer, the rapprochement between the state and the entrepreneurs is extraordinary: "Only together, as a nation, will we be able to face the challenges we face. We are taking advantage of that opportunity."
For his part, the dictator Nicolás Maduro said, during the event broadcast on state television, "here we have the Venezuela of the future, the Venezuela with real power. Today we have the eyes of the world watching Venezuela."
Immediately, social networks began to criticize the event. One of the issues that came to light was the fact that for months the workers of the food company, Polar, have been asking for foreign currency to pay suppliers and to be able to produce. However, the necessary foreign exchange has not been approved by the government.
A Lorenzo Mendoza le niegan divisas para comida pero para Alberto Vollmer si hay para RON Santa Teresa #SoloEnVenezuela

— Manuel ESE (@ManuelSuarezQ) March 23, 2017
Lorenzo Mendoza denuncia empresas paradas de harina pan!
Este empresario no se vende por 3Mill$ ahí la diferencia con Alberto Vollmer! pic.twitter.com/cO5pLCiOL5

— GéGé (@GegeRpz) March 23, 2017
Criticism of Vollmer was marked. Some even dared to point out that the entrepreneur had "sold" the company for millions of dollars.
"Alberto Vollmer played the role today that Maduro would have wanted for Lorenzo Mendoza in today's productive circus," wrote twitter user and member of the Vente Venezuela political movement, Miguel A. Martínez.
Si el gobierno le niega divisas a Lorenzo Mendoza es q quiere asfixiar a Polar, si le da a Alberto Vollmer éste es un vendido #GanasDeJoder

— Dr Salazar (@jogresa01) March 23, 2017
Addressing the matter, the political analyst and professor of the Central University of Venezuela, Pedro Urruchurtu, wrote: "Regime draws in Vollmer as the businessman that suits them: privileged, but at the same time silenced; bought. That too is complicity."
El régimen halla en Vollmer a la contrafigura de Mendoza.

Héroes y villanos, según ellos.

— Pedro Urruchurtu (@Urruchurtu) March 23, 2017
Source: El Nacional