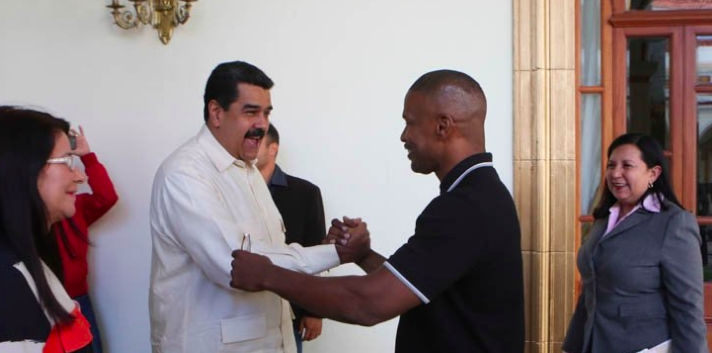 EspañolOn October 4, the President of Venezuela Nicolás Maduro met with Oscar-winning actor, comedian, and singer Jamie Foxx and actor Lukas Haas at the Miraflores presidential palace in Caracas.
Foxx and Haas traveled to the South American nation to express their support for the embattled Maduro administration, whose neglect of the economy has led to poor Venezuelans who don't support the regime's "socialist revolution" scavenging for food among trash.
The US artists were also received by the administration's top cadre: First Lady Cilia Flores, the Minister of Foreign Affairs Delcy Rodríguez, the Minister of the Office of the President Carmen Melendez, the Minister for Habitat and Housing Manuel Quevedo, and the Governor of Aragua Tarek El Aissami.
According to a government website, Jamie Foxx and Lukas Haas were described as environmental activists who arrived in Venezuela to promote ecological sustainable development.
Venezuelans immediately began voicing their discontent on social media over what they believed was a legitimization of the Nicolás Maduro regime, which has been accused by several international organizations of human-rights violations.
The country is also going through a profound political and humanitarian crisis as inflation, widespread shortages, and crime spiral out of control. Maduro himself might face a recall referendum soon.
Jamie Foxx está en Miraflores porque él es una de las piezas de todo un tinglado global de intereses que incluye al régimen venezolano…

— Tony De Viveiros (@TonyDeViveiros) October 4, 2016
Jamie Foxx is in the Miraflores palace because he is one of the pieces of a network of global interests that include the Venezuelan regime.
The African-American actor is just another one in a string of Hollywood celebrities who have sung the praise of Venezuela's socialist experiment over the years. Notable figures include Sean Penn, Oliver Stone, Michael Moore, and Danny Glover.