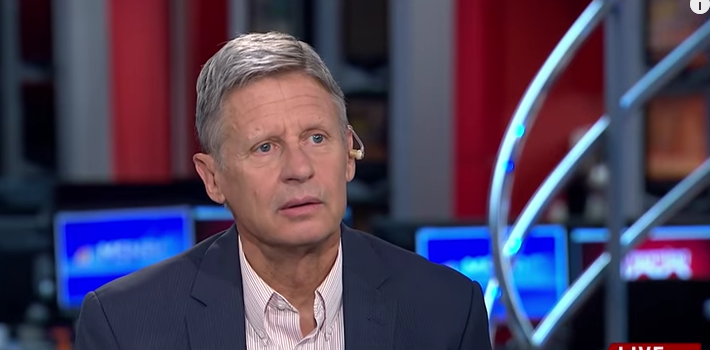 EspañolThe media was quick to pounce on Libertarian presidential candidate Gary Johnson after he said he didn't know what Aleppo — a city in Syria — was during an interview on NBC.
The ironic part was that the New York Times, in attempting to report on the flub, made a similar mistake themselves— twice.
First, they called Aleppo the "de facto Islamic State capital," when in fact it is Raqqa, prompting an initial correction.
Then, it had to correct its correction because it got the capital of Syria wrong:
Correction: September 8, 2016

An earlier version of this article misidentified the de facto capital of the Islamic State. It is Raqqa, in northern Syria, not Aleppo.

Correction: September 8, 2016
An earlier version of the above correction misidentified the Syrian capital as Aleppo. It is Damascus.
During an interview Thursday, September 8, Johnson said he did not know anything about Aleppo — arguably the center of the refugee crisis plaguing the Middle East.
"What is Aleppo?" asked Johnson when Morning Joe host Mike Barnicle asked him, "What would you do about Aleppo if elected?"
"About what?" Johnson asked.
"Aleppo," Barnicle said. Then Johnson paused briefly and asked what that was.
Bernice, surprised, asked: "Are you kidding?"
Johnson, however, was not kidding. Bernicle explained: "Aleppo is in Syria. It is the epicenter of the refugee crisis."
"Ok. I got it," Johnson said. "Syria, I think it's a mess."
Johnson went on to say the United States should "join efforts with Russia to end the conflict in Syria diplomatically" while adding that the conflict was the result of regime change gone badly.
However, this did not end the uncomfortable situation. Joe Scarborough, the show's host, then said:
Aleppo is the center of a lot of people's concern across the planet. About the terrible humanitarian crisis that's unfolding not only in Syria, but especially in Aleppo, you asked, 'What is Aleppo?' Do you really believe that foreign policy is so insignificant that somebody running for President of the United States should not even know what Aleppo is?
In a later interview with Bloomberg News, Johnson admitted he was "incredibly frustrated" with himself and admitted he was surprised "at a time of little clarity".
"I understand its importance. Genuinely: trust me, nobody is taking this more seriously than I do. I feel horrible," Johnson said.
He acknowledged again on ABC's The View that he had made a mistake.
"I imagine that people will judge," he said. "… For those who think this disqualifies me, so be it."
"But all my life I told the truth," he said. "If you tell the truth you do not have to remember anything and I think the one unforgivable thing in this life is hypocrisy: saying one thing and doing another."
The candidate's campaign released an official statement Thursday in which it said Gary Johnson "went blank."
"Yes, I understand the dynamics of the conflict in Syria," he said. "I am talking about that everyday. But when asked about Aleppo, I thought at the time they were saying an acronym, not something related to the conflict in Syria. I did not know what to say," the statement read.
"Can I name every city in Syria? No. Should I have identified Aleppo? Yes. Do I understand how important it is? Yes."
The President of the House of Representatives Paul Ryan has called Johnson an "isolationist" in an interview with Hugh Hewitt.
"Let's give the benefit of the doubt with this issue," said Ryan.