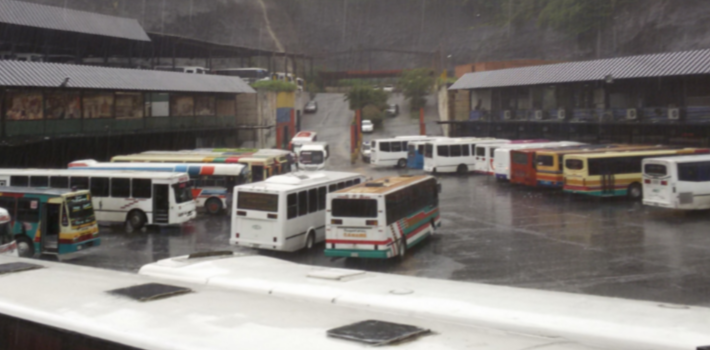 EspañolSeveral political leaders of Venezuela's state of Tachira used social media this week to report that the National Institute of Land Transport (INTT) was preventing them from traveling to Caracas by bus — most probably, they said, to limit the number of people that can participate in the massive march that took place this Thursday, September 1.
"The buses were not authorized by the Ministry of Transport to leave," one user said on Twitter, who recounted more than 120 Venezuelans who arrived to a bus station to go to Caracas and participate in the march, but were unable to.
"INTT officials prevent 10 buses from leaving terminal," wrote Congresswoman Laidy Gómez of the opposition Democratic Action party.
The buses, which are privately owned, were prevented by the Ministry from leaving Tachira.
Tachirenses que abordarían 10 autobuses para ir a toma de Caracas no les permiten salida de #ExpresosLosLlanospic.twitter.com/KKmkiR7C4b

— Pemex TV (@TvPemex) August 31, 2016
People from Tachira that would board 10 buses to go to the March of Caracas aren't allowed to leave.
Similarly, Executive Secretary of the Justice First Party Gustavo Gandica tweeted: "The government fears the voice of the people on the streets."
"No matter how many obstacles they place on us, we're still going to go this September 1," Gandica wrote.
A similar situation took place in other states as well.
Eduardo Vale, a Maracaibo councilman in the state of Zulia, said the National Guard had taken over the local bus station to "prevent the departure of buses."
According to news outlet Infobae, local media confirmed similar occurrences in Falcon and Merida: no vehicle was able to leave for Caracas.
"If you want to travel to Caracas you have to wait until Friday. Until then there is no way to get there," said a tradesman to local newspaper La Verdad.
Transport companies were contacted by insurers, and reported they would not be held responsible if the units were damaged during trips made on Tuesday, Wednesday, and Thursday.
Barriers on Highways
Despite the constraints made on public transportation, people have reportedly managed to get to Caracas by other means, although not without harassment and interference from government officials and the National Guard.
On social media, many Venezuelans described the difficulty in traveling by highway: mile-long lines, countless checkpoints, and interrogation of bus travelers.
#FOTO: Reportan gandola atravesada en la #ARC en Viaducto La Cabrera sentido hacia Caracas. 1 canal de contraflujo pic.twitter.com/x71F05enlG

— Christopher Abreu (@AbreuReport) August 31, 2016

Photojournalist Andrews Abreu claimed there was a semi-truck blocking a tunnel on the most important highway in the country heading toward Caracas.