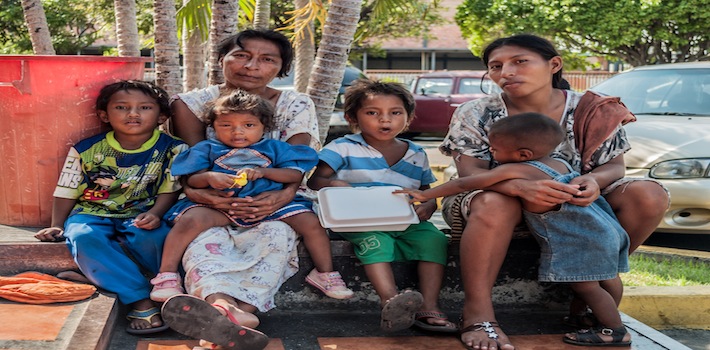 Before committing suicide, Ana Maria Perdomo sat down in her kitchen to write a letter to her family.
"Children…Don't be upset, even though I know it is difficult, don't be sad. It is too difficult and I don't want to be a burden to anyone, I know I have Non Hodgkins Lymphoma and it's better to end this now."
Mother of Augusto, 45, and Angela, 32, and grandmother to three girls of 4, 9, and 17, Perdomo, 61, hung herself on February 18 to avoid having to suffer the disease in Venezuela, a country that could have never supported her medically.
Perdomo's one sister Josefina said the situation was depressing for everyone. The medications she needed were impossible to purchase at the prices available, or couldn't be found at all.
The case of this 62-year-old woman reverberated throughout the entire country. The indignation on social media flared up, but in the end it was presented as an isolated incident.
Depressing numbers
The shortages in Venezuela have increased considerably. According to Datanálisis, it is now up to 80 percent. In September 2015, "conjunctural shortages" were at 22.2 percent; four months later it rose to 28 percent, according to the Central Bank of Venezuela (BCV).
Additionally, Datanálisis predicted inflation would increase to up to 450 percent by the end of 2016.
This reality is becoming increasingly depressing for the common citizen. The drop in purchasing power has been colossal, according to analysts. Monthly inflation for food is around 30 percent, meaning 1 percent per day, according to the Center for Social Analysis (Cendas). Furthermore, the Internation Monetary Fund (IMF) reports that the cost of living during 2015 went up 270 percent; this year, it will increase to 720 percent.
The latest numbers from the National Institute of Statistics at the end of 2012 ranked 32 percent of the population as living in poverty, 9.8 percent of which live in extreme poverty. Professor of Business and Political Science Jesús Conde said these numbers may not reveal the full picture.
"That was in 2013, and they are official numbers, which means they are coming from the government, for whom the truth is not convenient," he said. "Imagine three years later, when shortages and inflation have increased to massive levels. The situation is critical."
Never-ending lines stretch far out of supermarkets. The faces of people waiting to buy food with no signs of dignity: they are crestfallen. The people are tired and depressed from the critical situation in which the country is in.
"We are killing each other over a piece of food," an activist said during a protest outside a Bicentenario market in Las Mercedes, Caracas.
"If you could see my children: skinny, dying," wailed a man from the state of Táchira.
"Our children are dying from hunger," another woman said.
"Nothing is right!" yelled a man during a protest against food shortages in the Avenue of Fuerzas Armadas in Caracas.
The testimonials that reveal the critical condition in which the country is in are just a few of the things that the country isn't in shortage of. On the contrary.
Some say the situation is not so dire. The purchasing power of the middle and upper classes of the country have diminished significantly, but the reality is graver than it appears. The suicide of Ana María Perdomo could have occurred as an isolated incident. But the situation suggests otherwise. There are many other cases that prove how ordinary this phenomenon has become: in Venezuela, suicide is an option to escape severe crisis.
The road to crisis
About four weeks ago in the slum of Las Palmitas at the south of Valencia, Ana Pérez took her own life because she had nothing to give her children to eat. A neighbor, who preferred to remain anonymous, sai Ana Pérez had been depressed for several months.
"She would spend every night at the supermarket to try and buy whatever she could at an affordable price. The situation grew dire when she could not find food even if she woke up at dawn."
"The time came in which she would give her children the water for rice and pasta that was shared between neighbors. She could not handle the situation. Many times she would come crying to my house," Pérez's friend said.
With a rope tied to her zinc rooftop, the mother of three small boys took her own life by jumping off a table. Family members refused to comment about Pérez's suicide, but another neighbor said the Pérez family was a happy one up until a few months ago, when the shortages became unmanageable.
In another slum in the south of Valencia, in Tocuyito, another suicide occurred: Roberto Fermín, a single man working in a pharmacy, decided to take his own life.
"Robert's suicide surprised us all. He was a happy man," María Blanco, Fermín's neighbor, said. "He would say hi to everyone in the neighborhood. We all knew he had serious financial issues. Due to the medication shortages, he was rarely selling anything at the pharmacy, especially because no one could afford the high prices."
"We all loved him," Blanco added. "He didn't leave any children behind, but he left a lot of friends."
Gaining access to suicide rates in Venezuela is difficult. If you go to a morgue such as that of Bello Monte in Caracas, neither family members nor officials will admit there are any cases in which people ended their lives to escape their circumstances.
The last time official numbers detailed the amount of suicides in the country was in 2012, and it was an extremely low number. In fact, that year, the World Health Organization (WHO) placed Venezuela as the third country in Latin America with the fewest amount of suicides: 3.6 per 100 thousand inhabitants.
Additionally, the 2008 Guinness World Records gave Venezuela the award for happiest country in the world.
However, nine years later, the United Nations' (UN) World Happiness Report ranked Venezuela as Latin America's most unhappy country, and number 44 in the world.
According to an article published in Marcapasos, since the inauguration of the Caracas Metro in 1983 to 2009, the number of people that would jump on the tracks to end their lives has been multiplied by six.

Alarming suicide rates

Clinical psychologist and university professor Yorelis Acosta said she has received "a wave of cases" in recent months in which people have come to her wanting to end their lives.
"They are the most common cases I have treated recently. The increase in depression in this country is unbelievable. The main cause being the shortage of food, the second, medication," Acosta said.
The psychologist said she knows of at least seven cases in which people have killed themselves due to the crisis in the country: "I received the data from a journalist. But aside from that, I know of three women, from the interior of the country, whom decided to take their own lives".
After Ana María Perdomo's case became known, a series of supposedly isolated incidents began to arise online.
This May, in Santa Rita, Zulia, Regina del Carmen Sánchez, 54, killed herself due to desperation caused by not being able to find food. According to information given by the newspaper La Verdad, the Venezuelan mother suffered from anxiety attacks and had been diagnosed with a stomach anomaly, which was a consequence from too much consumption of unregulated corn flour she bought on the street.
Sanchez's family members assured a Zulia newspaper that "despite trying to option basic foodstuffs in commercial establishments, she could not. Last time she was beat up and taken outside because she had supposedly cut the line."
Because buying regulated products became an impossible task, Sánchez decided to purchase them through the black market. She fell deep into debt as a result.
Her family members claim that the 54-year-old woman was truly depressed and constantly crying for fear of not being able to feed her children. One day, after a family discussion surrounding her emotional state, Regina del Carmen Sánchez look herself in a room and was found two hours later hanging from a beam.
Another case was that of Yorvi Yunior Gonzalez, 18. According to the website El Cooperant, the young student took his own life in October of last year because he did not have money to eat, let alone continue his education.
"Yorvi was depressed because he did not have money to keep studying and always talked about how at home there wasn't, at times, enough to eat," his sister Elulalia González told Panorama in tears.
The most recent case is that of Tony Almarza, who decided to hang himself in his own home, located in the town of Santa Cruz de Mara, Zulia.
The most important part of this case is that Almarza announced what he was going to do on Facebook, explaining the reasons that led to his suicide.
"Do you want to know why a person takes their own life? For several reasons: first, this damn government that is going to starve us to death, and second, the insolence of life. One has fought quite a lot for nothing."
"This is the best way," Almarza said while pointing toward the rope attached to the ceiling. He later asked. "Fight for what? And in this country? No way…"
https://www.youtube.com/watch?v=VfdFm50FUm8
Venezuelan society, a survivalist society
Sociologist Eudes Cedeño of the Central University of Venezuela explained that suicides are normally due to personal reasons, but in recent cases, society has played a key role.
"In the case of the woman in Zulia or that of Anzoátegui, it is the social conditions that make them feel backed into a corner."
Cedeño points out that "the lack of food, medication and the stress generated by the food lines end up being … unbearable for some people, which makes them alienate themselves and retreat into private."
"Imagine thinking that you would never be able to feed your children ever again. Or that, because of your condition, because there are no medications available, you will become a burden to your children. It is here where all the psychological and sociological problems start to arise.
"When something as simple as going shopping, or going out at night becomes so complicated, your position in terms of society changes," says the sociologist.
"Venezuelan society has become a sort of 'survivalist society.' People here don't live, they survive. And that is the problem," Cedeño said. He emphasized "many people don't even know that there are others killing themselves because of the situation in the country. This stops people's sensibility … some people choose to rob, others to eat trash, others to beg and other decide they can no longer take it and choose to end their lives."
"It is a very sad situation that needs to be addressed," Cedeño said.