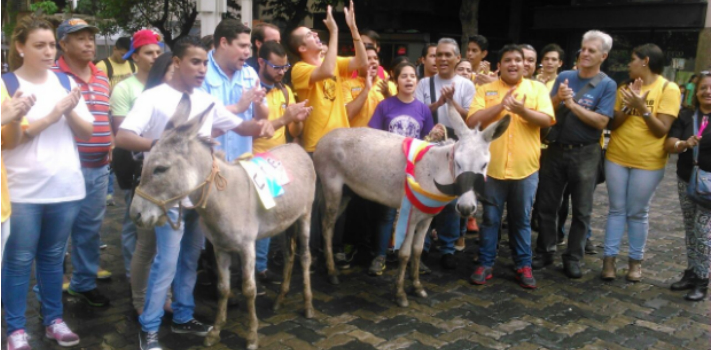 EspañolThe Venezuelan Police confiscated two donkeys on Friday, May 3 at a protest in Caracas.
The situation began as several members of Primero Justicia, an opposition party, demonstrated against the government on an important street in the capital next to two donkeys which they had dressed as President Nicolás Maduro.
The animals were made to carry banners insulting the President and to wear mustaches that mocked his facial hair. The demonstrators were chantings the phrase: "revoke the ass!"
Police immediately arrived to confiscate the animals, putting an end to the day's "donkey business."
PNB, en vez de agarrar malandros, "detiene" los burros que usó PJ en la protesta "Revoca al burro" en Sabana Grande pic.twitter.com/keEEiITWVA

— Richard Sanz (@rsanz777) June 3, 2016
According to social media users, the protests didn't generate more complications than that and the demonstration ended when opposition members arrived with the animals. Neighboring residents in the area expressed their disapproval of the act to officials.
The situation occurred amid other, stronger protests that have been taking place as the humanitarian crisis that afflicts all of Venezuela continues to worsen.