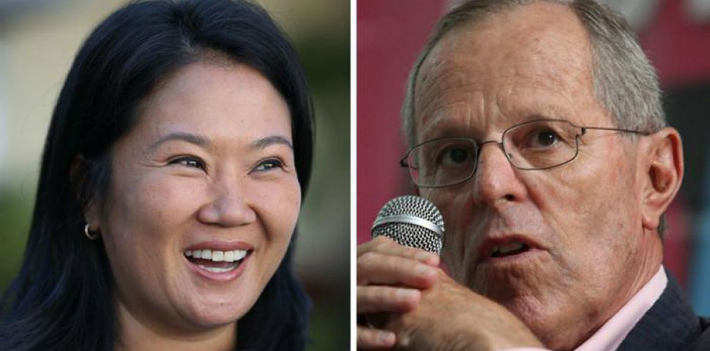 EspañolOn Sunday, April 10, Peruvians went to the polls to decide who would compete in the second round of the presidential election.
Former dictator Alberto Fujimori's daughter Keiko Fujimori was victorious with just over 39 percent of the votes, while former Minister Pedro Pablo Kuczynski came in second with a little over 21 percent.
Peru was able to set aside the candidate who embodied the harmful, outdated left Veronika Mendoza, instead turning toward two worthy candidates.
Keiko has desperately distanced herself from her father's crimes, and an option for something just short of revolution is represented by Kuczynski, the liberal businessman. Let's analyze these two candidates.
The Candidates' Economic Proposals
In order to objectively determine which is the most sensible option, we must look at the candidates' Governance Plans outside of any past outrages or scandals they may have created.
Let's start with Keiko Fujimori: the former congressman plans to establish, among other things, a public investment management unit to support the implementation of economic projects, reduce bureaucracy and facilitate inter-sector coordination.
In addition, Fujimori plans to revise a law that would gradually reduce the income tax paid by companies until 2019, with the aim of facilitating private capital development.
Keiko will seek co-financing mechanisms to structure public investment, encourage the analysis of business constraints at the regional level, and create a special regime to formalize small businesses working in public spaces.
Similarly, among her economic proposals, Keiko intends to work with the private sector over trade promotion. She also wants to increase the minimum wage.
Finally, she plans to encourage worker-training through expanded tax incentives.
On the other side is Pedro Pablo Kuczynski. The businessman proposes a program of temporary stimulus packages, a simplification of private investments and a reduction in tax rates.
He also proposes to set a general sales tax (IGV) reduction of 1 percentage point per year up to 15 percent in 2019.
[adrotate group="7″]Kuczynski will allow large companies to deduct the full amount of physical investment against what's taxable. He also proposes to maintain the structural deficit above 1 percent of GDP established by the Fiscal Responsibility Strengthening and Transfer Law.
PPK's platform, like Keiko, seeks to eliminate much of the excessive red tape of governing, leaving only those procedures that are essential to project completion, in an effort to facilitate the development of individual and the private capital.
He also proposes a new program of productive reconversion of companies affected by mining projects. He wants to redefine the role of ProInversión, the government agency responsible for promoting investment and privatization, to the point of making it the pre-project investment bank assigned to the new Infrastructure Ministry.
These are, in general, the main economic proposals raised by the two candidates that will be going head-to-head in June. There are several liberal proposals that will, perhaps, create strong economic growth in Peru. Now Peruvians must analyze all the cards laid out before them so they can choose, unerringly, who is the most sensible candidate for the presidency.
With information from: El Comercio.