EspañolA debate in Panama's National Assembly on immigration reform ended in cross-border controversy on Monday. Democratic Revolutionary Party (PRD) Deputy Zulay Rodríguez made a series of derogatory remarks targeted at Colombians immigrants, which did not go unnoticed in her neighboring country.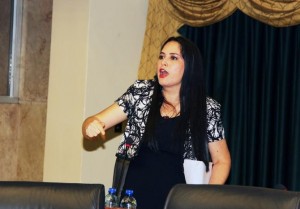 The discussion on February 23 centered on outlawing the country's "Melting Pot" (Crisol de Razas) program of immigration fairs — public events whereby illegal immigrants can attend to receive legal status.
Rodríguez introduced the proposed ban, dubbed "Proposal 62," in September 2014, and Monday's session was the bill's second hearing.
Yet the debate got out of hand when the government deputy embarked on a tirade criticizing Colombian migrants: "Where do you think credit-card copying came from? From Colombia! Where do you think the ideas that are killing us daily come from? Every time you arrest a Panamanian there are five Colombians at [his] side."
Rodríguez concluded her intervention by referring to Colombians resident in the country — officially estimated at around 50 percent of immigrants attending legalization fairs in recent years — as "scum."
However, prior to wrapping up, the PRD deputy had time to present a reggaeton music video to the National Assembly in support of her bill. Entitled "Respect Panamanians," the jingle began with the line "Don't let foreign criminals enter," progressing into chants of "Venezuelans out! Colombians out!"
The reaction from Colombia, which Panama was a part of until 1903, was swift. On Tuesday, Colombian Foreign Minister María Ángela Holguin "made it clear" that she "would not allow Colombians in Panama or anywhere else be slandered."
Later on Tuesday, Colombian magazine Semana published a video of the contrite elected official apologizing for her "harsh statements." Her statements were regarding incarcerated Colombians, she said, not all people of the nationality.
"We ask Colombia, which has good and talented people that I know want to invest in our country, to come, because we are a good, tolerant people and when we make mistakes, we recognize them. I apologize," Rodríguez added.
Proposal 62 Fails to Catch On
Despite the government deputy's best efforts on Monday — or perhaps because of them — the bill to outlaw the immigration fairs has gained little traction. On Tuesday, the Assembly decided to restart deliberations from scratch.
A proposal to drop the bill altogether was presented by Minister of Public Safety Rodolfo Aguilera and Deputies Jorge Alberto Rosas and Luis Barria, who argued that consensus and clear rules were needed on immigration reform.
"This law doesn't solve the problem," Aguilera said. "Before passing a law, you have to listen to entrepreneurs and hoteliers."
Yet Rodríguez was unrepentant, criticizing the shelving of the bill through tears: "They always ignore us, but what we can do?"
"We feel very sad, very concerned. We thought we were going to defend our nationals. It seems Panamanians are worthless." Apparently bruised but unbowed, she added: "The country comes first. We lost a battle, but we didn't lose the war."
Proposal 62 states that "immigration will be regulated by law in relation to the social, economic, and demographic interests of the country, and both nationals and foreigners who are in the territory of the republic shall be subject to the laws."
Another section states that "due to the program of regularization of foreigners named 'Panama: Melting Pot,' we realise that the Panamanian is being put at a disadvantage in the labor market."
Since 2010, 48,000 illegal immigrants have obtained legal immigration status in Panama, according to the National Immigration Service. However, the controversy over the latest bill may see it disappear without trace, with observers such as Colombia's El Tiempo widely labeling its sponsor as "xenophobic."
Updated: Friday, 7:45 a.m. EST. The headline has a slight correction. Although Rodríguez implied that Colombian immigrants in Panama are criminal and called them scum, she did not, as the original headline affirmed, use those two words alongside each other.
Translated by Michael Pelzer. Edited by Laurie Blair and Fergus Hodgson.