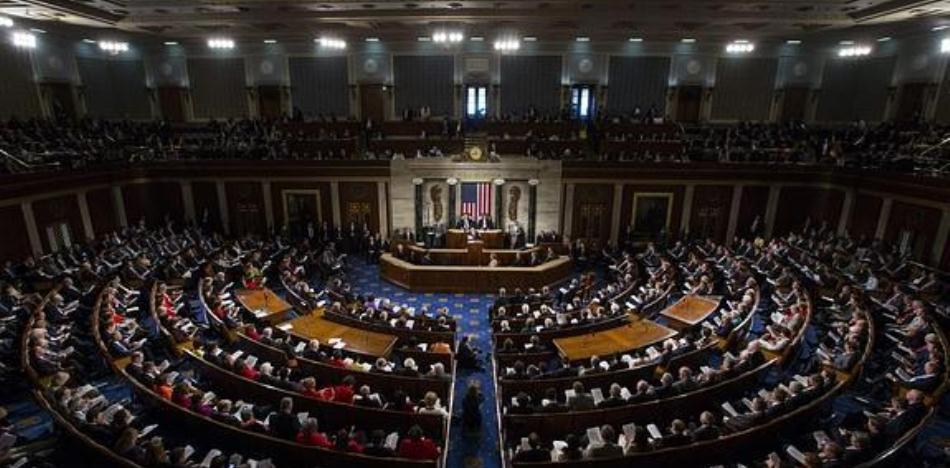 Spanish – Within the United States Congress, a dangerous socialist outpost is taking place, led by figures who are stepping up their discourse and spelling out their intentions to impose leftist policies.
Several names are on the list, starting with Bernie Sanders, a senator from Vermont with a career of nearly 30 years in US politics and ending with Alexandria Ocasio-Cortez (AOC), who at the age of 29 was elected to Congress, becoming the youngest in the country's democratic history.
This movement, which seeks to turn Congress from a Social Democrat to a Socialist, includes Kamala Harris herself, elected as Vice President of the United States according to the preliminary results of the elections.
The generation gap that may exist among legislators is not the issue but rather the discourse in favor of social equality and a health system that moves from the private management to the public one.
They also propose a sustainable development of the planet based on an equal society. This "ecological" foundation takes shape with the Green New Deal, with which socialists disguised as environmentalists bet on state control. Ocasio-Cortez has openly defended this initiative.
More socialist proclamations
Jamaal Bowman is the new Congressman for New York's 16th Congressional District. He defeated Democrat Eliot Engel in his own party's primary in June of this year. Engel served 16 terms as chairman of the House Foreign Affairs Committee.
Bowman's victory goes against the Democratic Party establishment, both in the state and in Congress. His victory was a great triumph for leftist progressives, so much so that Ocasio-Cortez applauded him.
"Jamaal Bowman, I think he is one of those candidates who appears once in a lifetime… I think he is a unique, incredible, and inspiring candidate," AOC described him in statements to EFE.
The American educator's speech is attached to that of his colleague. He is in favor of the Green New Deal, the "Medicare for All" program, and the Black Lives Matter movement. He also issued a disturbing warning about the US economic model: "Capitalism is slavery by another name," he said bluntly.
The battle he is waging is clear. In his view, unemployment engulfs most Americans, and the blame lies with the elite and corporations for running the world "virtually like multinational corporations." Socialist claims are not far removed from those of their counterparts on the continent.
The groups driving the legislators
Behind the radical congressmen, there are organizations that support them. The leftist Democratic Socialists of America (DSA) is one of them, and its growth has been remarkable: DSA went from 6,000 members in 2015 to 43,000 in 2018.
At the time, the DSA promoted the candidatures of Ocasio-Cortez and Rashida Tlaib, a lawyer of Palestinian origin who joined the "squad." This is how the group of four legislators who are going against the moderate democrats is known.
The ambitions of Ocasio-Cortez and her group led her to put pressure on Joe Biden himself to impose a socialist agenda.
The group linked to the legislator, New Consensus, sent Biden a manifesto asking him to go to the Federal Reserve to provide billions of dollars in low-interest loans directly to businesses and projects.
Both Bowman and AOC have acknowledged that it is premature for leftist policies to take hold in the US government, but they are slowly insisting on filtering out their ideals.
"We will not be satisfied until not only the Democratic Party, but the entire government is fighting to ensure the right of the people to health care, to dignity, and due process of law for citizenship. That's what's important, and that's why it's not enough, and we'll keep going," Ocasio said in November of this year.
Socialists of the old guard
There are more names in the advancement of socialism in the United States. They are of the old guard, but it was their continuous discourses that gave wings to this new generation of legislators.
Bernie Sanders defines himself as a "democratic socialist." During his 30 years in politics, he has advocated the elimination of private insurance and the redistribution of wealth through taxation to corporations and the upper class. Like AOC and Bowman, he advocates "Medicare for All" and proposes canceling 1.6 trillion USD in student loan debt for 45 million Americans in addition to providing access to free education.
Kamala Harris is also on the list. She has been the Attorney General of California, a Congresswoman for that state since 2017, and now she was elected Vice President of the United States. For Harris, "equal treatment" is the solution to inequality, instead of work and education in society. On the eve of the election, she released a video to promote her ideology and what she intends to do.
Her role is decisive for any ties that may arise in the Senate. As Speaker of the Upper House, she will be able to vote to approve or reject treaties or bring government officials to trial.
Relations with Chávez and Castro
Reviewing the list, we came across the name of Gregory Weldon Meeks, linked to none other than the late Hugo Chávez. The two were so close that Meeks tried to mediate on behalf of an American financial scammer.
"I have met both Chávez and Maduro. Every time we met, (Chávez) would always reach into his pocket and pull out the Venezuelan Constitution," said Gregory Meeks in a 2017 Miami Herald statement.
The Democrat, who attended Chávez's funeral, was recently elected as the new chairman of the US House Foreign Affairs Committee.
Finally, we have Raphael Warnock, candidate for the Senate for the state of Georgia. The church where Warnock was youth pastor even received Fidel Castro when he visited the US in 1995, a fact that he tried to dismiss through his representative.
Warnock will run in a second-round next year because neither he nor his opponent achieved the necessary votes to be elected. Even so, there is a possibility that he will tread on Washington's toes.
It is clear that the cards of socialism are beginning to move with greater agility towards achieving structural changes within the US government.