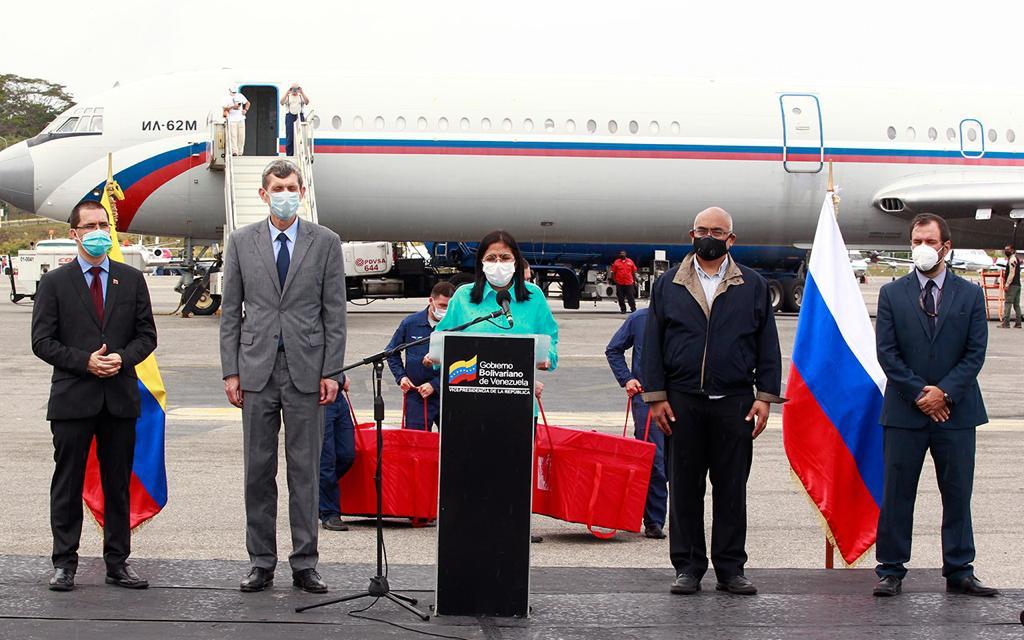 Spanish – On Friday, the first batch of the Russian vaccine "Sputnik V" arrived in Venezuela, which according to Vladimir Putin's regime, is the "effective" solution to stop the spread of the coronavirus. The shipment is made up of 2,000 vaccines that will begin to be tested on inhabitants of the Venezuelan capital.
This is phase 3 of the clinical trials still underway at the Siberian Vector Institute. In this way, Venezuelans officially become Putin's guinea pigs.
Arbitrary decision
"It is a historic moment for our country. We cannot hide the excitement we feel that Venezuela is the first country in the Western Hemisphere to participate in phase 3 of the clinical trials," said the vice president of the regime, Delcy Rodríguez, at the ceremony where they received the shipment, reported EFE.
Nicolás Maduro had reported this decision of the regime at the end of August when he offered 500 Venezuelans as guinea pigs for stage 3 of these trials. At that time, he also called for the activation of the Venezuelan pharmaceutical industry to produce the vaccines that are being created in Russia, China, Cuba, and in the city of Oxford, United Kingdom. Maduro's insistence on this sector comes amid a health crisis in which medicines and medical treatments are becoming less and less accessible to the population.
Dubious figures
In fact, the health crisis in Venezuela has been going on for several years. Now, the regime's figures about COVID-19 cases and deaths seem doubtful. Meanwhile, hospitals and clinics are collapsing.
"So far, the number of deaths in our country is 1,277. About 200 members of our health system are no longer with us, the highest mortality rate in the world," said opposition deputy José Manuel Olivares on September 29th about the death of health professionals due to the pandemic.
According to the count of the Johns Hopkins University Coronavirus Resource Center, based on the information provided by Nicolas Maduro's regime, the number of infections in Venezuela is 76,029, while deaths total 635 cases as of Friday afternoon.