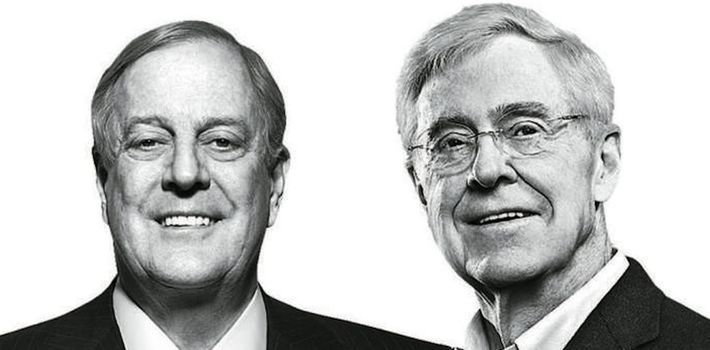 EspañolMany progressives in the United States have turned billionaire brothers Charles and David Koch into bogeymen of electoral politics, accusing them of having candidates in their pockets.
Democratic presidential candidate Bernie Sanders, for instance, singles out the Koch brothers almost every time he advances his socialist policies. He would have voters believe that they are the face of "Wall Street greed" and the cause of inequality in the United States.
Both progressives and socialists within the Democratic Party constantly rant about the "evil" Kochs, but they don't bother to check whether the brothers really are the main donors in US politics.
Official records and serious research paint a very different picture than what Democrats want to believe. Journalist Bill McMorris looked into the matter and found that that no less than 18 unions donate more money to Super PACs than Koch Industries.
The Center for Responsive Politics revealed that groups such as the National Education Association, the largest teachers union in the United States, donated US$22 million to Super PACs in the 2014 election cycle.
According to the Huffington Post, this union's contributions was only topped by the Democrat billionaire environmentalist Tom Steyer.
The American Federation of Teachers, another teachers union, spent US$25 million between July 2013 and June 2014 just on lobbying, according to official records from the US Department of Labor. It doled out $10,5 million in the midterm congressional elections and an unknown amount in state and local elections.
Yet another union that disburses huge amounts for campaigns is the United Food and Commercial Workers International Union. It has spent US$33 millions to get different candidates elected. Not to mention the US$60 million spent by the American Federation of State, County and Municipal Employees, the largest public-sector union in the entire country.
[adrotate group="7″]An analysis by the Huffington Post revealed that, during the 2012 election cycle, unions devoted US$1.7 billion to campaigns and lobbying.
For instance, according to official records, the Communications Workers of America has given Democratic candidates over US$36 million.
But the biggest hypocrisy in progressive propaganda regarding the Koch brothers is their blind spot for George Soros, the famous banker and hedge fund manager. Federal Election Commission data shows that the billionaire recently donated US$6 million to a Hillary Clinton Super PAC.
While the Koch brothers donate almost exclusively to Republican candidates, Soros does the same with Democratic parties and organizations. When it comes to donations to candidates running for federal offices, Soros has dropped US$34.24 million versus the US$4 million spent by the Koch.
During the 2004 presidential race, Soros disbursed US$24 millions in less than two years in an effort to defeat Republican presidential candidate George W. Bush. An adviser to Soros told Politico that his boss gave the non-profit progressive group America Votes US$1 million to mobilize voters during elections.
The curious part about all this is how progressives constantly criticize hedge funds for being right-wing allies when Soros is the president and founder of one the largest of such financial institutions. Even Clinton's son-in-law, Marc Mezvinsky, is the co-founder of Eaglevale Partners, another important hedge fund.
This is just another case of downright demagoguery. No one loves to hate cash more than a lefty.