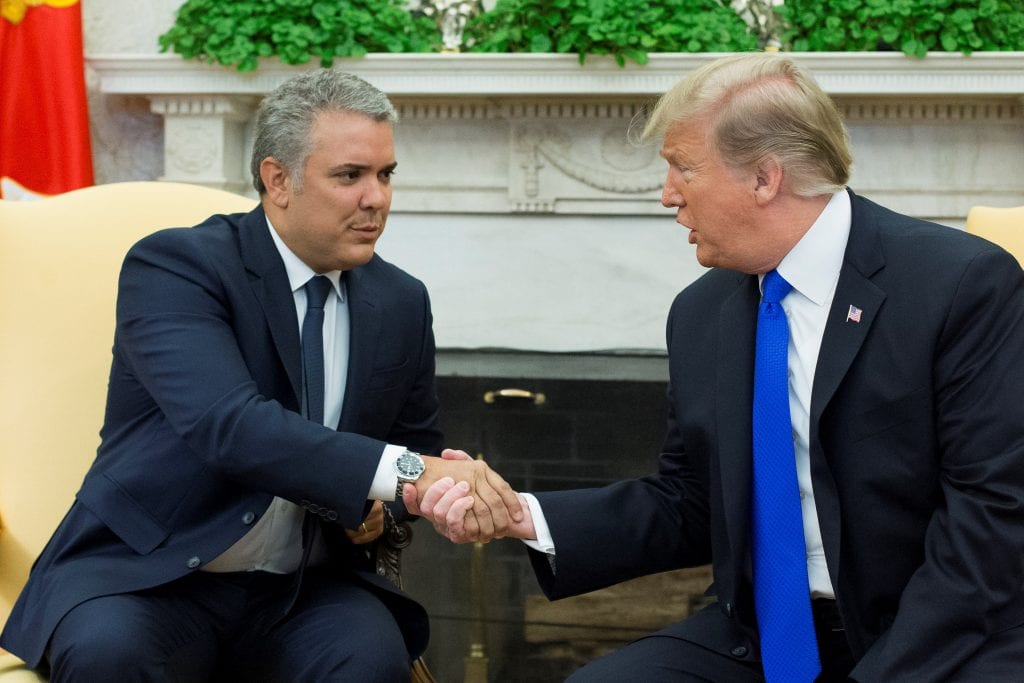 In the bilateral meeting held today between American President Donald Trump and Colombia President Iván Duque, the main issue addressed was the crisis facing Venezuela in the wake of the humanitarian disaster caused by the policies of socialist dictator Nicolás Maduro.
In the press conference held by the presidents in the White House's Oval Office, the US president expressed that he has "great respect" for Juan Guaidó, and highlighted the marches yesterday supporting the interim president of Venezuela: "I saw the large number of people yesterday, on the streets, and during the week, there were enormous numbers," and said that they have received "a lot of support" for what they are doing for the South American country.
Support for Guaidó
Duque said that "President Guaidó, who is the person leading the transition in Venezuela, has a great deal of support, and we need to give him more support now," and added that the meeting that will be held by the Group of Lima in Bogota next week, will also offer a great boost to the new Venezuelan leader.
Blocking humanitarian aid
Regarding the blockade of humanitarian aid currently being carried out by Maduro, Trump affirmed that the dictatorship will not be able to block all the bridges into Venezuela, and noted that there are other places where it would be possible to enter the aid that the country so desperately needs. In addition, he stressed that he is obligated to bring "food and medicine" into Venezuela, because "people are hungry." In reference to the general crisis at large, he argued that "this is a example of what happens when an incorrect government is in power."
Duque took the opportunity to remind the Maduro dictatorship that "obstructing access to humanitarian aid is a crime against humanity, and we must ensure that humanitarian aid reaches the Venezuelan people."
He also clarified that his government is committed to serve as a bridge for receiving humanitarian aid sent by different countries and ensure that it reaches Venezuela.
Military option
When queried as to whether he had contemplated a military option for Venezuela, Trump said that there were multiple options on the table, and that he always had "options A, B, C, D and F" present. But he stressed that he has never spoken of sending military troops to Colombia. However, when questioned as to whether he planned to send 5,000 troops to the country he said "we will see", without ruling out that possibility and showing that this could be one of the options he has in mind to free Venezuela from the Chavista dictatorship.
Amnesty for Maduro
There have been reports that the United States was willing to give amnesty to members of the Venezuelan military who decide to abandon Maduro and recognize Guaidó as their commander-in-chief. It seems that the issue of an amnesty for Maduro is not yet clear, because although Trump administration security adviser John Bolton has indicated that his government would be willing to do so, at today's press conference the US president reported that this is something that has not yet been contemplated.
Meeting with representatives of Guaidó with the United States
Before his meeting with President Trump, Duque met with President Guaidó's delegation to the United States. During that meeting, the Colombian president reminded Ambassador Carlos Vecchio that Colombia is committed to "continue using diplomatic means to end the usurpation, to end the dictatorship, so that the Venezuelan people can finally enjoy freedom once again."