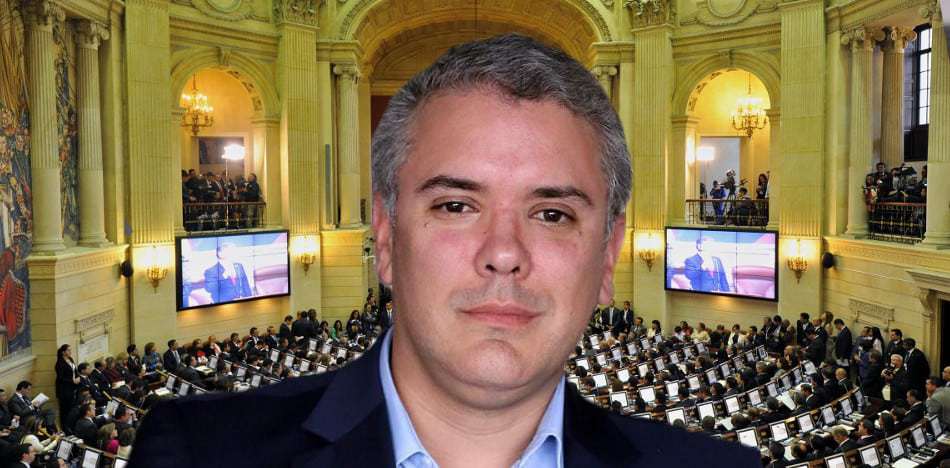 Winning the Colombian presidency is not enough. A Congressional majority is essential to being able to govern without problems, since this institution is charged with approving annual budget, making the acceptance or rejection of a good part of the government's initiatives at their discretion. Taking this into account, Ivan Duque would be the candidate with the highest probability of governing without major obstacles, since he would enjoy an absolute majority in the Colombian Congress.
At the PanAm Post we have decided to carry out a more in-depth analysis of the support that each of the presidential candidates would likely have in Congress.
This is where we currently stand
On July 20, the 108 senators and 172 representatives in the House who were elected on March 11 will be inaugurated. For the new president to have an absolute majority (all members of the corporation) it is necessary that he has the backing of 50% plus one (55 senators and 87 representatives).
Iván Duque
If he won, Duque would not only enjoy one of the highest vote totals in history for the presidency of Colombia, which would greatly legitimize his popular support, but he could also govern with tranquility, since he would potentially count on the support of 76 senators and 135 representatives, which would give him more than an absolute majority of the Congress.
Centro Democratico: Uribismo won 19 Senate seats, and 35 in the House, all of them, in the hands of former president Uribe, would back Duque's legislative agenda.
Cambio Radical: Although Vargas Lleras and Uribismo have had differences, their political agendas are similar. This is why Vargas Lleras confirmed that he will support Duque in the second round. Thus, Duque already has the support of the 16 senators and 30 representatives of this center-right party.
Partido Conservador: Although this party formally supported Vargas Lleras in the first round election, its base unquestionably went with Duque, and the president of this party has already indicated that on Wednesday, May 30, they will formally announce their support for Duque. This would leave Duque with the support of their 15 senators and 21 representatives.
Partido Liberal: Although there is a division within the party, former President César Gaviria (leader of the party) has already met with Duque to negotiate an alliance, and more than 41 congressmen are supporting the decision taken by Gaviria. That is why Duque is likely to count on the support of 80% of the congressmen, at most: 12 of 15 senators, and 28 of 35 representatives.
Partido de la U: Although this party also formally supported Vargas Lleras, more than half of its congressmen decided to shift their allegiances in favor of Duque. After the first round, most of the senators said that the candidate the party should back is Duque. Only Armando Benedetti and Roy Barreras are holdouts on the issue. Thus, the Uribista candidate is likely to count on the support of 80% of the party's Congressional delegation (11 of the 14 senators and 20 of the 24 representatives).
Mira: This party was one of the first to offer its support to Duque; also, its history has demonstrated an affinity for Uribismo. The party's 3 senators and one representative will also support Duque.
Opcion Ciudadana and Colombia Justa Libres: Although these two parties do not have senators, their two representatives have also expressed support for Duque.
With this support, Duque could make significant headway with respect to his legislative agenda, which would allow him to govern the next four years without major setbacks.
Gustavo Petro
Leftist former Bogota mayor Gustavo Petro would have significant difficulty building support for his legislative agenda, and would have a weak minority of Congressional support, were he to win the election.
Here is where Petro currently stands with the 2018-2022 Congress:
Decentes: This is Petro's party; its 3 senators and 2 representatives would be his most loyal supporters.
Polo Democratico: This party has 5 senators and 2 representatives, and although for years there have been personal differences between Petro and Jorge Robledo (party leader), they share the same ideological interests. Petro played an important role in the party, but then had a following out over the direction of the leadership. It would be reasonable to assume that all of the Polo Congressional delegation would back Petro.
FARC: The party of the former Marxist guerrilla group would lend the backing of its 5 senators and 5 representatives to Petro, since they have already stated that they would support a potential government of the leftist standard bearer.
Alianza Verde: This party has 10 senators and 10 representatives, but several have already declared their opposition to support a mandate of Petro. However, a considerable majority would ultimately back Petro for ideological reasons. In a best case scenario, Petro could win the support of 80% of these congressmen at most, which would give him 8 Greens in each chamber.
Liberal Party: Although the majority of the congressmen have expressed their support for Duque, in the unlikely event of a Petro victory, at least 50% of them would be willing to back him in exchange for political favors, a practice that the leftist leader has already used, and pork projects. Do not forget that several of the members of this party are of social democratic orientation. Best case scenario, Petro could hope to win the backing of 7 senators and 17 representatives.
MAIS and Coalicion Alternativa Santandereana: These two parties are decidedly left-wing, and have a total of 2 representatives who would support Petro.
This would leave Petro with a total of 28 senators and 36 representatives. Suffice it to say, this Congressional support would be insufficent to pass any bill. This is one of the main reasons his campaign has proposed a Constituent Assembly, because with the control of this he could play all of his political chips. Although one day after his campaign he said that he was not considering the possibility, his credibility on this point is minimal, because for years this has been one of his main interests.