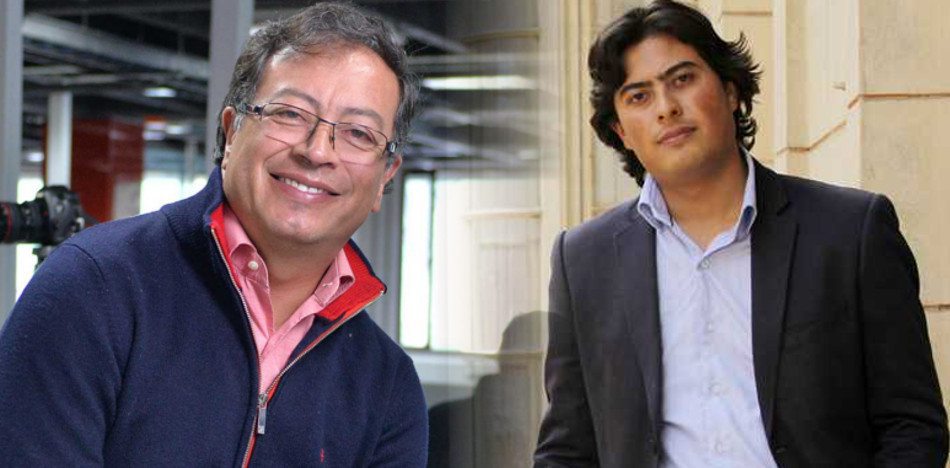 Today, the news website El Expediente alleged that Nicolás Petro, the eldest son of Colombian presidential candidate, and formerly guerrilla leader, Gustavo Petro, intends to pay a personal debt of COP $120.000.000 (approximately USD $41,000) with taxpayer funds.
Petro acquired said debt with Grupo Posso S.A.S. in mid-2016, with the promise of including Hugo Posso, owner of the company, in a renewable energy and health business. However, when the project was never completed, nor the money returned, Posso decided in May 2017 to request that Petro sign documents promising to repay the funds. Nicolás Petro declined to sign the document in question.
Due to the broken promise, Posso, who claimed to feel "cheated and swindled," went to court to recover his money. The court found in his favor, as earlier this year the Fourth Civil Circuit Court issued a civil judgment, ordering Petro to repay the sum of COP $320.000.000 (USD $110,000). However, Posso was unable to recover the funds by means of the civil judgment.
Petro stated in an interview with El Expediente: "we tried to start a business, unfortunately the business did not get off the ground. The money was owed to the investor, but there is already a payment agreement in place." However, he failed to mention that those agreements have not been complied with.
After becoming aware that the news of his personal debt would emerge in the media, Nicolás Petro communicated via chat with Posso to try to persuade him to help with damage control, because according to him, "if it comes out in the media it can affect us," most likely referring to the possible damage his father's campaign might suffer.
For this reason, Petro told Posso that he was "waiting for the 27th to pass quickly," the date on which the first round of the presidential election will be held.
It appears likely that the date given by Nicolás Petro is a reflection of the funds that his father's campaign could receive based on their vote totals in the first and second round. This sum can not exceed the amount spent in the campaign, which, according to a report issued by Petro's Colombia Humana movement, is COP $12.000.000.000 (USD $4 million), regardless of whether the expenses are a result of debts or donations. This essentially means that he is waiting for the taxpayer funds for his father's campaign accounts, in order to pay his personal debts. Or, he is banking on his father winning the presidency, in order to be able to pay off his personal debt with state funds.
The promises of Nicolás Petro
As reported by El Expediente, at the time that Posso asked Nicolás Petro to sign the payment commitments, Petro "persuaded him to avoid signing documents by offering him 'business in Bolivia' and 'contracts if his father wins the presidency' ".
What kind of business can Nicolás Petro, or his father, offer? Is this a sign of the close ties between Petro and Morales' socialist authoritarian regime?
The entire arrangement would appear to be a textbook example of exactly the kind of business dealings that Petro and his father have criticized: the use of a family member's position of power to promise the awarding of contracts. This seems to indicate that insider dealing and nepotism would be constant possibilities in a Gustavo Petro government, as is already the case in Bolivia, Venezuela, and Nicaragua.
Gustavo Petro has already demonstrated that he is willing to bypass certain norms in order to make his projects a reality, because when he was mayor of Bogotá he awarded contracts to his close associates, and when he was a congressman he voted for Alejandro Ordóñez, his arch-rival, to be attorney general.
Coincidentally, after Ordóñez took office, several people close to Petro started working at the Attorney General's office, as was the case with Diego Bravo, who years later served as manager of the Bogotá water system in the Petro administration.
The promises of Nicolás Petro to Posso and the refusal of Gustavo Petro to make his income statement public, when he has asked his detractors to do so, are yet further examples of the incoherence between his words and deeds.
So far neither Nicolás Petro nor his father have made any statement about the report by El Expediente.