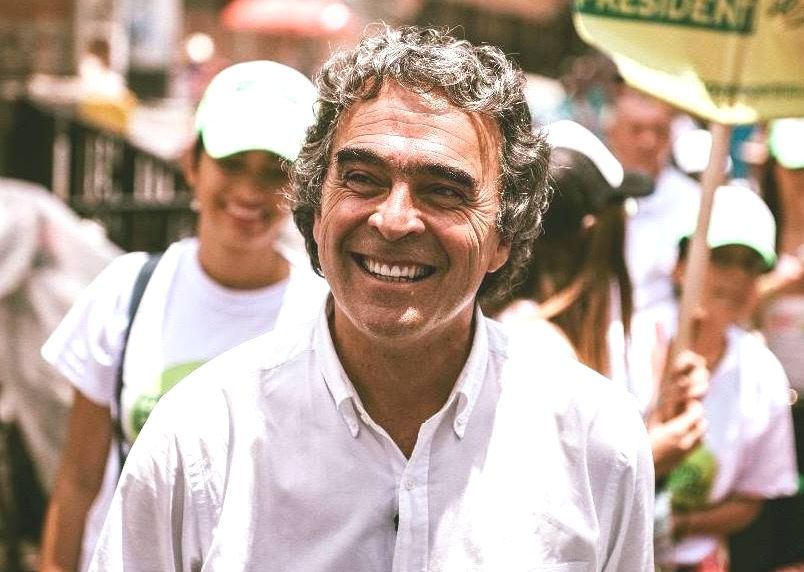 The ex-governor of Antioquia and former mayor of Medellín, Sergio Fajardo, is trying to regain his front-runner status, which he in enjoyed in the Colombian presidential race months ago. However, in the majority of the polls, he has been unable to rise above third place, separated from second place Gustavo Petro by up to 15 points. This indicates that, at least for now, he has no chance of reaching the second round.
But what has caused his precipitous decline? Have his countless campaign stops, numerous debate performances, and an impressive quantity of electoral alliances forged been in vain? For several analysts, there are two factors that caused Fajardo's drop in the polls: 1. his lack of conviction with regard to the crucial issues facing the country and 2. his alliance with one of the most radical figures of the Colombian left, Jorge Enrique Robledo.
Being "neutral" as a strategy
Javier Garay, professor and specialist in economic development, suggests that Fajardo's carefully cultivated image, "supposedly of an intellectual, of an academic, of a professor…cost him that image of neutrality", but, he adds, "perhaps his moderate image is not attributable to his academic background, as every academic prefers to avoid giving absolute answers, but to his lack of knowledge in many a subject."
Alejandra Ramírez, political analyst, points out that although Fajardo's image reflects "a political strategy of not taking strong positions on some issues, and making education his priority, it makes him an appealing candidate for centrist voters," but also subjects him to the charge that he is "a figure with little potential for strong leadership."
Camilo Bello, a political consultant, says that Fajardo has focused on the "practice of clean politics as opposed to principles or a certain ideology," which has left an "ideological vacuum" which has led him to make several mistakes. In addition, he emphasizes that Fajardo's strategy of positioning himself in the center was unsuccessful, because "he did not manage to consolidate the Colombian left vote or the supporters of the peace process," because those positions were already staked out by Vargas and de La Calle.
However, for Daniel Salamanca Pérez, lawyer, and teacher, "it is absurd to say that Fajardo has not taken the bull by the horns. Fajardo's tone is contrary to the rest of the candidates, a serious tone that shows his concern for the central issues facing the country."
Fajardo's alliances and their incoherence
Although Fajardo has tried to project himself as a centrist politician, with some of his alliances he has shown a tendency to the center-left, because his vice-presidential candidate comes from the Colombian left, and his campaign supporter, Jorge Enrique Robledo, belongs to the most radical left-wing sector in the country, which, for reasons of a power struggle, decided not to support Petro.
The Fajardo-Robledo alliance displays a degree of incoherence because the policies that Robledo has defended throughout his career conflict with those of Fajardo. Apparently, Robledo's influence is already beginning to take effect on several of Fajardo's proposals. A few months ago Fajardo defended the Ser Pilo Paga (It Pays to be Smart) program. Now, like Robledo, he says he would dismantle it.
However, Salamanca states that "the fact that he has joined forces with Robledo, López, and Mockus shows that he is a person capable of reconciling different positions in a country so prone to radicalization." Additionally, he notes that Robledo supports a program based on "classic liberal theory, demonstrating the ability of Fajardo to take a hard look at the serious problems facing the country."
Garay, on the other hand, suggests that the alliance with Robledo "is incoherent and unpresentable…of all the alliances, this is the one that seems to be the most likely to make him lose support and reduces the coherence of the whole political project." He adds that the alliance between Fajardo, Robledo, López, and Mockus was not really productive, since "these allies attract the same type of voter."
Bello argues that Fajardo's alliances are an attempt "to compensate for his lack of ideology" as he tries to build "a discourse on the moderate left, hand in hand with the advocates of political correctness." Additionally, he affirms that taking into account that "Robledo represents positions that Fajardo and his movement have previously rejected," that the alliance is incoherent. However, the title of best senator in Colombia holds more weight for citizens than his objective of "affecting private initiative."
Will Fajardo reach the second round?
Ramírez thinks that Fajardo will not, "because the reality of the political and social situation in the country, is that the people are looking for a leader who is at the forefront of unresolved issues and problems that need an immediate solution, and for that, they are looking for someone with clear positions, such as Petro or Duque."
Bello believes the same, suggesting that "the center-left coalition does not have sufficient draw to win the support of traditional leftist unions and 'caciques' that prefer to support Petro."
So, since Fajardo appears unlikely to reach the second, would it be possible to see Fajardo backing Duque or Petro, or maybe Vargas Lleras? This is a dilemma in which Fajardo would be forced to consult with his alliance partners, who could possibly press him for, in a Duque-Petro scenario, releasing his supporters to vote as they please, or promoting a "none of the above" option. In a scenario, with Vargas Lleras, they might choose to back him, due to the continuity that he represents in the peace process.
This note is part of a series of four entries on the main presidential candidates of Colombia (Vargas Lleras, Duque, Petro, and Fajardo).