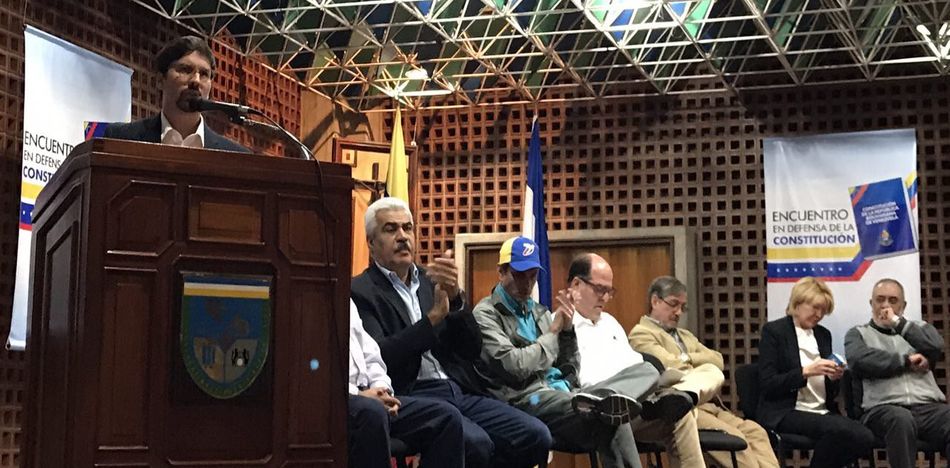 EspañolThe Venezuelan opposition met this weekend to better define the strategies it wants to implement in the fight against President Nicolás Maduro's regime, which has taken control of most major governmental institutions while violently repressing the population.
Ya en el Encuentro en Defensa de la Constitución. Seguimos aportando para lograr la superación de la crisis y la salida de la Dictadura pic.twitter.com/Cm4A1EPIMH

— Freddy Guevara (@FreddyGuevaraC) August 6, 2017
I am at the meeting for the defense of the constitution. We continue to work towards overcoming the crisis and overthrowing the dictatorship. 
The event, organized by the Andrés Bello Catholic University, was attended by President of the National Assembly Julio Borges, Vice President of the National Assembly Freddy Guevara, Governor of Miranda Henrique Capriles, Deputy of the Great Patriotic Pole Eustoquio Contreras, Luis Lander of the Venezuelan Electoral Observatory, Nicmer Evans of the Movement for Democracy and Inclusion, among others.
Luisa Ortega Díaz, the country's Attorney General, also attended the conference. She was recently dismissed by the dictatorship after denouncing its repressive actions.
Momento en el que llega al auditorio de la Ucab Luisa Ortega Díaz, Fiscal General destituida por la ANC. Participa en foro con opositores pic.twitter.com/71IGZXIt0l

— Amanda Sánchez (@amandasanchezc) August 6, 2017
The moment when the Ucab auditor Luisa Ortega Díaz, the attorney general appointed by ANC, participates with the opposition.
Vice President of the National Assembly and leader of the political party Voluntad Popular said all Venezuelans should recognize Ortega Diaz as the only legitimate Attorney General in the country — just one strategy they have moving forward.
Guevara also said that it is not only the responsibility of the National Assembly to fight the Maduro regime, but also that of the citizens, who must continue their fight on the streets. He said he expects a "declaration from all parts" of the country denouncing the fraudulent elections carried out in July.
"It's impossible to sustain a dictatorship against a people who are willing to fight," he said. "We will soon go to Miraflores, not to overthrow Nicolás Maduro, but to swear in a new President of Venezuela."
President of the National Assembly Julio Borges said Maduro's regime "is weaker today than yesterday. It only has brute force and violence on its side. He lost all legitimacy."
Source: Periscope.