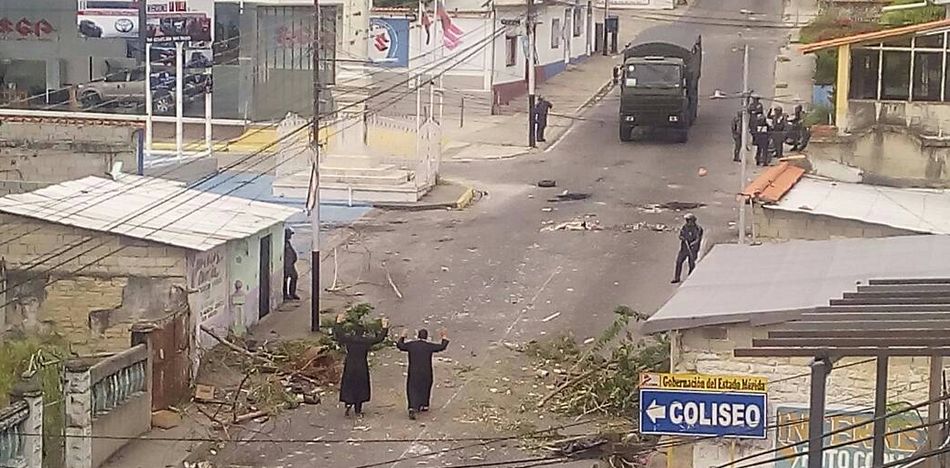 EspañolOne of the most powerful images to arise out of Venezuela's violent election day that took place this weekend shows two priests walking down the middle of the road, arms raised, toward a group of Bolivarian National Guard officials.
The photo was taken in the municipality of Tovar, in the state of Mérida, where at least four demonstrators died during confrontations with law enforcement. One of those demonstrator, just 19 years old, had been wounded five minutes before the photo of the priests was taken. They reportedly wanted to convince the GNB to stop shooting so that the young man could be taken to a medical center, but officials denied that request and the young man ultimately died.
Sacerdotes de #Tovar tratan de mediar para tratar de contener la represión. Hay heridos graves..#Mérida #30jul.. pic.twitter.com/69FDhdFCfw

— Leonardo León (@leoperiodista) July 30, 2017
Leonardo León
@leoperiodista
Priests from #Tovar attempt to intervene in order to contain repression. There are some mortally wounded. #Mérida #30jul.
Atención: confirman asesinato de manifestante(19) en protestas en #Tovar..Según fue herido con arma de fuego..#Mérida #30jul..11am pic.twitter.com/h9IqoREvwN

— Leonardo León (@leoperiodista) July 30, 2017
Leonardo León
@leoperiodista
Attention: Confirmed death of a 19-year-old protester in  #Tovar. Sources say he was shot with a firearm #Mérida#30jul..11am
Attacks have been reported in Mérida through the morning of Monday, July 31 at the hands of both government institutions and the GNB, who have implemented a curfew in the area.
The murder of the 19-year-old was only one of 16 that took place during dictator Nicolás Maduro's vote for a Constituent Assembly — a power grab that has been condemned across the globe.
Fatalities have been reported in the states of Táchira, Mérida, Lara and Sucre. Jorge Rodríguez, the Mayor of Caracas and a member of the ruling party, denied the death count while also making fun of the figures provided by one of his officials, as can be seen in this video:
LO ÚLTIMO | EN VIDEO – Con risas responde el alcalde Jorge Rodríguez al preguntarle por las muertes ocurridas hoy #30Jul en Venezuela pic.twitter.com/hblIVmZltM

— AlbertoRodNews (@AlbertoRodNews) July 30, 2017
Alberto Rodriguez
@AlbertoRT51
BREAKING VIDEO Mayor Jorge Rodríguez laughs in response to questions about the deaths that occurred today #30Jul in Venezuela. 
Following the events from last Sunday, the opposition invited citizens to mobilize against the "massacre" that took place at the hands of the armed forces, as well as the start of the implementation of an illegal constituency.
Source: El Informador.