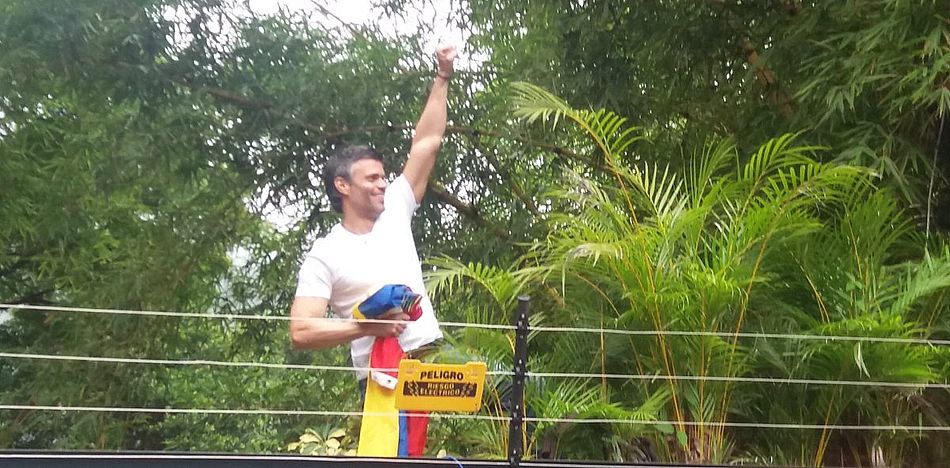 "This is a step towards liberty in Venezuela": At approximately 4:30 AM on Saturday, July 8, political prisoner Leopoldo López, a leading opposition figure in Venezuela, was transferred from Ramo Verde Prison in Caracas to his home in the city due to a decision from the country's Supreme Court. According to the decision, López, who had been incarcerated for three years and five months, was granted house arrest due to his health problems and to legal irregularities in his case.
Citizens and journalists reacted to the news by filling the street in front of López's residence, hoping to hear a message from or at least catch a glimpse of the opposition figure after his release from Ramo Verde, a military prison.
At 1:30 PM, Freddy Guevara, vice-president of the National Assembly (Venezuela's parliament) and leader of Voluntad Popular (Popular Will), López's party, transmitted López's message to Venezuelans in a press conference. Shortly afterwards, López, standing within his property, appeared before the crowd with a Venezuelan flag, causing an outbreak of euphoria among his supporters, who had not seen him outside of jail since 2014.
During his press conference, Guevara said that he had spoken to López for more than four hours. He added that López
is now the symbol of Venezuelans' suffering turning into growth, and of the wisdom that is gained from long periods of solitude and from the determination to end injustices for those who have undergone them.
Guevara said that, after 99 days of peaceful protests against Nicolás Maduro's Chavista dictatorship, "the struggle of the people on the streets (of Venezuela) had enabled a step towards liberty." He added that not only López's freedom was at stake, but that of every Venezuelan.
According to Guevara, López's message to his countrymen was the following:
This is a step towards liberty. I have no resentment and no desire to surrender my struggle. I maintain my firm stance against the regime and my willingness to fight for true peace, change and freedom… If maintaining my belief in the struggle for freedom means running the risk of returning to a cell in Ramo Verde (Prison), I am more than willing to pay the price.

Today I am a prisoner in my own home, but the people of Venezuela are under the same circumstances. What allowed me to remain strong during the most difficult days was the knowledge that my own suffering was nothing when compared to that of our people. Therefore, brothers and sisters, I reaffirm my compromise to fight until we gain liberty.
This is the moment in which López appeared before a crowd waving the Venezuelan flag: