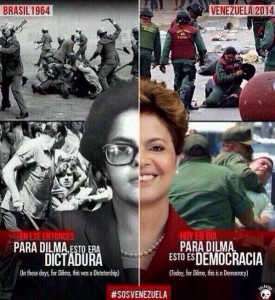 EspañolIn recent weeks, we have witnessed what is perhaps one of the lowest moments in the history of the Organization of American States (OAS) as the guarantor "of peace between its Members and safety for the mainland United" — and for its stated mission of "being a bastion of human freedom and independence of nations."
In the words of Alberto Lleras Camargo, the first secretary general, "the OAS will be neither more nor less than its member states want it to be." This idea was recently echoed by its current secretary general, José Miguel Insulza, who in an interview with CNN placed the responsibility on the governments of OAS member countries: "They are filled with the will to act in one way or another."
Beyond what happened in Washington on March 21, when the member countries of the OAS refused to allow representatives of the Venezuelan opposition to be heard in the public session and then granted them only a few minutes in the private session, the real crisis is not only in Venezuela but also in the foreign policy of its allies on the continent.
In each of these countries, from neighboring Colombia to the regional power, Brazil, ideological allies of Chávez have made their governments hesitant to recognize that democracy is not limited to elections. The defense of democracy requires more than simple condemnations; it must understand principles of equal rights, defense of individual liberties, minimum standards of governance, separation of powers, freedom of expression and, in particular, the defense of human rights.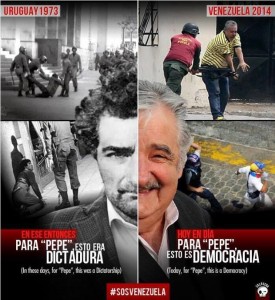 All this leads one to question of the usefulness of the Organization of American States as a true forum by which to approach various political positions, as opposed to being an outdated bureaucratic structure that works back to the contemporary realities of its member countries.
From the start of the protests, there have been 39 murders in Venezuela, 559 wounded, 2,020 demonstrators arrested — of which 89 are still imprisoned — and more than 50 cases of alleged torture according to human rights organizations. Cases of human rights violations have been extensively documented by ordinary citizens who via social media have posted photos and videos of excessive force against protesters, and these have echoed through nongovernmental organizations and the international press.
Last week, 96 former heads of state and government from around the world signed a document condemning "the excessive repression, escalating violence and the rapid deterioration of the situation of human rights" in Venezuela and asking the government to stop Nicolás Maduro's criminalization of protests.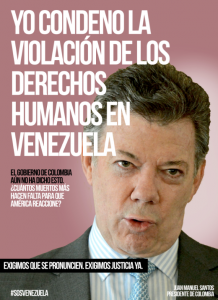 However, none of that seems to impact the lukewarm support or call for dialogue between governments in the region, whose leaders experienced firsthand the Latin-American dictatorships in the 1970s. Dilma Rousseff (Brazil), Michelle Bachelet (Chile), Cristina Kirchner (Argentina) and Pepe Mujica (Uruguay) — to name four of the most emblematic cases — were direct victims of repression via methods similar to those we see today in Venezuela.
However, it seems easier to forget, silence, or disqualify. Ideological arguments abound and show Latin-American collectivists that refuse to act; instead they cling to old and convenient talking points.
Consider the Venezuelan Chavista "Aporrea" portal and a recent article entitled "In response to a U.S. official." Author Lauren Caballero writes that the "truly totalitarian governments" are those that "used the violence and oppression … under the auspices and protection of the U.S. government." This excerpt considers only the various dictatorships known as right-wing as "truly totalitarian," although in practical terms the methods of repression are the same.
"The crisis is deep and uncertain in Venezuela today, but another crisis, perhaps deeper and even more uncertain is brewing: the Latin American left, intellectually lost and overwhelmed by an almost unimaginable hypocrisy, a real identity crisis" wrote Georgetown University professor, Hector E. Schamis, in an article published in the newspaper El País.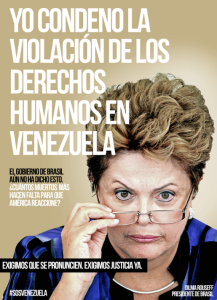 The issue has also generated countless comments and reviews on social networks and spawned several spontaneous campaigns. One of these campaigns, conducted by a young Venezuelan graphic designer under the name @_calavera_ on Twitter, graphically presents the hypocrisy of the repression in their countries then and now in Venezuela. It includes presidents Cristina Kirchner (Argentina), Daniel Ortega (Nicaragua), Dilma Rousseff (Brazil), Evo Morales (Bolivia), José Mujica (Uruguay), and Michelle Bachelet (Chile).
The campaign was not only released in Venezuela but also was profiled in the magazine Veja in Brazil, in the newspaper El Cronista of Argentina, in El País of Uruguay, Caracol (Colombia), Cable News, NTN24, and El Comercio of Peru, among others. According to its creator, the campaign "was successful and has allowed many people to open their eyes and realize what is happening in Venezuela."
Unfortunately, it has been over a month, and the question remains, revealing a deep crisis of values in the region's governments. A campaign conducted by a group of creative Venezuelans abroad broadcasts this message: "I condemn the violation of human rights in Venezuela" followed by the images of several leaders of the region and the comment: "How many more deaths are necessary for America react?"