EspañolImmigration reform has been controversial and stuck in the US Congress for many years. To encourage discussion on how such reform would affect the US economy, towards getting something passed, FWD.us hosted a bipartisan panel discussion at Miami Dade College on Wednesday, June 4.
"We have a system that is unfair to the people who come to the United States to work hard," said Congressman Mario Diaz-Balart (R-FL) to an audience of approximately 60 people. The panel, moderated by award-winning journalist Helen Aguirre Ferré, also included National Council Chairman of La Raza Jorge Plasencia, Executive Director of the LIBRE Initiative Daniel Garza, Representative Ileana Ros-Lehtinen (R-FL), and FWD.us President and Founder Joe Green.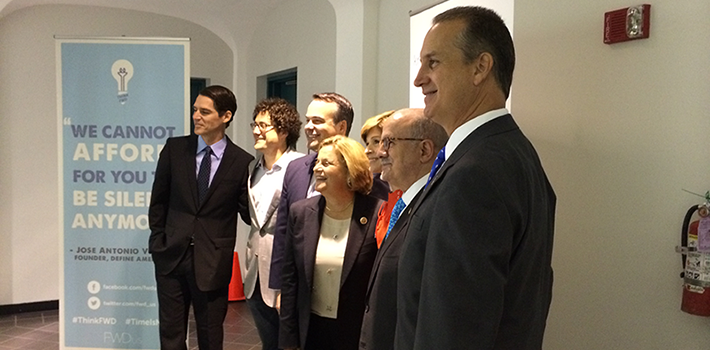 According to its mission statement, FWD.us seeks to "engage the tech community to advocate for policies that will make the American Dream achievable in the 21st Century economy." Members of the organization contend that if immigration reform is passed, it will "create millions of jobs, reduce the deficit, and allow for innovation to keep the U.S. globally competitive."
"This is a country where somebody with nothing can achieve anything," said Daniel Garza. "We have a system of opportunity." The panel of speakers generally agree that the United States is characterized as an exclusive destination for immigrants who want to improve their lives. They argue that it is a country where hard work is rewarded, and that much of the hard work is being done by immigrants.
They say that the current system, however, does not allow these hard workers to legalize their status, prevent them from being discriminated against, and pursue a better lifestyle. Therefore, they argue, immigration reform is necessary to allow those that have already given much to the country to achieve legal status.
Joe Green recounted a personal story that exposed him at a young age to the sort of issues immigrants have to deal with. He attended a predominantly Hispanic high school, where as a student he witnessed the desperation of a Mexican-American girl after her parents were deported.
"They were both hard working and had multiple jobs," said Green. The experience made him think about his ancestors and their decision to leave their home country of Russia. There, he said, children disappeared in the middle of the night. Now, in the United States, Green says hard-working people are being similarly "disappeared" and deported, regardless of their contributions to society.
According to Diaz-Balart, those who oppose passing immigration reform are not willing to do anything at all to help find a solution for the millions of illegal immigrants.
"If you do not want to do anything, you are advocating for a broken border system and having millions of people suffering the consequences," said Diaz-Balart. He emphasized that as long as that system exists, creating jobs will become a harder task as time passes. He further added that those who are advocating a better system for immigrants are not sitting back because the issue affects the entire country as a whole.
On the other hand, Mayra Hidalgo Salazar, a Dreamer who works for the Florida Immigrant Coalition and is on the board of directors for the United We Dream Network, expressed skepticism regarding the likelihood of immigration reform passing this year. She believes that in order to achieve some level of relief, at least until actual reform can pass, the best option is "for the president to take administrative action like he did for undocumented youth in 2002.… I think it is in the best interest of our country to stop the separation of families, stop the pain of our communities, and grant administrative relief for the 11 million undocumented people in this country."
The panelists also noted that the deportation rate in the United States is increasing, and say that illegal immigrants who contribute greatly to the economy are being removed from the country, while nothing is done to fix the broken system. They argue that Dreamers are the ones who suffer the most, since they were brought to the United States at a very young age and have adapted to the "American way of life."
"As long as we have this issue over our community, we cannot move forward," expressed Jorge Plasencia. He added that the only way to achieve a solution is by bringing "both sides of the aisle together," and have Congress move past their political differences.