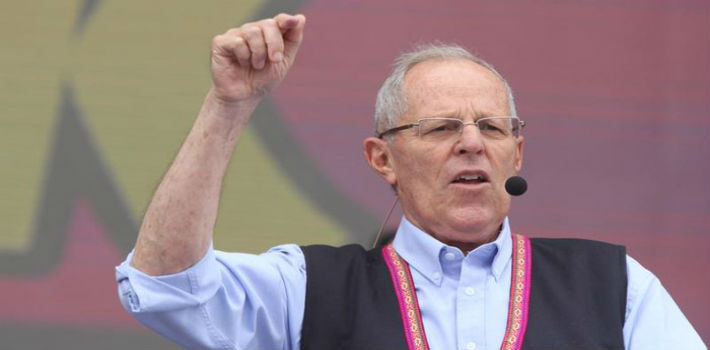 EspañolThe arrival of Pedro Pablo Kuczynski to Peru's presidency was good news for Venezuelan Democrats, and the rest of the continent.
Kuczynski, known commonly by his initials PPK, is a defender of a social market economy and of representative democracy, as well as the principles, duties and rights that come with.
But for Venezuelan democrats, PPK takes office at a moment when the members of the Organization of American States (OAS) is working on a democratic charter to preserve Venezuela's democracy in the face of the crisis caused by current President Nicolás Maduro.
Even though PPK, true to his personality, had initially been somewhat cautious and prudent of Venezuela, he recently released a statement about his country's position on Venezuela:
"Our position on Venezuela is absolutely categorical," he said. "There has been an election that the opposition party won and now the government is using dirty tricks to invalidate the popular vote … We have to invoke the democratic charter to create a great coalition of countries."
It's worth remembering that in December 2015, during a new-year greeting, PPK said that if he won the election, he would make a push to free Venezuelan political prisoners like Leopoldo López.
"We have to ask that everyone support us in this request to Venezuela to free its political prisoners," he said. "We are in the 21st century and can't tolerate situations of medieval abuse like what is being seen today in Venezuela."
This position coincides with the current request that the majority of democratic countries around the world — particularly in Europe — have made regarding the recall referendum, as well as that there be an "immediate liberation of all political prisoners" should the opposition wish to negotiate.
PPK's stance on the issue is far from that of outgoing President Ollanta Humala, who never spoke out against Nicolás Maduro.
However, it remains to be seen in practice if PPK can do what he did against Venezuela in the context of other countries in the region. We all know that at times there is a lot of distance between what is promised during a campaign and what actually happens during that term in office.
The realty is that the execution of any national or international policy won't be easy considering PPK faces a large congressional opposition of the right — at 75 to 18. And we can't forget that the 130 congressman on the left haven't all been historically been unanimously in favor of his policies, either.
Kuczynski will have to work hard to negotiate with Fujimori's party to come to a consensus. Hopefully the maturity that Fujimori showed during the 2016 campaign will carry though, and therefore allow her to have a relationship with the Executive Branch. Only time will tell.
The good news for Venezuela is that Keiko Fujimori has also showed her distaste and even outright rejection for Maduro's dictatorial regime, and will most likely be willing to support the OAS' initiatives.
In fact, two days after OAS' Secretary General Luis Almagro requested the democratic charter, Fujimori was emphatic in declaring to the press that she wanted to "support the position of OAS' Secretary General Luis Almagro, who is invoking the application of a democratic charter on Venezuela."
Hopefully, then, Fujimori supports the new president in this case and any future ones that have to do with preserving democracy in the region.