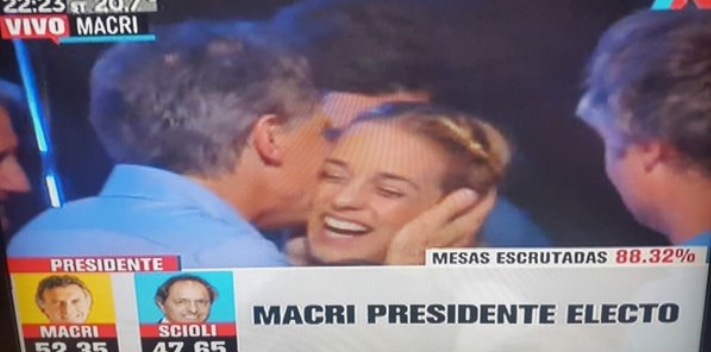 Español Mauricio Macri's victory in Argentina appears to have changed Latin American politics. This includes Venezuela, where the radical, populist, authoritarian left has been in power for the last 15 years.
This doesn't mean that the change is assured or decisive. Every country moves at its own pace, and local politics are defined by particular conditions. But Macri's victory will definitely boost the chances for reform in Venezuela as the pressure from abroad increases. The international community might not be a determinant factor for democratic change, but its influence is necessary and valuable in a globalized world.
As president-elect, Macri has annnounced his active defense of democracy in Venezuela and in the region. Macri pledged that his first measure at the regional level will be to request the suspension of Venezuela from Mercosur at the regional bloc's next summit on December 21. He spoke up against the Maduro regime's "political persecution and its attacks against free speech."
Given the current climate of political change and the "revolutionary" elite's loss of prestige in Venezuela, Venezuela's suspension from Mercosur could become a reality. Even Brazil could support the request even though it has refused to do so in the past.
Brazilian President Dilma Rousseff could change her position in order to neutralize domestic and international critics who have questioned her special relationship with the Chavista government during the last 10 years. Furthermore, the economic hardships affecting Brazil could drive the government to maintain good commercial relations with its southern neighbor.
After Macri openly supported the Venezuelan opposition, even Lilian Tintori, wife of jailed opposition leader Leopoldo López, attended the celebrations at his campaign headquarters. It won't be surprising if the president-elect insists on the release of the political prisoners at bilateral and multilateral meetings. He should also raise the issue of the Venezuelan regime's generally authoritarian practices.
Changing Argentina's relations with Venezuela will be a crucial part of Macri's diplomatic agenda.
Particularly, Macri could become a protagonist at the Organization of American States (OAS), where Secretary General Luis Almagro has shifted the institution's position towards the defense of democracy. Argentina's initiative could pave the way for the enforcement of the OAS Inter-American Democratic Charter on Venezuela. This hasn't been the case so far because of the weakness and self-interest of governments bought off with "petro-diplomacy."
Macri's administration could also bring about a radical shift in Argentinean foreign policy towards Latin America. The Let's Change coalition's leader announced at his first press conference as president-elect that he will work to build "good, foreseeable relations with the rest of the world." He added that "Argentina must present consistent policy on the global stage."
Presumably, this means that he will seek dialogue, regional understanding and integration based on true mutual respect rather than under the false principle of non-intervention. Macri has also made clear that he intends to defend and promote democratic rights and free markets with a social approach.
[adrotate group="7″]
Macri will make Argentina's relationship with Brazil a priority, choosing the neighboring country as the first he will visit after being elected president. One can assume that Macri will aim to rearrange the terms of bilateral relations on realistic and serious grounds. He will discuss Mercosur's free trade agreement with the European Union, which has been blocked for 16 years, and Venezuela's role as an obstacle to regional stability and prosperity.
It's indispensable for Macri to revise Argentinean foreign policy toward Venezuela. Over the last decade, the two countries have become partners in government-run enterprises after signing many cooperation agreements. Most of these businesses, however, have been questioned for their lack of transparency.
Macri also stated at his press conference that his attack on government corruption will be "implacable." If he fulfills his promise, it is likely that corruption scandals involving the Kirchners and the Chavista regime will emerge.
The president-elect will be limited by the grave economic, social, and institutional problems that he inherits from the Kirchners. But if Macri insists on a different foreign policy, marked by the principles of democracy and economic freedom, and if he addresses endemic problems such as corruption, poverty, terrorism, and drug-trafficking, he could position himself as the positive, democratic leader that Latin America has been waiting for.
He could also move the regional pendulum towards the non-populist center-right which, with all its problems, has been more favorable to the social, economic, and political development of the American continent.
The big test for Macri's regional influence will be the Venezuelan legislative elections on December 6. He won't intervene directly, but his example of victory against populism gained in democratic struggle could encourage Venezuelans to vote massively against the government.