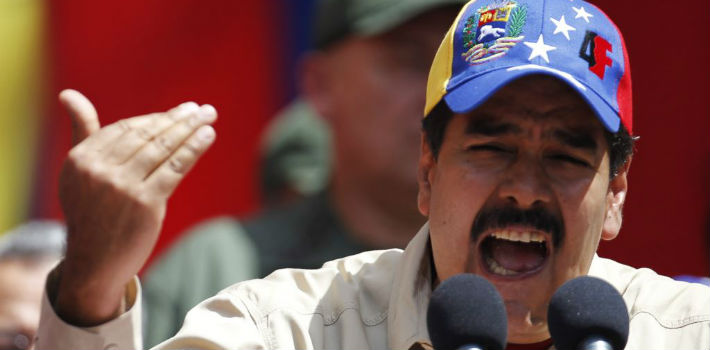 EspañolVenezuelan President Nicolás Maduro's recent announcement of sanctions against US officials is likely to further chill already frigid relations with the North American country. Their negative consequences will likely only add to the severe economic crisis facing Venezuela — a crisis from which Maduro's rhetoric seeks to distract citizens. His government's failure to offer any solutions has already seen his popularity levels sink to 20 percent or lower.
Under the aegis of the anniversary of protests against the government of Carlos Andrés Pérez in February 1989 — dubbed the Caracazo — Maduro called his regime's supporters to an "anti-imperialist march" on Saturday. He took advantage of the occasion to deliver an incendiary speech outlining new snubs to the United States, including the need for US citizens to henceforth pay for a visa to travel to Venezuela.
Maduro also announced that his government would exercise greater control over the US officials based in Washington's Embassy in Venezuela, requiring them to notify and secure the approval of the Venezuelan foreign ministry for multiple activities.
The Venezuelan premier is also looking to reduce the number of US diplomatic officials in Caracas, a figure that he put at 100, while the Venezuelan delegation in Washington, DC, is made up of 17 individuals, according to Maduro.
Despite the measures decreed by both countries and the near-freezing of diplomatic relations, trade is far from paralyzed.
He also announced that figures such as former President George Bush, former Vice President Dick Cheney, and Congressmen Ileana Ros-Lehtinen, Marco Rubio, and Bob Menéndez would be prohibited entry to Venezuela "as terrorists" who had "abused human rights in Syria and Iraq."
In 2010, both countries had no ambassadorial relations at all, while recent months have seen repeated announcements by Maduro and his US counterpart President Barack Obama of measures against the other country. This process culminated in US sanctions against Venezuelan officials whom Washington designated human-rights violators, including visa suspensions and the freezing of their funds deposited in the United States.
However, despite the measures decreed by both countries and the near-freezing of diplomatic relations, trade hasn't become paralyzed. Far from it — Venezuela continues to send around 750,000 barrels of petroleum to the United States per day, while Chavismo's supposed scourge in Washington is still the world's biggest buyer of Venezuelan crude.
Maduro's latest bluster is little more than an attempt to hide the huge weakness of his government, its rock-bottom popularity, and his lack of international support.
Although both Maduro and his predecessor Hugo Chávez have tried to diversify their customers, increasing exports to countries such as China and India, such transactions haven't proved as profitable for state petroleum firm PDVSA.
Transport and processing costs are much greater for such distant markets than in simply selling to the Yankee arch-enemy to the north. In fact, reports indicate that "sales to the United States of new mixtures of Venezuelan petroleum with imported crude doubled in January of this year to 176,000 barrels per day (bpd)."
In short, Maduro continues with his rhetoric, taking measures which are purely symbolic, avoiding a complete diplomatic and commercial rupture with the United States, which would be difficult, if not impossible, to realize.
At least for now, what with the profound economic crisis that Venezuela is living through, with an enormous shortage of basic goods, inflation set to hit three figures in 2015, and rationing of elementary foodstuffs. These problems, joined by rampant homicide and violent crime rates, are what concern most Venezuelans, not political machinations at the international level.
That's why it's not hard to see that Maduro's latest bluster as little more than an attempt to hide the huge weakness of his government, its rock-bottom popularity, and the lack of genuine support from friendly Latin-American countries — the Unasur meeting promised at the beginning of February to back Venezuela up against the US aggressor is yet to materialize.
Bombastic, anti-imperialist rhetoric has always been the go-to for unstable Latin-American governments seeking to unify their parties and smooth over internal divisions with misdirected patriotism. When Maduro's government decides to stop selling petroleum to the United States, maybe his speeches will have more credibility. But such a move would end up throwing Venezuela off the cliff edge, and into the abyss.