EspañolOne prominent policy shared by successive Venezuelan administrations since 1999 — that of Hugo Chávez until 2013, and Nicolás Maduro since then — is their "microphone diplomacy" with which they have tried to bully other countries.
Relations between Venezuela and Spain have been no exception. Ties between Madrid and Caracas have become tense, soured by incessant insults the two presidents have hurled across the ocean. The now-legendary phrase of King Juan Carlos I directed at the late Chávez — "Why don't you shut up?" — came during a 2007 summit in Chile, after the Venezuelan premier made insulting remarks about former Spanish president José María Aznar.
The latest impasse between the two countries emerges after an unprecedented act. Maduro administration officials held a meeting with major Spanish companies operating in Venezuela, asking them to put pressure on their domestic press to tone down negative coverage of Venezuela's government and economic situation.
Venezuela's Vice President Jorge Arreaza, Vice Minister for European Relations Calixto Ortega, and President of the Foreign Commerce Corporation Ramon Gordils met with representatives from firms Telefónica, Zara, Repsol, BBVA, Mapfre, Meliá, Iberia, and Air Europa.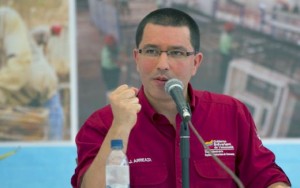 Spanish daily ABC broke the story, claiming that the Maduro administration threatened the companies with measures such as "immediate expropriation" if the alleged "media campaign" to discredit Venezuela didn't end.
Put another way, the Chavistas openly blackmailed foreign companies as if they belonged to Venezuela, as if they ruled them with the same iron grip they do home-grown enterprises, expropriating at will.
Unsurprisingly, the Spanish government reacted immediately. Upon receiving the news, José Manuel Soria, minister for industry, energy and tourism, said such a request was "absolutely unacceptable." He rejected Arreaza's "putting on the table issues that have nothing to do with the legitimate interests of firms operating in Venezuela."
In a press conference, Spain's Minister of Foreign Affairs and Cooperation José Manuel García-Margallo confirmed that the meeting took place. He reminded the Maduro regime that "in a democratic and law-abiding state such as Spain, freedom of opinion and a free press are two un-renounceable principles," warning that the Spanish executive is "within its rights to protect its companies facing arbitrary decisions by another government."
Venezuela's rebuttal was quick to follow. Instead of remaining silent or apologizing for the obvious abuse, Foreign Minister Delcy Rodríguez demanded respect for Venezuela, "a free, sovereign, and democratic republic."
With every passing day, it's more and more evident that Maduro's government is at the brink of economic, political, and social collapse. Its desperate attempts to shut down domestic and foreign criticism are further proof, if any were needed, of the non-democratic nature of Chavista Venezuela.
Another Spanish outlet, El Mundo, has recently released photos and footage proving that a convicted terrorist with Basque separatist organization ETA, José Ignacio De Juana Chaos, is hiding in open sight in Venezuela. This triggered the Audiencia Nacional to demand an Interpol investigation. The judicial request has predictably further stirred up resentment among the Venezuelan government, which up until now has ignored every extradition request for ETA militants hiding out in its territory.
Diplomatic clashes between Venezuela and the former colonial power have a long pedigree, the latest clutch of skirmishes stretching back almost 15 years ago to the beginning of the so-called Bolivarian Revolution. Things got off to a bad start when former Spanish President José María Aznar expressed support for the brief presidency of businessman Pedro Carmona, who in April 2002 replaced Hugo Chávez for 48 hours.
From that moment, neither Chávez nor Maduro held back from lashing out against Spain when it showed the slightest degree of support for any initiative coming from Venezuela's opposition, or anything deemed to be critical of the Bolivarian Revolution.
Venezuela even took exception in October 2014, when current Spanish President Mariano Rajoy met with Lilian Tintori, the wife of political prisoner Leopoldo López, in his private office, not even in the presidential La Moncloa palace.
Maduro slammed Rajoy as "irresponsible" and "disrespectful," and even demanded that the Venezuelan ambassador in Madrid seeks answers on the issue. "I have ordered a revision of all relations with Spain over Rajoy's unfriendly, interventionist act, which supports those far-right groups exerting violence in Venezuela," an angered Maduro announced.
But amid the sound and fury, Venezuela's pronouncements and threats seldom amount to anything more than complaining, a tool used by the government to distract the public. The truth of the matter is that the "revolutionary" Chavista regime, in all these years of rabble-rousing against the mother country, has consistently ranked among Madrid's top three weapons purchasers, and has welcomed Spanish investment in multiple crucial sectors such as banking, telecommunications, and petroleum, with open arms.
Translated by Daniel Duarte. Edited by Laurie Blair.