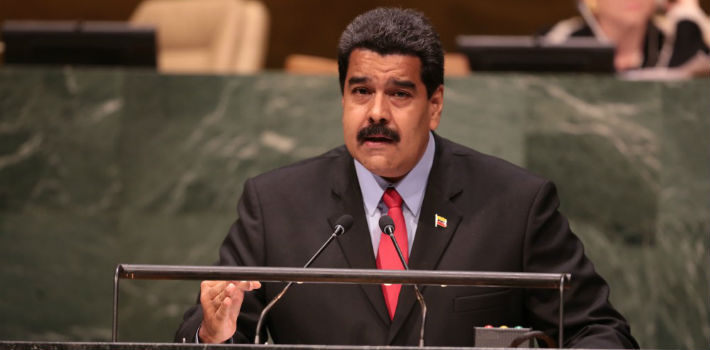 EspañolSince taking office in 2013, Nicolás Maduro's foreign policy has been characterized by confrontation and radical measures, surpassing even his predecessor, Hugo Chávez.
For Maduro, there's always an enemy to attack, and his posturing reached new levels in 2014. In February, his administration cheerfully — and without evidence — labelled peaceful student protests a "coup orchestrated by the opposition with foreign backing." He then proceeded to ignore calls from world leaders, governments, and international organizations, such as the United Nations (UN) and the Organization of American States (OAS), to seriously investigate the 40 dead, thousands jailed, and hundreds of Venezuelans tortured by law enforcement.
During the first three months of 2014 alone, Maduro blamed former Colombian President Álvaro Uribe for Venezuela's own problems; expelled three US embassy employees for allegedly meddling in the country's internal affairs; broke diplomatic and commercial relations with Panama; and accused Ricardo Martinelli's "lackey" administration of promoting an invasion of Venezuela through the OAS. Problems with other countries like Spain followed, and go on to this day.
Maduro, of course, saved his most venomous political attacks for the United States, Venezuela's largest consumer of its oil. The aggression towards the United States continued even despite the announcements in December from Barack Obama and Raúl Castro of the normalization of relations between the United States and Cuba.
Immediately following this historic event, Maduro toned down his anti-imperialist hyperbole, but it didn't last long. When the US Congress and President Obama signed a targeted sanctions law against Chavista functionaries responsible for human-rights violations, the confrontation reached new heights.
A reduction in financial largesse and diplomatic outreach also marked Venezuela's 2014 international performance. Dwindling income resulting from the cheapest oil prices in decades put the country's own budget at risk, and the Maduro administration was forced to cut back on international trips and its once generous aid to other nations.
Nevertheless, the Venezuelan president kept right on spending money during the few visits he did take abroad. In September, Maduro took 175 people — relatives, journalists, ministers, military members, bodyguards, and state officials — to the UN assembly in New York." As of September 2014, Maduro  wasted over US$14 million in public funds on trips and travel allowances, while the Venezuelan people suffer a deep economic crisis," denounced opposition Deputy Carlos Berrisbeitia.
That same month, the president appointed the prominent Chavista Rafael Ramírez as Foreign minister, after 10 years of leading state-run PDVSA and the oil ministry. This move was widely understood as the beginning of a new kind of diplomacy, less ideological and confrontational, and an attempt to calm creditors and investors in the oil sector. In fact, his four months in office — almost wholly devoted to representing Venezuela before OPEC — have been more moderate than his predecessor's, Elías Jaua.
Rodríguez, unlike the pragmatic technocrat Ramírez, signals a return to radicalization and ideological rhetoric.
On October 16, 2014, after years of lobbying, Venezuela obtained a non-permanent seat at the UN Security Council. Gaining 181 out of 193 votes from the general assembly, it was a great victory for the ruling PSUV party. This marked the fifth time Venezuela had gained access to the UN's highest deliberative body, after a resounding failure in 2006 when it competed with Guatemala. In the end, neither country managed to secure a seat, however, after 47 rounds of voting.
November, on the other hand, represented a major setback for Chavista foreign policy. Maduro unsuccessfully pushed for a production cut at an OPEC meeting in order to ease the plummeting price of oil, which accounts for 96 percent of Venezuela's exports.
The year ended with a sudden change: the recently appointed Ramírez was shipped to the United Nations as Venezuela's representative on the Security Council, and Maduro ushered in Delcy Rodríguez Gómez to the Foreign Ministry.
Rodríguez, unlike the pragmatic technocrat Ramírez, signals a return to radicalization and ideological rhetoric. The woman now in charge of the country's diplomatic relations is none other than the daughter of the legendary Marxist politician Jorge Rodríguez, founder of the Socialist League party, and sister of Libertador mayor Jorge Rodríguez, a high-ranking Chavista official.
This new designation will undoubtedly isolate Maduro's regime from the international community even further. If Maduro continues on this course — one that is, ironically, less pragmatic than even Raúl Castro's —  he is bound to reap disastrous political defeats like the one at the OAS on December 22. During the meeting, Maduro could not even manage to secure the support from Petrocaribe nations to sign a declaration against the US sanctions.