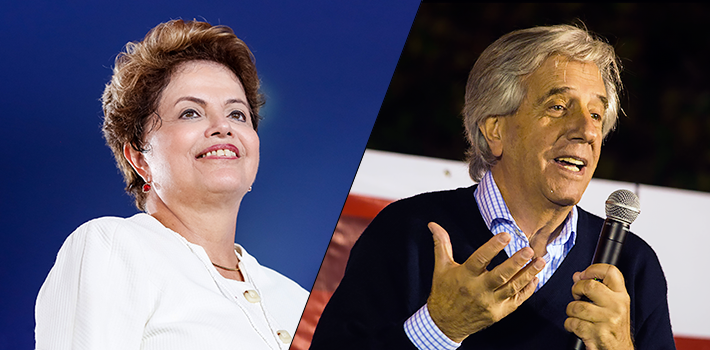 EspañolThree South American countries, currently led by socialist political parties, are set to hold presidential elections this month. However, only Bolivian President Evo Morales and his Movement for Socialism appears almost certain to win reelection. Brazilian President Dilma Rousseff of the Workers' Party and former Uruguayan president and current Broad Front candidate Tabaré Vázquez face stiff competition from unexpected challengers.
If the trend in the polls for the October 12 Bolivian presidential election holds, Morales will be elected for a third consecutive term, and his Movement for Socialism party will hold a sizable majority in Congress. According to the most recent survey from Poder y Placer, Morales is currently polling at 52.5 percent, Dorina Medina 16.7 percent, Jorge Quiroga 8.6 percent, Juan del Granado 2.8 percent, and Fernando Vargas at 0.7 percent.
It is far different situation in Brazil and Uruguay, where the candidacies of Marina Silva of the Brazilian Socialist Party, and Luis Alberto Lacalle Pou of the conservative Uruguayan National Party, are threatening the traditional progressive parties that have governed each of these countries for years.
The Meteoric Rise of Marina Silva
The unexpected success of the campaign of well-known ecologist Marina Silva has drastically shifted Brazil's October 5 presidential elections. While president Rousseff remains atop polls, thanks to a recent resurgence, if will be difficult for her to prevent the election from going to a second round.
The most recent survey from the IBOPE Institute has the current president leading the race with 38 percent of the vote, followed by Silva at 29 percent. However, when polling is expanded to what will almost certainly be a second round, the two candidates sit dead even at 41 percent.
After 20 years of polarization between Fernando Henrique Cardozo's Brazilian Socialist Party, and the Workers' Party of Lula Da Silva and Dilma Rousseff, there is no doubt that Marina Silva represents a form of political revitalization in Brazil.
Marina Silva is the popular former Environmental minister of the Lula Da Silva administration. In 1994, at only 36 years of age, she became the youngest Senator in Brazilian history.
The majority of Silva's support comes form the urban middle class, especially the Brazilian youth population, who have grown increasingly disgruntled with recent scandals and corruption of the current government, as well as their handling of the economy. Brazil is currently mired in a deep economic recession, high inflation, and the stagnation of its development model.
Lacalle Pou Wins Support of Uruguayan Youth
In Uruguay, the candidacy of young politician Luis Lacalle Pou, 41, has produced a shift in the Uruguayan political landscape. Lacalle Pou, son of former Uruguayan President Luis Lacalle Herrera (1990-1995), was the surprise winner of the National Party presidential nomination, beating out Senator Jorge Larrañaga, who is now Lacalle Pou's running mate.
Less than a month before presidential elections in Uruguay, the contest is marked by uncertainty, threatening predictions made months ago that Tabaré Vázquez would cruise to an easy victory, and the Broad Front would control the Executive for the second consecutive term.
The most recent polls give Vázquez the lead with 41 percent of the electorate in the October 26 elections, but defeating the young Lacalle Pou, currently polling 30 percent, will be no easy task.
What will ultimately shape this election is whether the electorate has grown tired of Broad Front political figures and speeches, as well as the generational gap between the ruling party and Uruguayan youth.
Lacalle Pou's electoral chances will almost certainly be bolstered by the Colorado Party, which currently polls at 14 percent. The polls also reveal the Broad Front will lose its majority in Congress, and that a second round of voting — scheduled for November 30 — is inevitable. No party is likely to obtain a clear majority in the first round.
In this slow but steady change in Uruguayans' electoral preferences, the socioeconomic situation has not played much of a role, unlike the situation in Brazil. Since 2005, under the Broad Front government, Uruguay has seen steady economic growth, and relative tranquility as far as social issues are concerned.
What will ultimately shape this election is whether the electorate has grown tired of Broad Front political figures and speeches, as well as the generational gap between the ruling party and Uruguayan youth, who more readily identify with a candidate in his 40s, than a 74-year-old former president.
However, even if Silva and Lacalle fail to win what are likely to be their respective runoff elections, Dilma Rousseff and Tabaré Vázquez will certainly opt for economic reform and a shift toward the center, given the prevailing political winds in each of their countries, and a changing Latin-American political scene.