EspañolJust like China, the authoritarian regime of Russia's Vladimir Putin, with its imperial ambitions, has its eye on Latin America. For several years Russia has had a significant presence in the region, even if it has not yet achieved the same level of commercial success as China; nor does it possess the same political and military influence as it did when the Soviet Union had Cuba in its claws and supported the Latin-American guerrilla movements during the 1960s, 70s, and 80s.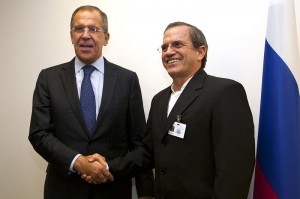 Like China's, the current Russian presence is more pragmatic than ideological, with an emphasis on building strong economic ties. However, this is not without geostrategic interest that may serve in its competition and political confrontation with its traditional Western adversaries, especially with the United States. We cannot forget that since his first term in office (1999-2008), through his successor Dmitri Medvedev (2008-2012), and up until now, Vladimir Putin has sought the revival of Russia as a world power.
This is aided by the fact that, despite its many internal problems, Russia remains the world's largest country with the greatest mineral reserves and energy resources on the planet. In a way, Putin has managed to accomplish his goal by not only expanding Russian influence to other continents, including America, but also by becoming part of key multilateral organizations through a dynamic foreign policy. Russia is a member of the UN Security Council and the Group of Eight (G8), a group of leading industrialized countries — although it is temporarily excluded as a result of the ongoing crisis in Crimea and Ukraine. In any case, this is how it is able to retain part of the aura of influence inherited from the Soviet Union.
With regard to Latin American, according to figures from the International Monetary Fund (IMF), "trade between Russia and our region reached US$13 billion in 2013, with Brazil and Argentina as its main trading partners." At the same time, the Russian government has managed to sign important bilateral and multilateral agreements in Latin America.
It achieved an important exchange of goods and people through an agreement not to impost visa requirements with the 33 member countries of the Community of Latin American and Caribbean States (CELAC). It also has agreements in place for technological and military cooperation with Brazil, Peru, and Venezuela, and is in the process of negotiating the installation of military bases in Cuba, Venezuela, and Nicaragua, among others.
Just one week ago, as Russia and the West live out their worst diplomatic crisis since the Cold War — the very day that the United States and European Union levied new sanctions against Moscow — Russian Foreign Minister Sergey Lavroc began his tour of Cuba, Nicaragua, Peru, and Chile. It was an obvious attempt to maintain influence in the region and continue its economic growth and international leadership position.
Lavrov visited two countries from the Bolivarian Alliance (ALBA) and two from the Pacific Alliance. With the first two, he sought to strengthen the agreements called ALBA-TPC, at a time when Cuba and Nicaragua are opening up to foreign investment; with the second, he negotiated bilateral free-trade agreements (FTAs).
At the same time, in visiting these four counties, Lavrov also aimed to demonstrate to the West that, despite the crisis with Ukraine, Russia is not isolated internationally and is capable of approaching the borders of the United States. Without a doubt, as noted by Rogelio Núñez, Russia is moving its Latin-American levers out of necessity, as it finds itself on the brink of full-scale war with Ukraine.
It is worth noting that the Russian foreign minister did not visit Venezuela, a country whose revolutionary government already maintains such good relations with Russia. The Chavista-Madurista regime has always regarded Russia as a "strategic partner" in the Cuban socialist project and its multipolar and anti-imperialist foreign policy. Russia has become of the main suppliers of weapons, technology, and other resources that underpin the Bolivarian plans in energy and industry.
Although it was not actually necessary, the government of Vladimir Putin has stood in solidarity with Nicolás Maduro during the wave of protests from the Venezuelan opposition in the last three months. Similarly, the Maduro government has provided political support to the Russians during its crisis in Ukraine. Putin also recently awarded Maduro economic and political support to resist an alleged coup attempt by the Venezuelan opposition.