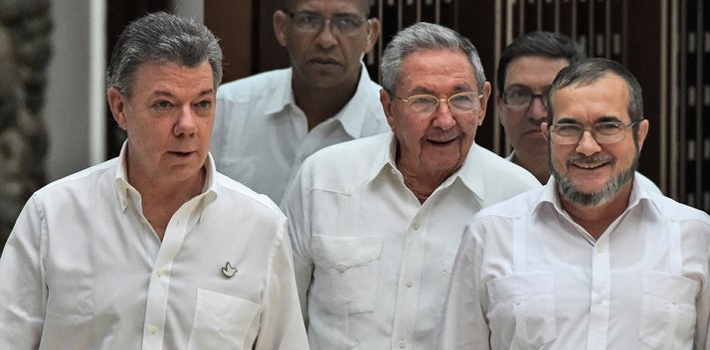 EspañolFor the last three years, Colombians have been anxiously waiting to see President Juan Manuel Santos and FARC guerrilla commander Timoleón Jiménez shake hands to finally seal a peace accord. The photo, captured on Wednesday, September 23, is the first step toward that end since negotiations began in Havana on October 18, 2012.
Although the most contentious issue has been resolved — FARC members who committed serious crimes will face justice — the efforts needed to continue securing peace are no longer in the hands of the delegations in Cuba. Now, Colombian citizens will make the call. Everything the government negotiated with the FARC must be put to a vote in a referendum.
As of August, the Colombian people are not very optimistic. According to a Gallup survey published by El Tiempo, 73.4 percent of Colombians believe that the peace talks are on the wrong path, and only 18 percent are confident they will turn out well. Moreover, 82.6 percent of those surveyed say they believe the authorities would not reach an agreement by the end of 2015.
Among the most significant compromises within the agreement is that the Colombian government will grant extensive amnesty for "political" crimes. These do not include war crimes, crimes against humanity, genocide, hostage, torture, forced displacement and disappearances, extrajudicial executions, and sexual violence.
A special peace court, comprised of Colombian magistrates and foreign experts, will be in charge of trying the accused. The president has assured that these procedures will be conducted entirely within the bounds of the constitution and Colombian law.
While negotiators have committed to signing a peace accord in the next six months and have agreed that those who confess to serious crimes will face between five to eight years of "confinement," 81 percent of Colombians still want jail time for FARC leaders, according to a survey by Cifras y Conceptos.
The victims are not convinced that "confinement," rather than prison time for confessed guerrilla members, is sufficient. Former President Álvaro Uribe, head of the opposing Democratic Center party, has also come out against granting this benefit to FARC leaders.
"We want them in detention facilities, or if they must be in specific areas, that oversight committees made up of international entities monitor and control them," retired General Luis Herlindo Mendieta said. The FARC had previously held Mendieta prisoner for 12 years, and the general participated in the Havana talks on behalf of the victims in October 2014.
Mendieta says the victims could easily agree to the proposed sentences, but they worry that FARC members will remain free to threaten the population. This is why knowing where they will be held and who will watch over them is crucial, he says.
"When will the FARC reveal where their money is?" Mendieta asks. "What will do with it [afterward]? Will they hand it over to the state, use it to compensate victims, or reconstruct everything they have destroyed over so many years of brutality."
As for the victims, Mendieta says there is still a very long way to go. "I think that we really must focus on truth, justice, and compensation."
The peace talks' spokespeople announced on Wednesday that FARC must lay down their arms no more than two months after signing the final agreement. However, whether the guerrilla will be forced to hand over other supplies is still unknown.
[adrotate group="8″]
Despite lingering doubts, political analyst Jairo Libreros believes there is a strong possibility the peace negotiations will be finalized.
"To see the transition from negotiation to a validation process demonstrates the Colombian democracy's good health. The opposition will especially weigh in at the polls, but this is a factor that will give major political validity to what will be signed in Havana," Libreros says.
He concedes, however, that the task lying ahead for the Colombian government is "titanic."
"Not only will they have to ensure that the outcomes of this peace process will be beneficial, but they will also need a strong communication strategy to appease concerns. Civil society largely continues to hold doubts, as well as profound differences over what is being negotiated."
Several players in the international community share his view. Human Rights Watch Director José Miguel Vivanco says the agreement would "allow that those responsible for the worst crimes could possibly be exempt from even a single day in prison," which he considers a violation of human rights.
Despite this scenario, Libreros affirms that there is clearly much to clarify regarding this transitional tribunal and how it will grant alternative measures. "Most likely the [sentences] will not be as strong as we expect, but the [negotiators] have respected the minimum guidelines of Colombian legislation and international humanitarian law."
The Colombian people will be able to freely vote for or against this peace process, but the final negotiation for an end to the conflict and the verification process for the referendum remain to be addressed.
Dayana Braz contributed to this article.