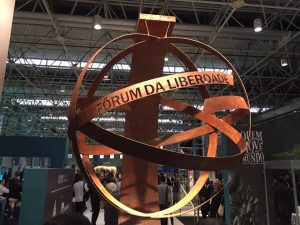 EspañolThe Atlantos Conference and the renowned Liberty Forum took place this week in Porto Alegre, Brazil. The event brought together more than 3,000 people in what makes up the largest meeting on principles and ideas of freedom in Latin America.
The panels and workshops were a genuine display of productivity, thanks to the youth groups that helped organize and participate in the event. These young people are part of two talented Brazilian institutions: the Atlantos Institute and the Institute of Business Studies, the latter founded by William Ling in 1984 .
These people's organizational skills are not only surprising, but their ability to ask good questions and make a strong commitment to the world of academia give us all hope.
In a region where schools teach students to regurgitate information without questioning it — to accumulate data rather than relate concepts — these young people form a group of rebels who without doubt break the mold.
They read economics and philosophy issues on their own, even if not related to their chosen careers. They have realized the influence that good and bad philosophical and economic ideas have on their quality of life.
Instead of repeating set phrases, these rebels prefer to wonder at what is going wrong in Brazil. They realized that if they do not find the right answer, they are doomed to repeat the pattern that keeps Latin America mired in decline.
With that curious spirit, they searched and found answers on a hidden part of the library, which few colleges and universities bring to light and exposes to students.
In addition to Kant, Marx, Hegel, Sartre and Keynes, they discovered that there is a different world of ideas led by authors such as Smith, Locke, Bastiat, Bacon, Rothbard, Mises, Hayek, Friedman, and Rand, among many others.
Reading these authors, they realized that the virus that afflicts Latin America is based primarily on the adoption of a code of values that puts the collective over the individual, the whim over reason, needs over law and justice.
And on behalf of society, nation, common good, social justice, equality and many other grandiloquent but poorly defined terms, this code has transformed the individual into a sacrificial animal for the whim, desire or group-need.
The result of these ideas is clear: A region inhabited by infants waiting for "someone" to take charge of their lives — waiting for that "someone" or politician who, under his name, takes the opportunity to legally steal the wealth of others, fill their personal coffers and spread misery.
But in Brazil, these young people have made it out of the matrix, making it clear that what Brazil and Latin America need is a new code of values. A culture that puts the individual on the pedestal, and their right to liberty, property and pursuit of happiness are fundamental and inviolable principles.
The work of several similar groups is needed across the continent to battle for the liberal ideas that represent the only effective antidote for a model that has destroyed everything it touched.