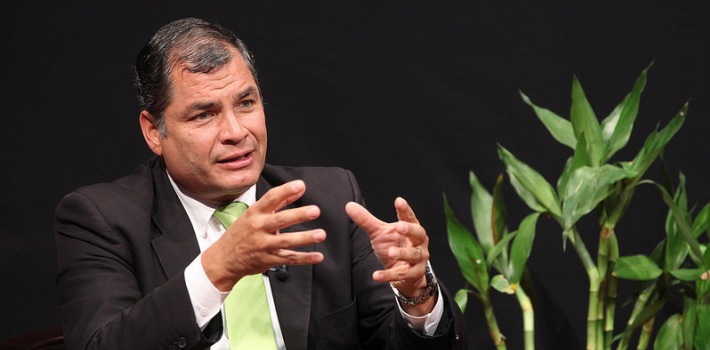 EspañolAfter the November 13 attacks in Paris, President François Hollande stated that France's current constitution is inadequate to wage the new war against terrorism. He said that a constitutional reform is needed in order for the state to take "exceptional measures" against terrorists and suspects without having to call a state of emergency.
Legal scholars and lawmakers have criticized Hollande's announcement and raised questions about the initiative's true intent. Some believe that, behind Hollande's proposal, there lies an executive power grab. The current constitution, they claim, allows the government to respond to exceptional and urgent situations under very clear legal rules.
Meanwhile, in Ecuador, the ruling PAIS Alliance is about to pass 16 amendments to reform the constitution. Their aim is to adapt it to the new conditions that President Rafael Correa demands for his personal project, putting one person's interests over the country's general welfare.
It turns out that the current Constitution, which was enacted in 2008, is no longer useful. Seven years ago, however, the Constitution's supporters labeled it a historical landmark that would last for at least two centuries. Things have changed, apparently. Among other things, Ecuador is no longer a democracy.
What we have is an autocracy where the National Assembly simulates democratic procedures while rubber-stamping any legislation sent by President Correa, who believes he is not accountable to anyone. As a result, Ecuadorians are no longer asked to approve new constitutional reforms at the voting booth.
Absurdly, the 2008 Constitution required a referendum to be approved, but current amendments made in the National Assembly do not need the Ecuadorian people's consent.
The 16 amendments in question are ornamental, semantic distortions meant to disguise the underlying issue: they will allow Correa to reelect himself indefinitely. They legitimize his wish to perpetuate himself in power.
For Correa, allowing non-consecutive reelection is a political tactic. After leaving the state bankrupt, he would rather avoid any responsibility for the dismal economic scenario that awaits his successor.
The next president will have to deal with the consequences of Correa's obscenely wasteful spending, his inefficient administration, and his irresponsible enlargement of the national debt. Correa's successor will also have to pay compensation to Correa's victims of human-rights abuses. And he will have to heal the great social rift that has arisen after nine years of Correa's rule.
The Ministry of Communications has attempted to disguise this abuse with a propaganda campaign to present the amendments in the best possible light. But this is nothing more than the government's latest attempt to manipulate public opinion.
Fortunately, this is no longer very effective, since Ecuadorians have made use of their rights of political participation by demanding that the amendments be shelved. Sadly, no mechanism of representative democracy can function under an autocratic regime.
[adrotate group="8″]
Although it's true that Ecuadorian citizens are beginning to participate more actively in the political, economic, and social spheres, it's still necessary for many to realize that the government's arbitrary acts do not simply endanger our democracy, but that Ecuadorian democracy has ceased to exist under Correa's rule.
Our only option is to wait for the opportunity, hopefully in the near future, to create a new constituent assembly in order to reinstate democracy in Ecuador.
First of all, we have to gain a clear perspective on the current attack on our liberties. We then have to find the will to create a democratic nation once again. Otherwise the autocratic night that awaits us will be without end.