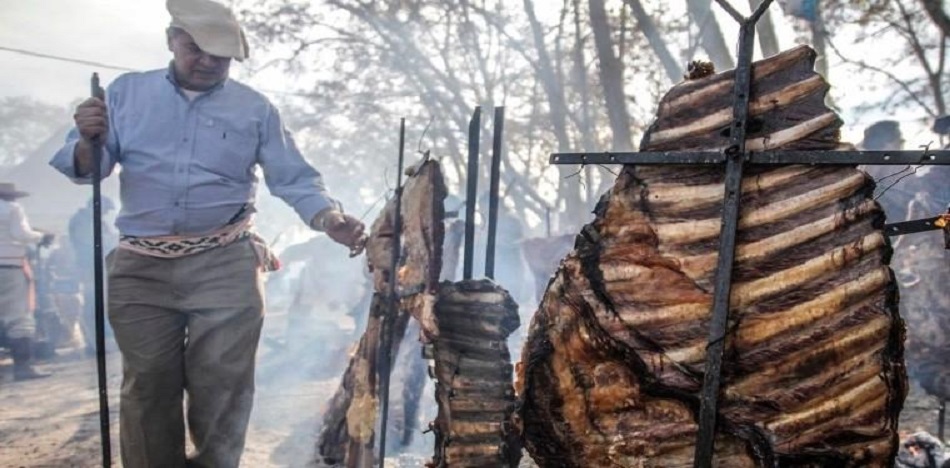 Spanish – It is no secret that Argentina is synonymous with good wine and good meat. However, the offer is so wide that if a visitor does not have much time, he or she may miss some of the unmissable places. If you are passing through here or want to know if you know all the jewels of the city, do not miss this list.
Siga la vaca
This is the option if you are very hungry, as if you are going to have a big feast with friends, or if you have just arrived in Buenos Aires, and you want to have a first taste of the national asado, and then go deeper with your favorite cuts. The format is the "free grill," that is to say, a buffet where you can serve yourself whatever you want, as many times as you want. There is a table of appetizers, salads, and side dishes such as rice, mashed potatoes or french fries, and the grill, which you must go to every time you want meat. Although it does not have the sophistication of the rest of the recommendations on the list and the quality of the cuts may vary depending on the day, there is always a more than worthy option. Sometimes it is the asado, sometimes the vacío or the bife de chorizo. That is why it is necessary to ask for a little bit of each item so as not to be satiated in the tasting process and to see which is the appropriate variant for the binge of the day.
Tip: tip the griller when looking for the first cut. Then, follow his advice. He will know better than you.
Good attitude: they let you bring your bottles of wine for an affordable "corkage" fee, sometimes they don't even charge for it.
Puerto Madero, Alicia Moreau de Justo 1714
La Estancia
A few meters from the Obelisk, on Lavalle at the pedestrian section, is this traditional grill that captivates from its window. As you walk by, you can see the country-style asador criollo, with the meats standing on stakes, almost perpendicular to the fire. Although it is in the downtown area, it is a good option to taste something similar to a typical country asado, both for the ambiance of the place, as well as for the cuts and the cooking process.
Although there is everything, the asado de costilla ancho deserves special mention in the list of national pride. The french fries are an excellent accompaniment. Indeed, downtown Buenos Aires is not what it used to be, but this place maintains the quality of Argentina's golden years.
It has a happy ending: most probably at the time of the bill, whether you order dessert or not, the waiter will treat you to a glass of sparkling wine or a lemoncello to close a wonderful day, ideal for sharing with your partner.
Microcentro, Lavalle 941
Don Julio
The quality of this steakhouse is undisputed. Don Julio is now in the spotlight of meat lovers from all over the world. The World's 50 Best Restaurants organization chose it as the best restaurant in Latin America. Those of us who were lucky enough to eat there before this recognition were not too surprised. Any first rank is subjective and debatable (among a small elite of the best finalists, of course), but in that small group of those who are "at another level," without a doubt is Don Julio.
All the cuts are perfect, although you have to know how to wait for them since they are prepared at the moment and to the diner's taste. The quality is superior, so it is an ideal place for special occasions. What is a sin to pass up is the offal: It is exquisite. The dishes are large and can be shared, and so is the portions of offal as a starter. Although the prices are a bit steep at first sight on the menu, an appetizer and a portion of meat with a garnish are enough for two people.
High point: the wine list. If you have tasted a special wine that you will not find anywhere else, Don Julio likely has it available. Because if there is something that does justice to this premium meat, it is the very complete and first-class wine list. One of the best in Buenos Aires.
Sweet wait: As there is a lot of demand, you will probably have to wait a while for your table. But the wait is rewarded. The staff will treat you to empanadas and a glass of sparkling wine, ideal to whet your appetite.
Palermo, Guatemala 4699
El boliche de Nico
It is the right point between the classic Buenos Aires bodegón and the grill. What is more, if someone does not want to eat asado, they have at their disposal the traditional minutes of the boliches porteños. Although it is far from the traditional tourist circuit, access is not complicated. It can be easily reached by subway line B, which runs along Avenida Corrientes. You have to head towards Juan Manuel de Rosas and get off at Triunvirato station. Don't go looking for glamour because you won't find it. You will eat very well and pay a reasonable price.
Ideal to visit with friends or family, the place has tables both inside and outside. If you do not decide on a particular cut, you have the option of the grill with several options included, as to share between two or more people. What you can't miss are the sweetbreads. They are everything that is good in terms of offal.
The most beautiful thing in the world: the ribs. Unfortunately, they don't make it every day. It only comes out on Tuesdays. It is worthwhile, if you have a craving, to mark the day on the calendar and, above all, to arrive early, lest they run out. There are very few options for this cut in the City. The other alternative is to go to the countryside with the gauchos. If you don't end up eating it with your hand, peeling the whole rib bone, become a vegetarian because you don't understand anything about life. Nobody will look at you awkwardly if you grab the bone like a caveman and put it in your mouth. It would be disrespectful if there was some meat left on it, and it went in the garbage. If you have a dog and you want to leave him a little bit, that's fine.
Villa Ortúzar, Avenida de los Incas 4287
La Brigada
One of my places in the world. A magical place that is synonymous with an unforgettable moment. The service is incredible as if to accompany one of the best meats in Buenos Aires. The whole team of La Brigada has been marked with fire that every moment has to be perfect. It doesn't matter if you don't care about having your plate or cutlery changed between starters and main courses, the waiters refuse to offer a service that is below the standard of the place. Once, when I asked them to warm up a cut I was eating (it was so big that it was impossible to finish it at temperature), they brought me a "brand new" one, and when I told the waiter that it was already too much, he replied, "this is La Brigada, sir. We are here to serve you and make you feel very comfortable." I was sold for good. It was the cheapest investment in history because it assured them a customer for life. No matter what amount is on the bill, they make you feel that it was cheap.
The eyes of the owner, Hugo Echevarrieta, an entrepreneur who came from the bottom and became an undisputed gastronomic reference, control that everything goes as it should. His staff has both respect and admiration for him. Any attempt to skip the protocol of one of the best services in Buenos Aires by the diner will have the same answer from the waiters: "Hugo won't let us."
Everything you order of meat will be worth it, but be sure to try the sweetbreads as a starter and the hot sabayon for dessert. The quality and the special moment deserve a good wine. Don't get tied up with the drink or ask for a soda. You will find great choices on the menu at a reasonable price. I don't recommend those special bottles because they would run out, and I want them for myself.
Heaven on earth: the cellar in the basement. Come and visit it; it is an indispensable place for a lover of good wine. Ask with confidence one of the locals, who will surely open the door for you. Several famous habitués such as Joan Manuel Serrat keep their bottles there.
The spoon show: when they bring the meat to the table, don't expect them to cut it with a knife. Take out your cell phone, make a video, and immortalize the visual moment of the day because it is worth it. Not necessarily because you are a fan of social media or because you want to make your friends jealous. It's a nice souvenir of the incredible cut of meat you are about to eat.
San Telmo, Estados Unidos 465