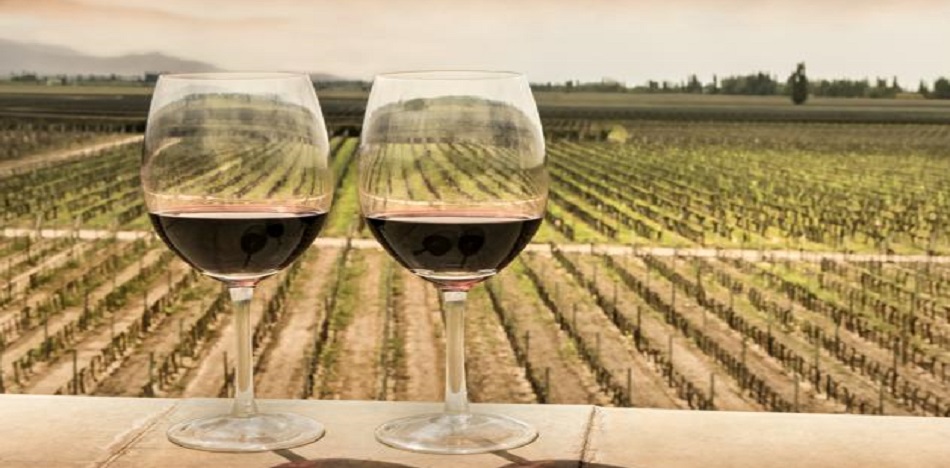 Spanish – I'm not saying that they are the "best" since I never identified with the lists of "top" wines published by the great sommeliers. For example, in the recent list of the 100 best Argentine wines made by the prestigious British specialist Tim Atkin, I cannot find more than ten that have captivated me and no more than twenty that I usually recommend. All of them are of great quality, of course. But something more is needed for the magic to happen. My favorites are not included. Of course, as everything depends on subjectivity, the ones here may not be the "best" for others, but, without a doubt, those on this list are unmissable, and, again, the best, for me.
Let's start from the South
In Argentinean Patagonia, Patritti winery has great creations. If their name appears on any menu, please remember that it is a guarantee of quality. All its varieties are rich, and I do not know anyone who has not liked them. The one we recommend here is the "Sangre Azul" from the "Primogénito" line in its Merlot version. Although the high-end wines can be served between 16 and 18 degrees, this one goes better cooler. If you are used to Mendoza's Malbec, know that other latitudes can also offer options. You should try it.
Torrontés: national heritage
Although the world associates it with Argentina, the truth is that Malbec, like Carlos Gardel, arrived from France, almost anonymously, to succeed in this soil. Of course, the traditional variety is a source of national pride, but it is "the adopted daughter" (this doesn't imply undermining it). The one that is entirely native to this land, and that is not obtained on another side, is the white Torrontés. It grows in several provinces such as Rio Negro, La Rioja, and Salta, where our recommendation comes from: "Tapao del Cese Torrontés Tardío." Like all "late" wines, it is a sweet one as it is harvested towards the end of the season when the grapes have a higher concentration of sugar. It is enjoyed cold and is ideal to accompany sushi. The "Tapao" from Salta also has two incredible reserves of its Malbec and Cabernet Sauvignon varieties.
Wine is not a "man's business"
There are very few bottles that, by averaging their contents, have motivated me to desperately investigate the creator responsible for that magical moment. This happened to me with the "Trinità" from Piatelli, a winery that works in Mendoza and Salta. It should not have caught my attention that the person responsible for that love "at first sight" was an oenologist: Valeria Antolín. And her talent shows that "equality," for certain women, is even a small thing. This unmissable blend, which contains Malbec, Cabernet, Sauvignon, and Merlot, has a delicacy, subtlety, charm, and complexity that, to be honest, could hardly have been created by a man. Ideal for those who think, mistakenly, that the "feminine touches" of life connote fragility or weakness. At the time of great creations, we see that the delicate can go hand in hand with personality and strength without any inconvenience.
Piatelli also offers a "Gran Reserva Malbec" that has a well-deserved place in this list and is probably the best in the country in terms of price-quality ratio. At that value, you can't get anything like it.
A rather unguarded secret
If there is a secret weapon in the world of Argentine wine, it is the "Doña Silvina" organic blend. Few people know it, but those who have tried it agree that it is a half-court goal. From the Krontiras winery in Luján de Cuyo, this marvel is made from Malbec and Aglianico. This last variety, originally from Greece and not so well known in Argentina, is widely cultivated in Southern Italy. Although it does not appear on most restaurant menus, nor is it found in all wineries, "word of mouth" does its thing, and "Doña" can appear at any time. If you see it, don't hesitate.  If there is a possibility of stock, the quality in relation to the price invites to take more than one bottle.
The white that tastes like red
We all have prejudices in life. Rutini Wines' "Apartado Gran Chardonnay" is for those who think that white wine cannot offer an experience comparable to that of red wine. The aging in first and second use French oak gives complexity and depth to this wine to the point that it has absolutely nothing to envy to the traditional red. Furthermore, it is very difficult to find a red wine that can compete with this marvel of a dreamy golden, perfect scent, and fair notes of tropical fruits and honey. The unique smoothness of this wine makes it enjoyable without anything else. It is the appetizer, the main course, and the dessert. Is it cheap? No, but at some point, you will have spent that money on red wine. Put aside the prejudice and buy it.
An unforgettable wine
The "Tinamú" from Las Perdices winery is a blend where Malbec is the main ingredient, accompanied by Cabernet Sauvignon, Petit Verdot, and a touch of Tannat. The wood plays a fundamental role in this perfect wine, which does not lack or exceed anything. The two years of French oak give it the right finesse, which is complemented by the strength of American oak. After those 24 months of magic in barrels, another 12 months of storage in the bottle before going out. Without a doubt, it is one of my favorites worldwide, but the best thing I have to say about Tinamú is not of my own making. "It's a wine I remember," I once heard said about this "top of the range" Perdices. It is not easy to make this wine, and the expert Juan Carlos Muñoz has done it well.
Anyone who likes wines with good wood to the point of achieving epic notes of coffee, tobacco, and chocolate, has to try the wines of Las Perdices.
Like a magical kiss
Alejandro Vigil's "Nicolás Catena Zapata" has everything you need to immortalize a moment. I tried it for the first time at the edge of the mountain range in an unforgettable setting. The moment was somewhat eccentric, but I think it was one of my greatest successes in recent times. I had chosen another bottle that did not completely meet my expectations, and with an attitude that was not aligned with my income and wealth, I asked that it be taken away to bring me something that would make me completely happy instead. As an appropriate poster says in the Don Julio grill in Buenos Aires, which by the way has one of the best cavas in the country, "life is too short to drink bad wine." In a place with such a wine list, that ad should be illegal. As Arjona says, it encourages, in the worst way, to look only at "the left side of the menu."
This jewel of a Catena is the analogy of a perfect kiss: the romance is provided by the quality of the best grapes from four Mendoza vineyards, and the intensity is provided by the 78% premium Cabernet Sauvignon. But we must also add the sweetness and meatiness of the traditional Argentine Malbec: the tenderness that puts the finishing touch to the magic. The delicacy and complexity provided by the 24 months in first use French barrels give the perfect frame to those sips that are like ideal kisses, with lips made to measure for yours.
The "one" and the worthy and exceptional comfort for its absence
The Rutini Wines line of Bodega La Rural is synonymous with a guarantee. As its star winemaker, the great, unique, and incomparable Mariano Di Paola, says, "the consumer bets on safety." And whatever bears his name and seal will always be of quality. If I suffer a death sentence somewhere with capital punishment and I have one last wish available, at least I have the consolation of not having much to think about to decide. No one who enjoys good wine should go through this life without at least once drinking a "Felipe Rutini."
Although I dared to comment on one before starting my formal studies as a sommelier, the truth is that today, I no longer dare. To those who have not tried it, I can only anticipate that we are not talking about wine. The Felipe is "something else." It deserves another category: that of the best things that can happen to one in life. Let's not talk about prices now. Let's just say that it is an experience worth living.
Tips for dealing with the king: lower the temperature just below 16 degrees so that it is ready for caramel (17 or 18) after at least half an hour of decanting. Do not think about it for a great meal because no banquet does it justice, and anything that modifies its taste is a sin. At most, some cheese with some character but not too invasive. Some dry fruits, a steak of chorizo, or a cut of loin without garnish. Neither French fries nor salad. The maximum star is in the glass, and it does not admit excesses of fat or condiments. It can survive the dessert if there is a bar of great chocolate but, please, don't be ridiculous: don't light a cigarette with this wine. Even if your head tells you that it "looks good" and nobody notices the sacrilege, your taste buds will perceive that you are an idiot.
Liquidating a bottle in solitude is always a good option. As we said, it is not a traditional wine, the hangover (if you can call it that) is not either. Far from the headache and discomfort produced by the irresponsible abuse of mediocre drinks, the morning after the Felipe experience brings a very different experience: relaxation, peace, and fulfillment.
Footnote: don't brush your teeth. Go to sleep with the taste; take my advice.
As a matter of budget restriction, this wine is somewhat prohibitive, at least for the daily life of most mortals. However, the winery has something more accessible that is still extraordinary. It is the "Encuentro Gran Reserva 7 Vineyards." You have to know a lot to perfectly combine two different cuts of Malbec, two Merlots, Cabernet Franc and Sauvignon, and Petit Verdot. Di Paola knows. If you find a 2009 bottle, don't hesitate. You will thank me for it.