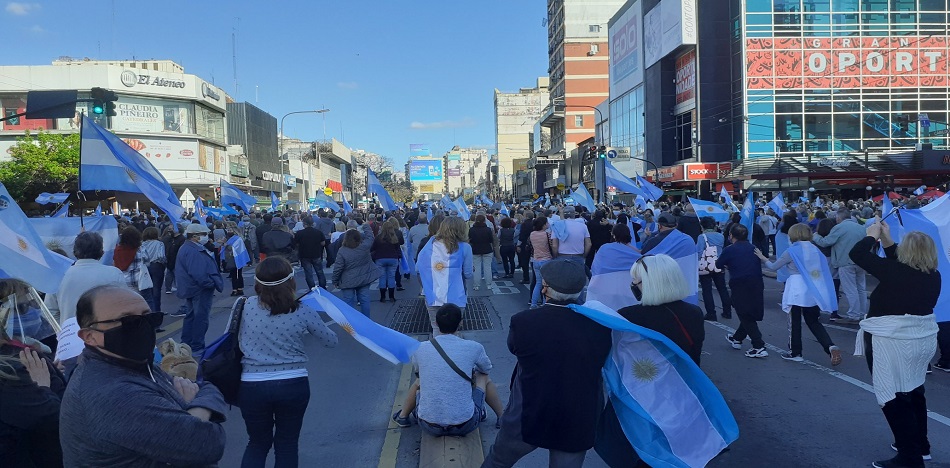 Spanish – Alberto and Cristina Fernandez's Frente de Todos is playing the distracted game at the worst possible time. While discontent with the government grows, and Peronism falls in the polls, Kirchnerism does nothing but double down. One of the most recent absurd examples is the creation of the controversial NODIO: a government agency dedicated to "pursuing" disinformation and "symbolic violence" in the media and digital platforms. Nobody believes anymore in the supposed good intentions of the authoritarian initiatives, and only the Kirchnerist journalists totally tied to the government dare to defend these monstrosities.
On Monday, another massive popular demonstration was held throughout the country, and Alberto suffered a new blow. All the calls during the quarantine were massive, and the image of the president is increasingly compromised. Fernández's problem is that he is left alone between two fronts: the issue of Venezuela separated him from hard Kirchnerism. But at the same time, his relationship and political partnership with Cristina distances him altogether from the "anti-Kirchnerist" public. The head of the state's game is, precisely, no game: he did not take sides, and it may already be too late for him. For now, he is still in office, and there are three years left before the next presidential elections and one before the legislative ones. What is certain is that in the coming months, nothing else is on the horizon except the deepening of the severe economic crisis.
On the banners of yesterday's marches, there were calls for corruption, justice reform, defense of the division of powers, criticism of the extended quarantine, and, as always, the late prosecutor Alberto Nisman was remembered.
The reaction of politicians
Fernandez followed the events from the Quinta de Olivos and, while watching the images, assured his closest collaborators that none of this would change his agenda. In other words, he heard absolutely nothing.
The one who came out to speak on behalf of the government this morning was Alberto's chief of staff and stalwart, Santiago Cafiero. In line with the President's mandate, the official sought to downplay the importance of the call, stating that the demonstrators "are not the people," nor do they represent "all of Argentina." In his opinion, the country is "much bigger," and without saying so, he tried to render irresponsible those who took to the streets yesterday. "Argentina understands that there is a pandemic and takes care of its family," he said.
As in previous marches, Mauricio Macri decided to join the success of the call. Without publishing anything on Twitter for two weeks, with the streets filled with flags, the former President referred to the "peaceful mobilizations" that show "courage" and "conviction."
Queridos argentinos: las crecientes movilizaciones pacíficas, el coraje y la convicción de las personas que las acompañan, son la demostración de que a pesar de nuestros problemas actuales tenemos que ser muy optimistas respecto a nuestro futuro.

— Mauricio Macri (@mauriciomacri) October 12, 2020