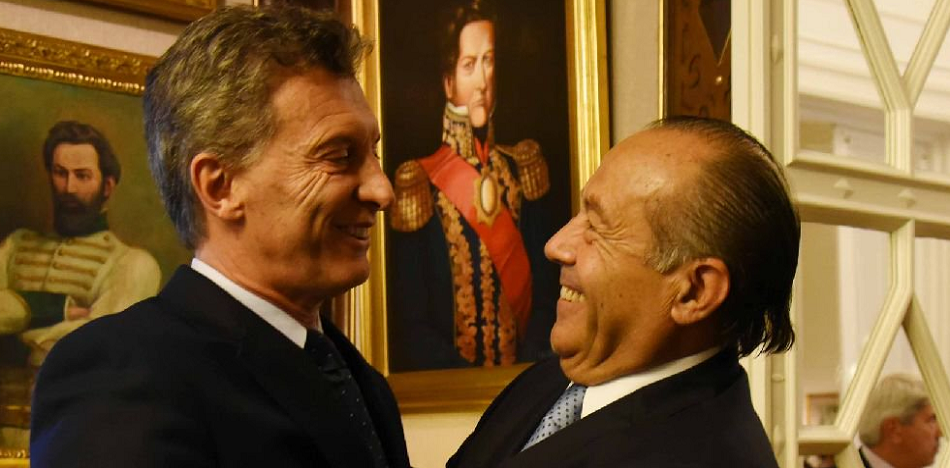 The Argentine pro-government coalition, led by Mauricio Macri, recently renamed "Together for Change," is looking to rapidly increase its support from Peronistas. The support of former Peronist Senator Miguel Ángel Pichetto, has been a pivotal moment, as Macri seeks to reach out to traditionally leftist Peronists in a bold play for a second term. The former Kirchnerist top leader in the Argentine Congress for 12 years made a promise when he threw his weight behind Macri's reelection bid: "Many Peronist leaders will come along and join us." It appears to be a prophecy that has come to pass.
Starting with Macri's choice for his vice presidential candidate, Macri has made strong appeals to Peronists in the Senate: the former president Carlos Saúl Menem, Carlos Reutemann, Lucia Crexell, and Carlos Espínola did not hesitate in making the leap to the Peronist branch of Cambiemos. But Pichetto has even greater ambitions for poaching members from the party of Cristina Kirchner, and most recently was able to convince Adolfo Rodríguez Saa to make the leap of faith as well. There was a wonderful photo opp. The Peronist senator holds his current seat until 2023, since he was elected last time in the mid-term of 2017. He has held his seat in the Senate since 2005.
The fine points of the "Peronization" of Macri's party
Without a doubt, the increasingly broad appeal in the base of political support of the ruling party is good news for Macri. With a larger number of legislators and leaders throughout the country, it distances the party from the perception that they are in a perilous position as economic problems have endangered Macri's dream of a reelection bid.
Yet, with the arrival of the most important Kirchner legislator to the ranks of Cambiemos, how much of its ideological identity is the party willing to lose?
It is also fair to recognize that without the arrival of these new players, without the support of governors and members of Congress, the implementation of substantive reforms would be very difficult. Now that Cambiemos enjoys a solid base of Peronists joining its ranks, it has no excuse for not promoting, as soon as possible, the reforms necessary for the country. The peronization of the pro-government front is taking place very close to the elections. But to achieve reelection, Macri must confront head on, from day one, the major reforms he avoided during these past four years, which seriously aggravated the economic crisis in Argentina.