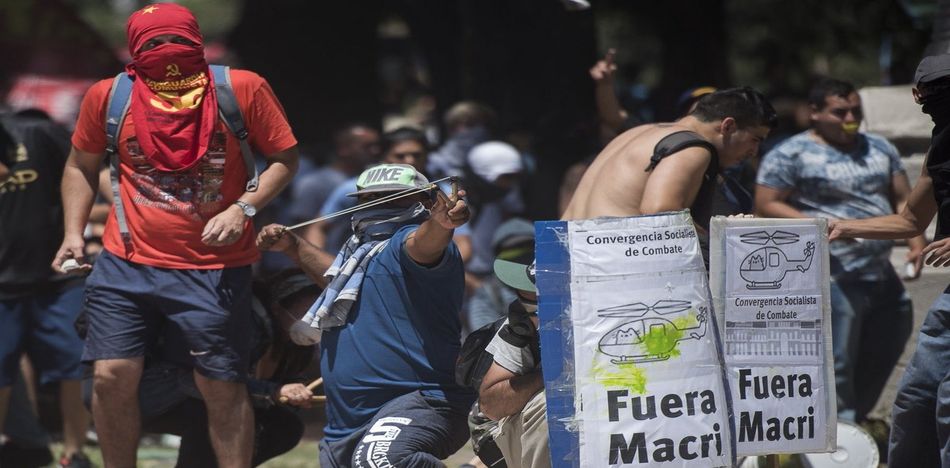 EspañolOn Monday, December 18, Buenos Aires experienced a literal street battle.
President Mauricio Macri's administration came to an agreement with several opposition governors regarding pension reform, modifying pension amounts and universal allowances for children, all of which were subsidies implemented during the Kirchner administration. The left, along with former President Cristina Fernández de Kirchner, were betting on chaos as their best chance of reversing a recent legislative decision.
With a quorum at 2 p.m. local time and 130 legislators present, the Macri administration obtained approval for a proposal that they first attempted to pass last Thursday. In the meantime, violence errupted between Macri and opposition supporters, as leftist rioters destroyed property and threw stones at the police who prevented them from storming Congress.
Before receiving support from the Federal Police, the local police force for the City of Buenos Aires, under the command of Mayor Horacio Rodríguez Larreta, gave the order to avoid physical confrontation as much as possible, but were met with a stoning of Biblical proportions. Unfortunately, the term "repression" in Argentina has come to mean any police activity at all, carrying with it hugely negative connotations because the left have succeeded in imposing the idea that a police officer has to basically let himself be killed before resorting to self-defense.
On TV, the nation watched as the police fell victim to violent attacks, as were journalists from media critical of Kirchnerism. The veteran journalist from Channel 13, Julio Bazán, was kicked, stoned and spat on before he was able to get away and hide in a subway station in Buenos Aires. Several properties in the surrounding neighborhood near Congress were also destroyed and looted by the criminals that many Argentine journalists continue calling "demonstrators." A similar situation also took place in the City of Rosario, in the province of Santa Fe, where copycats looted a supermarket.
The outrageous events that took place yesterday demonstrate that the protesters' complaints are no justification for their criminal activity that briefly turned Buenos Aires into a war zone. The violence was politically motivated by groups that, having lost the elections, remain intent on getting their way through violent means.
Macri's leadership is lacking in several areas, and communication is undoubtedly one of them. However, despite the current government's shortcomings, the leftist opposition groups inciting violence and chaos are not in a position to offer any real solution, and this is what Argentine society has to understand: groups that resort to rioting and looting will not suddenly happen upon magical solutions to the serious underlying problems that afflict the country.