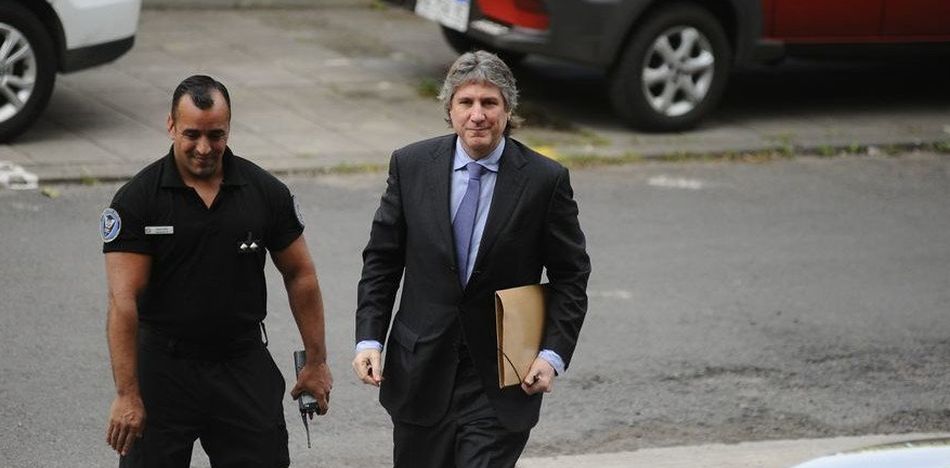 EspañolThe Vice President to former Argentine President Cristina Fernandez de Kirchner was arrested early this Friday.
Amado Boudou was arrested a few hours after 5 a.m. local time in his apartment in the Madero Center building in the capital of Buenos Aires for alleged embezzlement and illicit association.
Boudou's partners José María Núñez Carmona, Alejandro Vandenbroele and media personality Agustina Kämpfer are also being investigated in the same case. Boudo is the second major official that served in Kirchner's cabinet to be arrested. Former Planning Minister Julio De Vido was arrested on October 25.
Luis D'Elía, who served under Kirchner as well as her late husband Nestor, tweeted in defense of Boudou, saying that he is now a political prisoner of the "oligarchy," which is, he claims, retaliating against Boudou for nationalizing the country's pension fund system during his time as Minister of Economy between 2009 and 2011.
La oligarquía no va a perdonarle a Amado Boudou la expropiacion de las AFJP a los banqueros chorros y su devolución a los trabajadores pic.twitter.com/xg9cKBTPQe

— Luis D'Elia (@Luis_Delia) November 3, 2017
Tweet: The oligarchy will not forgive Amado Boudou for taking the pensions out from under the control of the bankers control, and into the hands of workers. 
According to a statement by officials in the Argentinine justice system, "there is enough evidence to assume that Amado Boudou has gotten rich off of the government's wealth through elicit means during his time spent as a public servant."
The judge who issued his arrest, justified the warrant by saying that if Boudou were free he "would be in a position to obstruct the investigation."