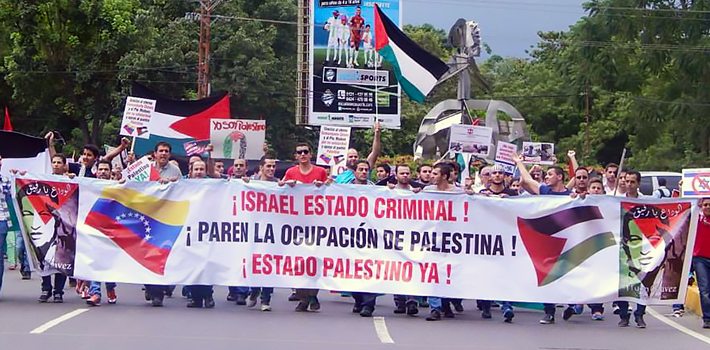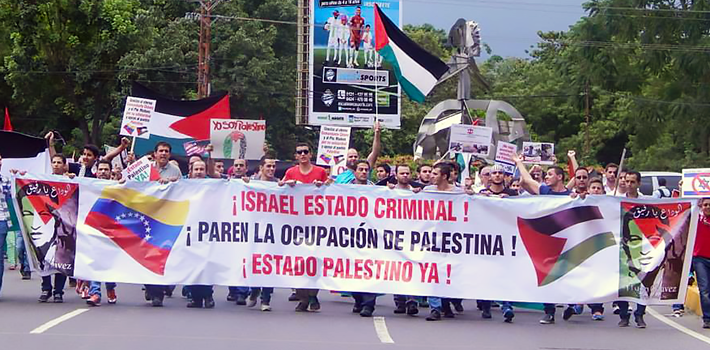 EspañolThree weeks have passed since the Israeli-Palestinian conflict escalated on the Gaza strip, and governments worldwide are taking sides. Latin America is no exception. Not only have Israeli relations with the region started to feel the political cost of military actions and an asserted right to self-defense, so too have almost 600,000 Jewish people in Latin America.
On July 18, Ecuador was the first nation to make a move and recall its ambassador from Tel Aviv for consultation. Brazil's government followed five days later and described Israel's actions as a "disproportionate use of force." Benjamin Netanyahu's administration: "Brazil is a friend, but we think its position is not balanced," Israel's general consul in São Paulo, Yoel Barnea, stated.
Israel's reaction went one step further, however, when Foreign Ministry Spokesman Yigal Palmor called the South American power "an economic and cultural giant," but still "a diplomatic dwarf." Brazil is "an irrelevant diplomatic partner, one who creates problems rather than contributes to solutions," Palmor asserted.
Brazil was not alone in its stand. One week later, from the Mercosur summit, the governments of Argentina, Uruguay, Venezuela, and Brazil issued a joint statement that called on the international community "to apply due pressure" for an immediate ceasefire. Venezuela, in particular, has maintained distant relations with Israel, especially since 2009, when then-President Hugo Chávez broke off diplomatic relations as a sign of protest for its military actions on the Gaza Strip.
In addition, on Wednesday Chile, Peru, and El Salvador also recalled their ambassadors at Tel Aviv for consultations. Chile's Ministry of Foreign Affairs justified the decision on the grounds that "the scale and intensity of the Israeli operations in Gaza infringe the principle of proportionality in the use of force."
In the face on this turn of events, Israel expressed its "deep disappointment with the hasty decision." The Ministry of Foreign Affairs stated that "this step constitutes encouragement for Hamas, a group recognized as a terror organization by many countries around the world."
And as if that were not enough, Bolivia's President Evo Morales also jumped on the bandwagon, declaring Israel a "terrorist" state, and announcing its withdrawal from their visa-exemption agreement. "We have made the firm decision to terminate the visa agreement with Israel signed on August 17, 1972." The visa-exemption agreement was signed during the Bolivian military dictatorship, and "allowed Israelis citizens to freely enter Bolivia" without the need of any visa.
With this measure, Israelis will now have to request a visa to enter Bolivia, and then wait for approval from the National Migration Directorate. In mid-July, Morales also filed a request at the United Nations Relief and Work Agency (UNRWA) to prosecute Israel at the International Court of Justice for "crimes against humanity."
Bolivia, which recognizes Palestine, broke off diplomatic relations with Israel back in 2009 due to a previous military operation in Gaza.
The PanAm Post had the opportunity to speak with Saúl Gilvich, general secretary of the Latin-American Jewish Congress, about the implications this collective stand against Israel could bring for the Palestinian-Israeli conflict, and ultimately, the Israeli community in Latin America.
"When these Latin-American governments decided to withdraw their ambassadors as a protest for the operation in Gaza, they are not recognizing Israel's right to self-defense. But beyond that, I find it hypocritical to accuse the 'victim' [Israel] of terrorist attacks, and not hold Hamas responsible for all the terrorism. MERCOSUR's joint statement didn't say a word about Hamas terrorism."
Further, Gilvich believes that Latin-American governments actually could play an important role in the conflict by combating terrorism, limiting Hamas military capacity, and facilitating the dialogue between both parties: "This would improve world security, including the security in Latin America."
However, according to Gilvich, these governments gave up their capacity to influence and mediate the conflict when they decided to withdraw their ambassadors: "This decision goes against the principle that any conflict must be addressed through dialogue, and Latin-American governments need to accept their responsibility as participating agents."
Beyond the consequences that Latin America's foreign policy may have in its relations with Israel, Gilvich notes that there is also an important, and often forgotten, impact on the Jewish community abroad: "The governments' response towards Israel's actions is already having consequences on the Israelis in Latin America."
Currently there are approximately 500,000 members of the Jewish community living in South America, and 60,000 in Central America, according to the Jewish Data Bank.
"That 'anti-Israel' stand is basically a pat on the back for antisemitism. We are seeing a wave of people attacking Israelis institutions, painting graffiti that reads 'die Jews,' or Nazi symbols. Ultimately, I believe that these Latin-American governments should assume their responsibility for promoting the antisemitism we are now seeing on the streets."