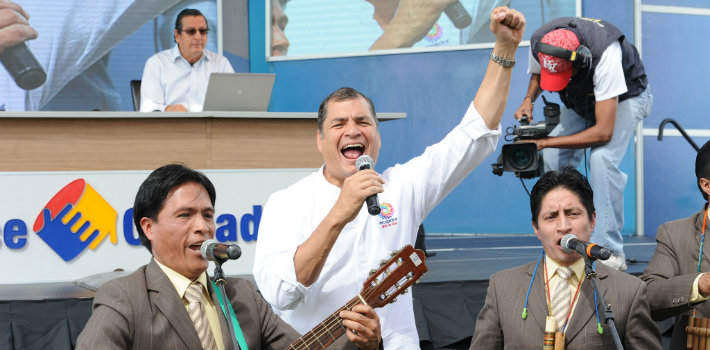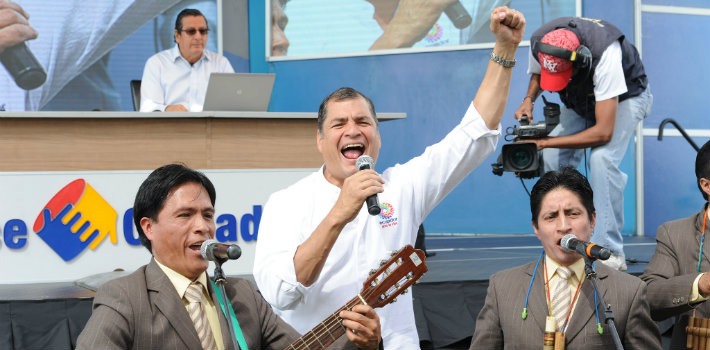 EspañolEcuador's deteriorating freedom of the press has made it into the headlines once again. After passing the controversial Communication Law last June, the socialist government has found a new way to silence critical outlets: financial suffocation. Its first victim is Hoy, a 32-year-old Ecuadorian newspaper, that was forced to go out of circulation yesterday.
After publishing their final print edition on Sunday, Hoy released an editorial condemning that "the Communication Law's restrictive regulations and the radicalization of some of its rules, limit in a discriminatory manner Ecuadorean investment in news media." Hoy was obliged to suspend the daily print edition, the article reads, given "the permanent boycott of advertising in Hoy, the cancellation of contracts for printing, especially of school texts, and other restrictions on funding our operations, including the initiative to make information a public service, in a global scenario of progressive deterioration in audiences of the print media."
According Editor in Chief Jaime Mantilla, any newspaper like Hoy that aims to be pluralistic, free, independent, and open to different opinions has faced seven years of a highly adverse environment. This period, he explains, has been characterized by a gradual loss of liberties, the restriction of constitutional guarantees, a self-censorship imposed by the Communication Law, and constant direct and indirect attacks to the press.
"This decision closes the first era of more than 32 years of honest, transparent, direct, and upfront service that the newspaper Hoy has offered to the Ecuadorian community. It has been an era in which it can demonstrate with legitimate pride its contribution to the defense of democracy, respect for human rights and liberties, and the struggle for a fairer, united, and inclusive society."
Hoy will continue to operate, but as a digital outlet. At least for now, it will continue to print a weekly issue on the weekends.
"Despite all the difficulties, Hoy sees the future with optimism and hope, because it has faith that the greater values promoted by the Ecuadorian people throughout its history will prevail, as well as the rejection of impositions, dictatorships, and authoritarianism, and the defense of democracy and liberties."
Correa's response to this editorial didn't take too long. Ecuador's president immediately rejected these allegations, and accused the newspaper of going out of circulation due to bad management.
…Hoy cierra por la Ley de Comunicación.
La verdad: viene acumulando pérdidas desde hace años por una pésima administración.
¡Cómo se…

— Rafael Correa (@MashiRafael) June 30, 2014
Newspaper Hoy shuts down because of the Communications Law. The truth: it has been building up losses for several years due to a terrible management
…miente en el país, paradójicamente, por parte de aquellos que deberían informar!
Un fuerte abrazo a [email protected]

— Rafael Correa (@MashiRafael) June 30, 2014
How those who are supposed to inform, paradoxically, are the ones who lie to the country. Cheers everybody
The head of the Communications and Information Superintendency, Carlos Ochoa, also sullied the newspaper. He denied all the accusations, saying that the suspension of the printed edition stems from an inefficient administration, and not the Communication Law.
However, human rights organizations and international advocates for free speech didn't buy the government's side of the story. Yesterday the Inter-American Press Association (IAPA) released a public statement where it "deplored the authoritarianism of the Ecuador government, linking it directly to a continuing deterioration in press freedom in the South American country."
Information in Ecuador: Right of the People to "Public Service"
Beyond the harassment Hoy went through, organizations such as IAPA and Human Rights Watch have warned about a future radicalization in Correa's restrictive approach towards the media. In particular, they have identified a bill for a constitutional amendment introduced by Correa's party Alianza PAIS. It would change the concept of "information" established in the Constitution as a "fundamental right of the people," to a very different one already stated in his sponsored Communication Law. It states that information is a "public service," and therefore, open to any kind of regulation from the state.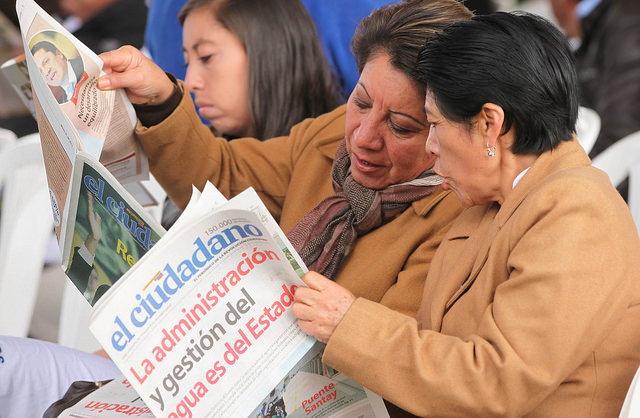 According to the Human Rights Watch 2014 World Report, Ecuador's Communication Law "grants the government extremely broad regulating powers that could severely limit free speech by defining social communication through media as a 'public service' that should be provided with 'responsibility and quality' and 'contribute to the good life of people.'"
By modifying the constitution and including this clause, the government will then have another excuse to regulate news media content, explains IAPA. That could proceed even if it contravenes international treaties on freedom of expression, and it constitutes a "a clear interventionist stance" led by Correa.
"We cannot fail to point out that we have been warning against this law which is dangerous and interventionist regarding press freedom, and intruding in the content of independent and privately-owned media," IAPA President Elizabeth Ballantine stated.
According Ballantine, the attacks and official indirect intervention regarding independent media demonstrates the deterioration not only in press freedom but also in Ecuador's democratic institutions.
Claudio Paolillo, chairman of the IAPA's Committee on Freedom of the Press and Information, stated, "along with other governments, Rafael Correa's will go down in history as one of those mainly responsible for that deterioration, both for attacking independent media and for using publicly-owned media as its own to attempt to take away the public's right to seek and disseminate information, as if this were a prerogative of the government."
Prominent figures from the media who have been also victims of Correa's press harassment for their critical points of view, such as cartoonist Xavier Bonilla, journalist Betty Escobar, and journalist and former chief of opinion in El Universo, Emilio Palacios, paid their respects to the newspaper.
Querido diario @hoycomec, solo deseo enviarles muchos augurios en esta nueva era digital para Uds! Q la valentía y libertad sigan adelante!

— Basoledispa (@B3scobar) June 30, 2014
Dear newspaper Hoy, I only wish you good luck in this new digital phase! May bravery and freedom be with you from now on
Diario HOY no es el único con problemas. Todos los que se mantienen independientes enfrentan dificultades por el acoso del régimen. Apóyalos

— Emilio Palacio (@PalacioEmilio) June 30, 2014
Newspaper HOY is not the only one with problems. All the ones that remain independent face difficulties due to the regime's harassment. Support them.