Español Child Labor, a problem that affects millions of children in Latin America, has received the okay from the Bolivian Senate. On Friday, the upper house approved the new Code for Children and Adolescents, which decriminalizes child labor for those who are 10 years old and above.
Unlike the previous code that banned children under 14 from the workforce, this one has generated quite the controversy. It contradicts the country's signature on the International Labor Organization (ILO) Convention 138, and it goes against all child-labor international norms.
The bill allows child labor for minors over 10 years old, who are self-employed and working by their own will. In cases where there is a dependent relationship with an employer, child labor is allowed for those who are 14 years old and above. In the latter case, child workers are entitled to enjoy the same salary and social benefits as adults.
The bill states that employers must guarantee two paid hours per day so that child workers can study. To work, minors will also have to have a special authorization granted by "an entity that will be created ad hoc, and will depend on the Ministry of Labor."
Now that it has the Senate's approval, the bill goes to the Chamber of Deputies, for a second discussion and approval, before enactment by President Evo Morales.
This resolution comes as a turning point for child-labor legislation in Bolivia, given that just last year the Parliament debated the same code but with some slight differences, such as the minimum working age of 14 years old, and a plan to eliminate child labor in the country. However, its discussion and approval was halted after several protests led by Bolivia's Union of Children and Adolescent Workers (UNATSBO) — one of eight child-worker unions in Latin America.
UNATSBO, which currently has 15,000 members in seven of the country's nine departments, immediately protested against the age ban, and demanded the abolition on all age restrictions.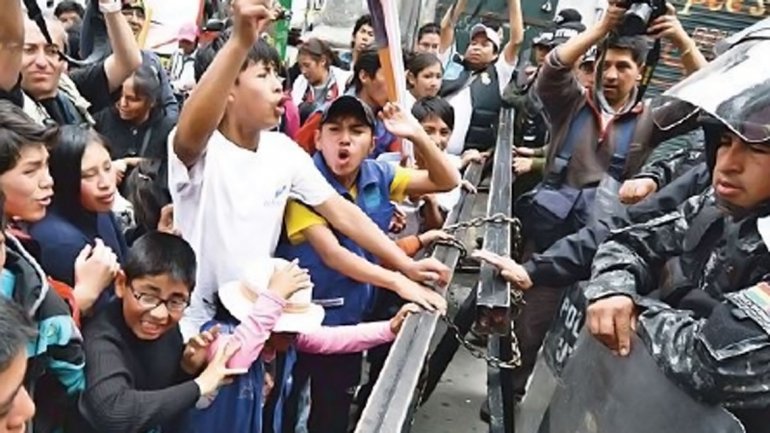 "We are not for setting an age minimum; all we want is that the work is decent," Feliz Mamani, national delegate for UNATSBO, stated. Mamani based his argument on the Universal Human Rights Convention that states that all people have the right to work.
After UNATSBO's protest, Morales expressed his open support with their stand. According to Morales, child labor actually contributes to build "a social conscience" in children. Morales affirmed that child labor is a necessity for many who live in poverty, and considered any ban as unrealistic and counterproductive.
UNATSBO has taken the strongest stand in defense of child labor, arguing that it is essential to the economic survival of many families. According to the children's union, prohibiting child labor wouldn't prevent it, but would rather force children to continue working underground, making the problem even more impossible to regulate.
The union has also pointed out the numerous benefits child labor can provide for minors, such as skills, responsibility, and respect. According to UNATSBO, where the state could intervene is to guarantee better working conditions for children, and prevent exploitation.
Go to School or Earn a Living?
According to data released by Bolivia's Ombudsman, there are currently 850,000 working children and teenagers, which represents almost 30 percent of the population between five and 17 years old. From that figure, 87 percent perform occupations that are considered to be "dangerous," and 77 percent don't even get paid, because they work with their families.
Organizations such as Anti-Slavery International, Global March Against Child Labour, and Human Rights Watch have expressed their deep concern with legalization of child labor in Bolivia. Earlier this year, they expressed this in an open letter to President Morales.
"If children as young as 12 are permitted to work, they will miss out on education during the very formative years of their development and risk being trapped in repetitive tasks, eroding their skills and prospective employability in future. In this process they would inadvertently enter into the vicious cycle of poverty and illiteracy which would not be easy to dismantle."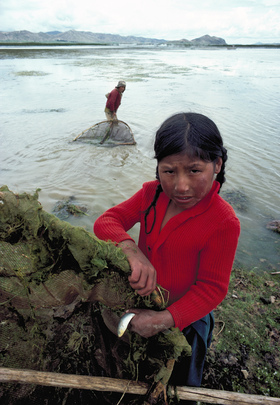 These three organizations have warned that with the reduction in the minimum age to 10, there will be more possibilities that children to be  "susceptible to trafficking, slavery, servitude, forced labor and violence."
Even though child labor has received strong criticism from the international community, Bolivian Sociologist Fernanda Wanderley explains this complex issue in its socioeconomic context:
"For these children, working is not an option, it's a necessity. If they don't work, they won't have anything to eat. It's that cruel. It's a situation imposed by society in which they were born into. The same society that, paradoxically, prohibits them to work."
These working minors are only asking not to be criminalized, she explains: "They are in an unbearable position: they are forced to work to survive, but they have to do it escaping from the police, like criminals."
She concludes that child labor can't be solved with the signature of international conventions, nor with national regulations. Rather, Wanderly contends that a lack of education, health, and social protection are the root of this problem.