Español What was an alleged conspiracy theory to assassinate President Nicolás Maduro has become the excuse for the arrest of all prominent figures from the Venezuelan opposition. "There are violent political plans on behalf of these groups that act outside the law," explained Attorney General Luisa Ortega Díaz yesterday, after she gave the names of those who had to attend an interrogation.
According to Ortega Díaz, this group has planned to murder Maduro and other high-level government officials, to generate chaos in the country. "We have proof that these people had plans to endanger the life of the president and other high government officials," she assured during an interview. However, Ortega Díaz explains that the assassination did not take place because authorities managed to halt the "destabilization plans."
Allegations of assassination plans are not new for the Chavista regime, and they certainly are not new in Maduro's administration. This is the 13th time in 15 months that the government has accused the opposition of conspiring to murder the president. So what's different this time?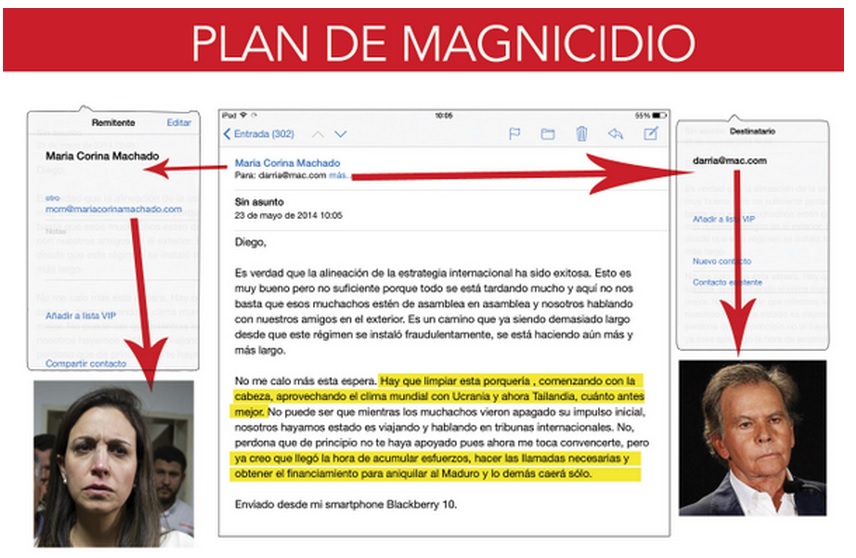 On May 28, Jorge Rodríguez, head of the Venezuela's United Socialist Party, alongside National Assembly President Diosdado Cabello, Oil Minister Rafael Ramírez, and Vice President Jorge Arreaza held a press conference and presented the "evidence" that allegedly proved a plan to assassinate Maduro and perform a coup d'état. The evidence was a group of emails that appear to be written by former Representative María Corina Machado and addressed to several members of the opposition planning the attack.
After the president's previous accusations, not one person was investigated. However, this time the regime appears dead set on taking the matter to the next level: to prosecute every leading figure in the opposition.
Justice or Political Persecution?
Despite the fact that all 21 people on this conspiracy list are all from the political opposition, Ortega Díaz has insisted that due process will take place with transparency, impartiality, and objectivity.
This week, however, UN Representative Gabriela Knaul expressed "concern" over the lack of judicial independence in Venezuela. This, according to her, poses a risk to the human rights of judges and prosecutors, and the integrity the due process.
Nonetheless, an arrest warrant went out yesterday for Pedro Mario Burelli, Diego Arria, and lawyer Ricardo Koesling. According to the attorney general, all three have been identified as witnesses in the assassination plot but didn't attend to their interrogation. Burelli was a director of the state-run oil company Petróleos de Venezuela (PDVSA) and has lived in the United States for the last 10 years. Arria was Venezuela's representative to the United Nations in the Security Council (1991-1993), but he fled the country recently. He says he will not comply with the subpoena.
"In the middle of a national crisis of such big dimensions, only desperate criminals are capable of elaborating a plot this clumsy and stupid that not even the family of the regime's spokesperson believes it," Arria says.
According to Ligia Camejo, a representative of Venezuela's Criminal Forum (Foro Penal) — a nonprofit, nongovernmental human rights organization — the attorney general's arrest warrant is "an outrage that no judge should have allowed," and that it violates several elements of due process.
The fact that an individual doesn't attend an interrogation doesn't give the attorney general the power to request an arrest warrant, explains Camejo. "Normally, it takes up to three citations before one can consider a person a fugitive. In this case, not only was the arrest warrant issued at a national level, but also at an international level."
Who Is Not Maduro's Suspect?
The list of 21 suspects includes lawyer Gustavo Tarre Briceño; the editor and president of newspaper El Nacional, Miguel Enrique Otero; student movement leaders Yosmil Gutiérrez, Roderick Navarro, and Julio César Rivas; former presidential candidate Henrique Salar Römer; editor in chief of newspaper Tal Cual, Teodoro Petkoff; and even US ambassador in Colombia, Kevin Whitaker.
Student leader Gabriela Arellano, who's also a member of the Popular Will Party — founded by imprisoned dissident Leopoldo López — had to comply with a subpoena to be questioned by agents of the Bolivarian National Intelligence Service (SEBIN). Lawyer and human rights defender Tamara Suju was also summoned by SEBIN. Suju has worked in the defense of many arrested students during the latest protests.
María Corina Machado has called these accusations "lies," and says "Maduro calls me a 'murderer' with not one bit of proof, defense, nor a trial." Nevertheless, she has confirmed she will attend her interrogation next Monday. "Nobody believes their lies. They lie about scarcity, insecurity, health care, employment, and now this one. They won't silence us with lies," she stated.
Not a Laughing Matter
During his late night show, notorious comedian Luis Chataing made fun of the assassination conspiracy plans. In a 10-minute sketch, the comedian explained how to elaborate fake evidence, imitating the ones shown by the government. Two days later, Chataing's program was off the air.
With more than 3 million Twitter followers, and high ratings, Chataing wasn't afraid of speaking up against state repression and to express his political affiliation with the opposition. However, the humorist did say that network Televen was receiving a lot of pressure from the government for airing his show, and they finally caved.
Then, does the assassination plot actually work?
Student leader Roderick Navarro also was included in the conspiracy list, and he spoke with PanAm Post regarding these allegations: "The motivation behind these accusations is to turn off the protests. The fictional dialogue they faked with the MUD didn't work … to calm the protests. And now, with this new theater, they use judicial power to send young people to prison."
The fact that all members on that list are leaders of the opposition, according to Navarro, "is not a coincidence, it's on purpose."
"They expect to silence the dissident voice and spread fear in society, and force people to live in the worst conditions, just like Castro did in Cuba."
According to Ángel Oropeza, a professor in political science, this tactic may have its benefits. It helps the regime deepen political radicalization. That reinforces other actions, such as keeping Leopoldo López and other students incarcerated, the possible arrest of María Corina Machado, and the threat to take other leaders of the opposition to trial.
Chavismo's base of support is divided between moderates and radicals. In the middle of unpopular economic policies, Oropeza says, allegations of an assassination plan, conspiracy, or coup allow the regime to keep the radical Chavistas happy.
For Oropeza, the strategy is to distract people from the real economic problems, which all the time become harder to hide from supporters of Chavismo. However, their constant recourse has made the government lose credibility, and that can't help the regime as it continues to lose public approval.