EspañolYesterday, members of the Unified Campesino Movement of Aguán (MUCA) from Bajo Aguán in northeastern Honduras demanded a readjustment of their debt with the state-owned Honduran Bank for Production and Housing (BANHPROVI). The loan of more than 500 million lempiras (US$24 million) may have appeared to be a viable solution for an armed conflict two years ago, but it has become a headache for the current administration.
The Honduran Conflict for Land
With almost 22,000 acres in the Aguán Valley, Miguel Facussé, owner of the agro-industrial consortium called Quimical Dinant, has become one of the wealthiest men in Central America, according to Forbes Latin America. However in December 2009, members of MUCA invaded Facussé's 27 ranches and plantations of African oil palm, arguing the agriculture magnate illegally bought those lands from former campesino leaders. Thus began a two-year deadly conflict in Bajo Aguán.
Honduras faced a period of nearly constant invasions by campesinos and evictions performed by military officials and Facussé's private security. This land dispute took the lives of more than 60 people, including campesinos, police officers, security guards, Dinant employees, military officers, lawyers, and judges involved in the conflict.
In 2012, Reporters Without Borders accused Facussé of financing a private army of security guards that threatened and murdered campesinos and journalists. These acts awarded him a place on the organization's list of Predators of Press Freedom, alongside figures like Raúl Castro and Vladimir Putin. That same year, Wikileaks also revealed that the US embassy in Honduras had known since 2004 that Miguel Facussé had a second job: cocaine trafficker.
Not even a 2009 decree from the National Congress that ordered a nationwide disarmament of the population could stop the violence associated with this land dispute. Campesinos rejected the decree arguing that the disarmament only applied to them, and not Facussé's private security guards.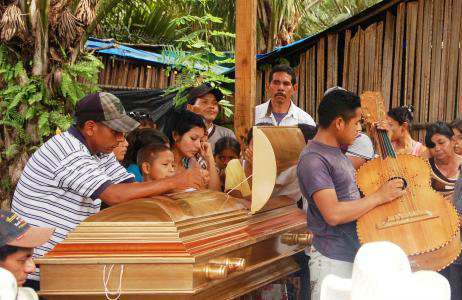 The conflict then appeared to intensify after former President Manuel Zelaya was overthrown. The succeeding presidents Roberto Micheletti (interim) and Porfirio Lobo put a stop to Zelaya's promised agrarian reform that involved land distribution for campesinos.
Eventually, in 2012, the Honduran government reached an agreement with both parties. The central government, through its state-owned bank (BANHPROVI), would lend the campesinos 534.7 million lempiras (US$27 million) to buy the property they had invaded (9,633 acres). In exchange, MUCA committed to paying back the loan within 15 years, with an initial three year grace period, and an annual interest rate of 6 percent.
Indebted Campesinos Beg for Terms Adjustment
Now, two years later, the MUCA campesino movement, which represents more than 3,500 families, is demanding the rules they agreed to be changed. The loan has become impossible for them to pay and have asked the National Congress to extend their deadline from 15 to 25 years. They have also asked that their interest rate be decreased from 6 to 3 percent.
Campesinos are also demanding that President Juan Orlando Hernández deliver on former President Porfirio Lobo's promises. Lobo promised the campesinos he would give them 17,000 acres in addition to the land agreed to when the conflict was resolved (Acta de Compromiso).
According to MUCA Secretary General Johny Rivas, the group must pay 20 million lempiras (US$1 million) per year on interest alone, leaving the families in the occupied land without any remaining resources to live on. The MUCA secretary general assured that in all seven ranches, the campesinos are producing 30,000 tons of African palm, but that it isn't enough to earn them a living; all the money they earn goes toward paying off the loan.
Rivas has noted that he believes certain groups are interested in "economically strangling" them by controlling the market. He contends, however, that they will not achieve it.
Elena Toledo, director and founder of the policy institute Honduras Investigates, analyzed the Honduran campesino conflict for the PanAm Post.
"First, MUCA doesn't represent the campesinos on a national level. It's a group that has been sponsored by left-wing movements. Even the FARC [Revolutionary Armed Forces of Colombia] has been involved in the training of these paramilitary groups, which for years have destabilized the country and have caused the deaths of more than 115 people for this land dispute."
Nonetheless, Toledo doesn't completely discredit the conflict. She says the importance of that particular land makes the MUCA-Dinant conflict "highly sensitive" for Honduras. "Since these are people that rose up in arms to obtain the biggest African palm oil land in Latin America, they are responsible for turning Honduras into the third biggest exporter and producer of palm oil."
Toledo recognizes the need for policies that will boost agricultural production in Honduras, since the country currently produces 30 percent of what it consumes. However, she contends that there are other motivations behind MUCA's actions that are "clearly influenced by ideological movements that want to create instability in the country at any cost."
Editor's note: Roger Pineda Pinel of Corporación Dinant submitted a letter in response to this article.