Español On Sunday the central government of Colombia announced a new and major settlement with the Revolutionary Armed Forces of Colombia (FARC), another step along the peace process agenda: land dispute and victims reparations. This is the first time in history that the 50-year-old Colombian guerrilla organization has recognized the victims of its struggle, and included them in the peace process.
Victims of land mines, displacements, extortion, kidnappings, and other crimes as a consequence of Colombia's armed conflict are set to form an additional delegation that will participate in the ongoing peace talks at Havana, Cuba. The FARC, which operates in 25 of 31 departments in Colombia, has mostly affected rural areas. According to a statement read by representatives from the intermediary countries Cuba and Norway, the latest agreement "will be the beginning for radical transformations in the rural reality of Colombia, with equity and democracy. It will be focused on the people, on the small farmer."
Yesterday's announced agreement addresses the problems of access to the land and unequal land distribution, by putting forward the creation of a land fund to offer sections to landless Colombians. It also includes the creation of certain mechanisms to solve land disputes, and an agrarian jurisdiction to guarantee property rights.
Through this deal, Santos's administration has agreed to help campesinos with public-housing schemes, improve their access to drinking water and free education, upgrade infrastructure, and offer technical assistance and training programs — in addition to land reparation programs.
The FARC also announced on Saturday a ceasefire during the electoral period, which starts today and will end on June 30. Even though the National Liberation Army (ELN) — the second most important insurgent group in Colombia — has announced it will not join the FARC on this ceasefire, they have agreed to abstain from any military actions that could disturb the voting process.
Farmers: The Candidates' Pampered Child
During the last two years, Santos has had to face two agricultural strikes: one in August-September 2013, and a second one in March-April 2014. Campesinos have demanded reforms to ease their production and mitigate the impact from international free trade agreements. With the latest protests, the agricultural sector achieved center stage during Colombia's last day of electoral campaign.
Aside from vulnerability to international commodity prices, the current armed conflict remains a threat for rural development. Further, given the contribution that the agricultural sector has on Colombia's national economy, it's no surprise why both candidates have assumed it as their topic of choice during their last day of their campaigns. President Juan Manuel Santos chose Sogamoso city to finish his national tour, and his rival Óscar Ivan Zuluaga the city of Tunja, both in the department of Boyacá.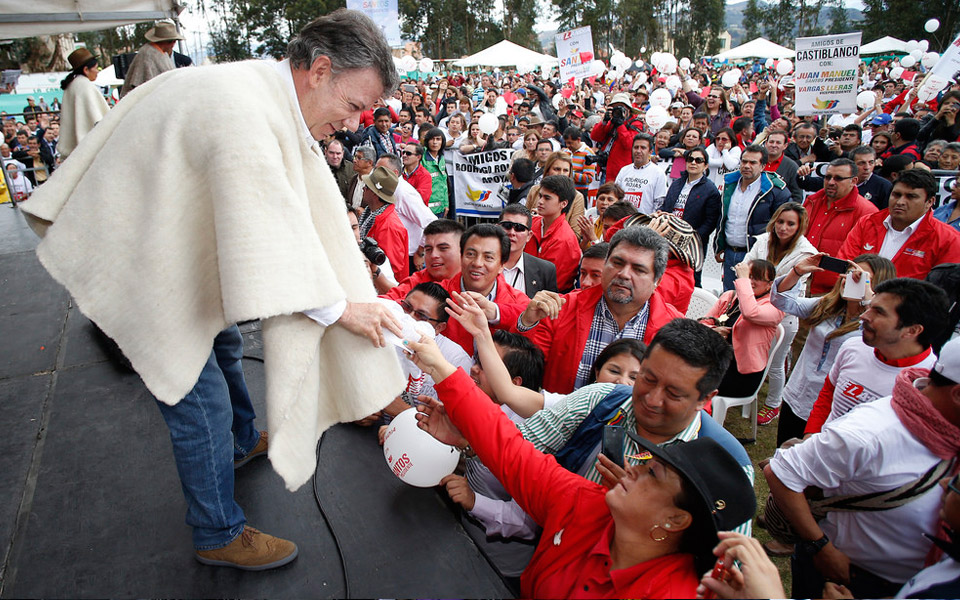 Wearing a ruana — a poncho typical of Colombian campesinos — the two of them shared with their supporters their programs for the country, should they win the presidential election. Both agreed that the state should increase its initiatives to boost the country's agricultural activities.
Santos proposed to strengthen the government's financial support to small farmers, for which he will allocate more than 12 percent of public spending. The current president also promised he would keep an eye on prices and supplies, to assure adequate loans to suit the campesino reality, adjusting their deadlines to their planting and harvesting cycles.
"Rural regions have been abandoned for centuries," said Santos, despite acknowledging afterwards that his administration has multiplied over three times the agrarian budget.
Further, Santos also assured he would reinforce mechanisms to put an end to the smuggling of products such as rice and wheat, that enter into the territory illegally at very low prices and affect local production. Currently, Venezuela's subsidy policies have economically undermined local businesses on the border whose prices can't compete with those that come from the neighboring country.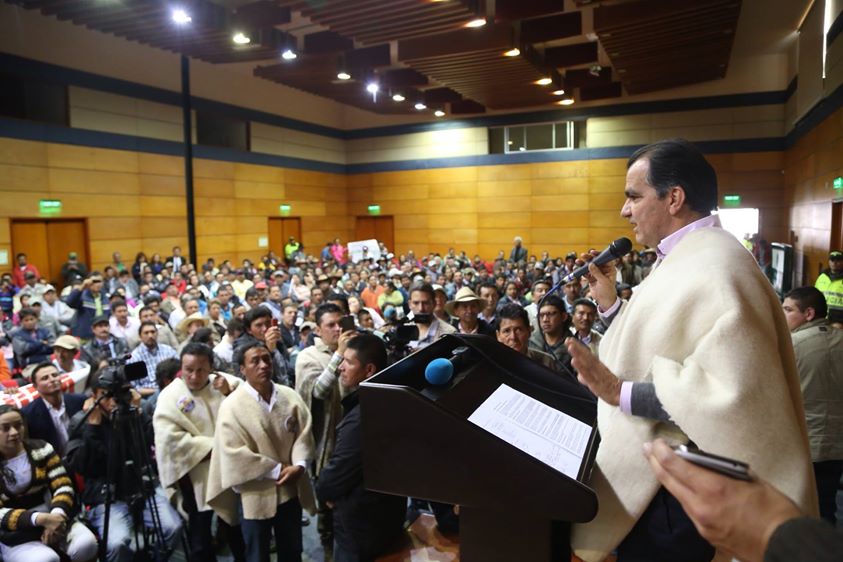 Zuluaga, on the other hand, set as his first priority farmers' debt payments, and proposed a state-assessment program to help them improve their conditions to receive more loans. Zuluaga also promised he would reduce by up to 50 percent the price on basic supplies for farming and lift taxes on farming equipment.
Where Colombia's Candidates Differ
Zuluaga, endorsed by former president and current Senator Álvaro Uribe, has strongly rejected the Santos-led peace talks with the guerrilla. He characterizes them as just an electoral stunt by the current president.
"The [rural] country is the only road to achieve peace in Colombia, and it will be my priority in my political platform. This is why I tell you that the Casa de Nariño (the executive headquarters) will be the house for all campesinos," Zuluaga said yesterday.
This Sunday, Colombians will go to the polls for the second time to choose their next president. Among rumors, espionage accusations, and drug trafficking liaisons, Zuluaga (29.3 percent) and current President Santos (25.7 percent) were the resulting leading aspirants from the first electoral round. Now both of them will go head-to-head on June 15, with one to emerge as the nation's executive leader for the coming four years.