Español Subscription-based cable providers will now have to go under the state microscope in Venezuela, according to a new regulatory policy approved on Tuesday by the National Commission for Telecommunications in Venezuela (CONATEL) — the government's media watchdog. The new regulation gives CONATEL the power to decide which TV networks can or cannot go into the channel lineup, based on the content they broadcast.
Even though CONATEL already had the power to regulate television, that only referred to regular broadcast channels. Now the government agency expands its scope to paid-access channels. The enforceable norms apply to national audiovisual production (PNA), which refers to all channels with reception or broadcast signal that occurs inside the national territory and are transmitted through cable companies.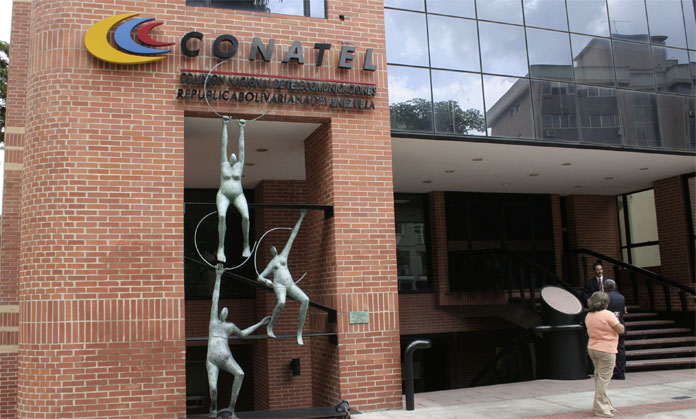 The chief implication from CONATEL's latest regulation is not only that cable companies will have to include TV networks with Venezuela-produced content, they will have to offer the content for free. Otherwise, cable companies will face sanctions.
The Venezuelan content will have to make up 8 percent of the cable company's complete programming lineup. This opens a window for the government to include certain channels "in which the state has any participation or interest," and therefore take out other channels of the current programming.
The government has already flexed this power before, although not as a matter of explicit policy. About two months ago, cable companies had to include FANB TV — a channel by Venezuela's National Armed Forces.
The issue of broadcast permits and their consequent renovation, however, are at the discretion of CONATEL. This way, no cable companies are now able to include any national television network without the government's previous approval. Further, Article 11 of the new law states that CONATEL has discretion to revoke or suspend these permits under certain circumstances.
"Whenever [CONATEL] considers it in the nation's interests, or when public order and national security demands it," the government body "will be able to revoke or suspend, at any moment, the permits for the rendering of services of national audiovisual production."
This article gives the government a blank check to take measures such as the one that took Colombian news channel NTN24 out of the cable programming in Venezuela, after releasing live images of student protests being repressed by state security forces back in February.
CONATEL will also be able to inspect at any moment, without previous notification nor warrant, the facilities and operation of television networks.
This measure not only affects regular broadcasts, but puts into question the future for international news networks that show a different side of the story relative to what the Venezuelan government portrays in its official media. Also in February, President Nicolás Maduro gave US news network CNN its first warning, due to its coverage of the student protests.
"I have asked Minister Delcy Rodríguez to notify CNN that an administrative procedure has started to get them out of Venezuela… Enough with this war propaganda. I don't accept war propaganda against Venezuela. If they don't rectify, CNN is out of Venezuela," the Venezuelan president stated.
According to CONATEL, this legislation aims to create an environment that can guarantee national networks equal access, non-discrimination and transparency. However, for others, like Óscar Lucien, director of the Institute for Research in Communication of the Central University of Venezuela, this is another "red [Chavista] restriction for freedom of expression and the Venezuelans' right to information."
Unfortunately, Venezuela is no stranger to a restrained freedom of expression. In fact, this new regulation will join other type of constraints, that have progressively silenced critical media. Marianela Balbi, executive director for the Institute of Press and Society in Venezuela (IPYS) explains: "the relationship between the government and the press during the last 15 years has been very complex, and with high tension."
The media in Venezuela already has to face numerous obstacles that have inevitablly led to censorship and self-censorship. Accroding to Balbi, the government persecution of the independent media is done though fines, starting investigations, establishing bureaucratic barriers for the media to access its supplies, among others.
For Balbi, the scheme seems simple: "the government's purpose is to control, or better yet, condition an editorial line that can be every time less critical, less independent, and less free."