Español Ecuador's latest attack on freedom of expression has generated yet another international backlash. Ecuadorian journalist Betty Escobar, who works as a columnist for El Universo, is the latest victim of serious threats for her articles that have criticized President Rafael Correa and his administration.
Yesterday, the Human Rights Foundation (HRF), based in New York City, condemned the government's constant attacks on journalists such as Escobar. For Roberto González, an HRF legal associate, "the elimination of all critical and independent press appears to be a priority of President Correa's government."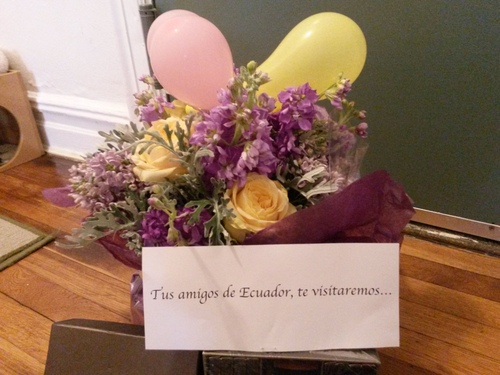 On April 7, Escobar, who currently lives in New York City, received in her apartment a flower bouquet and chocolates accompanied by a big envelope that contained an anonymous letter. It read: "Your friends from Ecuador. We will pay you a visit…" The same day, Escobar's parents and aunt received the same package at their homes in Guayaquil, Ecuador.
Immediately, the journalist filed a complaint with the New York Police Department for "aggravated assault," and one with the district attorney's office in Guayas, Ecuador. According to Escobar, the NYPD has been in constant communication with her about the investigation, but she has yet to receive any response from the district attorney's office back in Ecuador.
Escobar is well known for her critical columns against Correa, and is very interactive in social media. Just a few days before she received these threats, the prominent journalist had written an op-ed article titled "Back in New York" (Vuelve a Nueva York) in which she satirically criticizes Correa's university tour in the United States.
Escobar, who described the threats that she received as "cowardly," commented on her blog, "it's very clear that this is a case of intimidation, I think we all know where is this coming from, and this probably seeks to destroy even more the citizens' right to freedom of expression."
Escobar's accusations are not unfounded, in fact barely two days later after her article was released, Correa addressed the journalist on national television:
"There's Betty Escobar… who is a hater, who slings mud from New York and is tweeting about how 'the dictator is coming to the United States.'… Check out the [Twitter] usernames of those who participate in such infamies, on these human disgraces… Haters, ink assassins, cowards disguised as journalists."
Nine days later, Escobar and her family received the anonymous threats.
"It's not fair we as Ecuadorians are chased and threatened because we freely give our opinions or think different," the Ecuadorian journalist stated.
Rafael Correa: The Enemy No Journalist Wants to Have
Unfortunately, Escobar is not the first one to be harassed or censored for her negative remarks against Correa's government. Journalists and newspapers who have shown themselves critical towards the seven-year president have had to pay a high price.
"Betty Escobar joins a long list of Ecuadorean journalists who, in the last few years, have been harassed for having an opinion different from that of the government," Thor Halvorssen, president of the HRF, asserts.
"This is not an isolated case. In Ecuador, journalists who dare to question the government or President Correa risk all sorts of retaliation, including threats and harassment by state-owned media, prison sentences, and millions of dollars in damages owed. What's particularly alarming about this case is the transnational nature of the harassment. Escobar is being harassed here in New York City for opinions read primarily in Ecuador," Halvorssen noted.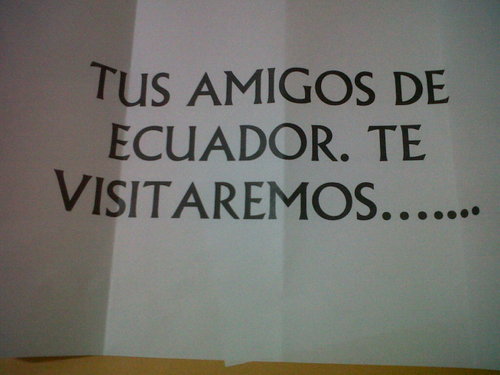 Ecuador, one of the five countries with the least press freedom in the Americas, has earned its reputation. Roberto González, legal associate at the HRF, exclusively talked to the PanAm Post on Escobar's case and the context that any journalist in Ecuador has to face.
"In the last few years, the Ecuadorean state has systematically restricted the right to freedom of expression of the people inside its territory. This has been evident in the constant attacks on independent or critical media by the Ecuadorean government. These attacks range from insults made by President Correa himself against journalists and the media, to the indictment of journalists and media executives, the closing of media outlets, and the imposition of an official editorial line through the sanctions handed down by the Superintendence of Information and Communication (SUPERCOM)."
According to González, the lack of separation of powers in Ecuador and the biased judicial power make the journalists practically defenseless next to an almighty executive.
"The judiciary is increasingly subservient to the executive branch. The courts routinely sentence journalists for their opinions, sending a chilling message to independent journalists."
Correa has quite a long record of suing newspapers, journalists, cartoonist, and winning every trial.
"As Emilio Palacio (the Ecuadorean journalist who, along with three executives of El Universo, was accused, tried, convicted, and sentenced to three years in prison, and ordered to pay US$40 million in damages to President Correa for writing and publishing an opinion piece) noted in the very article that led to his conviction: President Correa's attacks against the press resemble the actions of a dictator, and his government, a dictatorship," the HRF legal associate states.