EspañolYoani Sánchez, notable Cuban blogger and critic of the Castro regime, is upping the stakes in her fight for freedom of speech in Cuba. This coming week, she is set to launch a new, independent digital outlet, called 14ymedio (14 and a half).
In a country where the only political party allowed is the Communist Party and the media is completely controlled by the state, Sánchez has become one of the strongest opposition voices against the 55-year old regime led by the Castro brothers. So far that has been through her Generación Y blog and books, but now the blogger takes on a new challenge that aims to be "a space to report on Cuba from within Cuba," she says.
#Cuba El próximo 21 de mayo, podrá estar al tanto de la realidad cubana también desde esta cuenta

— 14ymedio (@14ymedio) May 15, 2014
The new digital media, which will be out on May 21, aspires to be, in the words of Yoani, "a medium that we hope will support and accompany the necessary transition that is going to take place in our country." For the prominent blogger, the main purpose is to show the reality of Cuba, including those who oppose the regime as well as those who support it either by conviction, opportunism, or fear.
Unlike traditional media, she expects this outlet to be a boon for interaction with the readers. She has sought their opinions to decide what topics to address, how can they be involved in the content development, and how to exercise quality journalism amid the challenging conditions in Cuba.
"Without you, it would be only a medium talking to itself, ephemeral and inconsequential," Sánchez tells her readers.
Even after so many years under a dictatorship, the blogger holds optimism regarding the future of press freedom in Cuba. "Cubans," she states, "will very likely leapfrog from a [controlled] press under the monopoly of a single party, to a multitude of media pushing to gain prominence. The day when non-government media is legalized, numerous publications — now underground — will be able to be read openly and even sold at the corner newsstand. Although that time is still to come, it's worth it to begin preparing."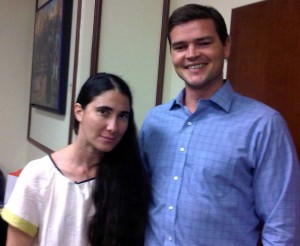 According to Freedom House — an independent watchdog organization "dedicated to the expansion of freedom around the world" — Cuba has the most restrictive laws on free speech and press freedom in the Americas. The law forbids private ownership of media outlets, including electronic media, and it criminalizes "enemy propaganda" and the diffusion of "unauthorized news." To those who don't comply with the law, the penal code imposes strong prison sentences and even death penalties.
While the majority of internet users in Cuba have access only to a closely monitored intranet, Freedom House reports that a few privileged individuals have a special permit to access the international network of the World Wide Web. The penalties for the infringement of internet restrictions are heavy: anyone who connects to the internet illegally can serve up to five years in prison, and anyone who writes "counterrevolutionary" articles for foreign websites faces up to 20 years.
Despite all these restrictions — approximately 23 percent of the Cuban population accessed the internet in 2011 — and a blogger community has been able to emerge. Nonetheless, it hasn't been easy. Bloggers in Cuba have had to overcome repression, harassment, and intimidation.
Unfortunately, Sánchez is no stranger to these attacks and has taken them in her stride. In 2009, while she was heading to a peaceful protest, she was arbitrarily arrested and beaten by police officers. Three years later, she and her husband were detained while they were reporting the trial of Ángel Carromero, accused of the murder of political dissident Oswaldo Payá.
"It will be a difficult road. In recent weeks we have seen a preview of how official propaganda will demonize us for creating this medium. Already, in fact, several people on our work team have received the first warning calls from State Security. However, we have no reason to be hesitant," the blogger asserts.
Yoani's outstanding work in journalism and her fight to achieve freedom of speech in Cuba have earned her international awards. That includes the Ortega y Gasset Digital Journalism Award in 2008, and the María Moors Cabot prize from Columbia University in 2009.
"14ymedio emerges with nothing to hide. Although we had hoped to have it working today, I have to admit that technology is, at times, extremely capricious," she asserts.