Español"If you really want to put me in jail, come here, come and personally incarcerate me — here I am; I will never resort to corruption. But come alone, like me; I am not afraid."
Those were the words of Ecuadorian Assemblyman Kléver Jiménez, directed at President Rafael Correa during a press conference last week, after being convicted on charges of libel and slander.
Jiménez, alongside his adviser Fernando Villavicencio and activist Carlos Figueroa, had accused Correa of orchestrating the armed raid where the president was rescued during the police uprising on September 30, 2010. They logged a formal complaint at the prosecutor's office, but after a 9-month investigation, prosecutors found no evidence of those claims, and said the charges were "reckless and malicious."
However, Correa filed a counter suit, with charges of libel and slander against Jiménez, Villavicencio, and Figueroa, which he won. Ecuador's National Court of Justice sentenced the three men to prison time with Jiménez and Villavicencio set to serve 18 months, and Figueroa six months. Jiménez also has to pay a fine of US$120,000, and he will be forced to issue a public apology to the president on radio and on television.
Jiménez claims his conviction is "political persecution," and accused the government of silencing those who reveal state corruption. Talking about himself, he stated, "if they put Kléver Jiménez in jail, tomorrow nobody will dare to denounce corruption in this administration." He argues the complaint was part of his duty as a legislator, but his parliamentary immunity and corresponding rights were ignored.
Julio Clavijo, a public policy adviser at the National Congress in Quito, asserts that "there's a fundamental concern here: the Assembly's institutional nature and the executive overstepping its authority on other governmental bodies and state powers." In the Ecuadorian Constitution, Article 128 states that assemblymen will lose their parliamentary immunity and its respective rights only through the approval of the legislative body. Therefore, Clavijo states "to step over immunity leaves a serious precedent, and it significantly weakens the legislative branch's power."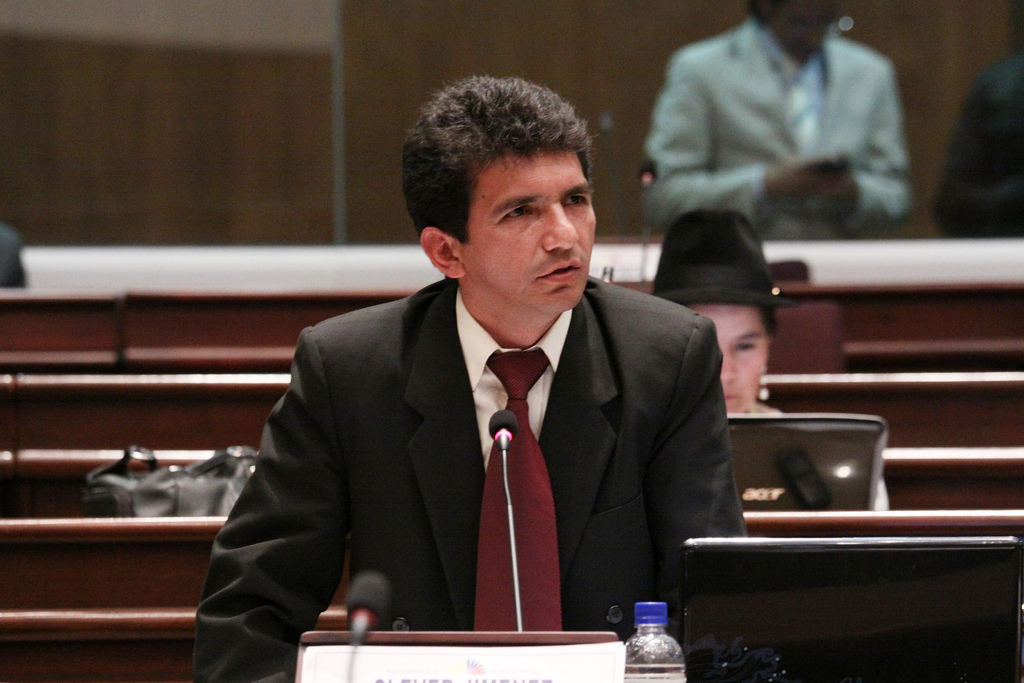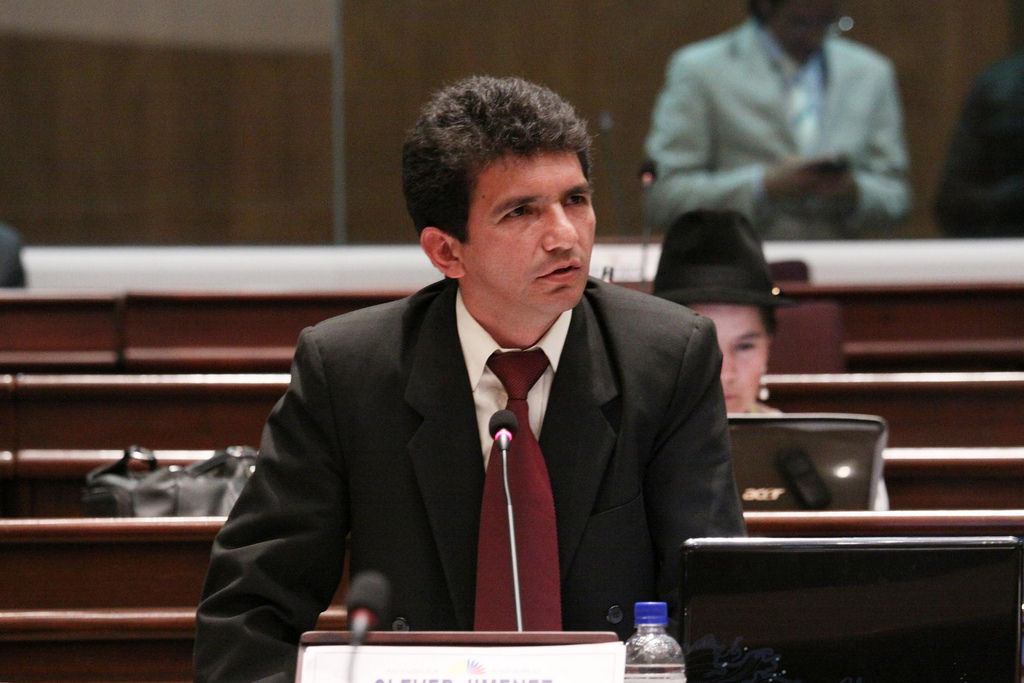 Ecuador Goes After Its Own Whistle Blower
Unfortunately, the struggle doesn't end with Jiménez's conviction. In early January, Correa announced further investigations into Jiménez and his adviser for allegedly intercepting confidential government documents, and for hacking emails between Correa, his legal adviser, Alexis Mera, and Vice President Jorge Glass. These emails contained classified information about Ecuador's lawsuit against oil enterprise Chevron.
Chevron even tried to use this information as evidence in a US court, but the contents were ruled inadmissible since they were obtained illegally.
Although Vice President Glass accused Chevron of doing the hacking, he's also identified Jiménez and Villavicencio as accomplices. According to Glass, Jiménez recorded a video where he said that if anything happened to him, or his family, he would blame Correa and publish Correa's private emails, which were the same that Chevron possessed.
Jimenez, who would be facing an additional prison term of six years if convicted on this charge, claims he didn't hack Correa's computers; rather, he simply received information from sources that must remain anonymous. Unwilling to release their names, he stated, "We have people whose job it is to ask for information. The investigation must be done on those who infiltrate and deliver that information. I haven't committed any crime."
To this regard, Correa responded, "If they [whistle blowers] are public employees, then he must denounce them, because these people are committing a felony, and a lawmaker can't be an accomplice in this crime." According to Prosecutor Diego García, Jiménez would face charges that include the disclosure and fraudulent use of classified information.
Jiménez's lawyer, Julio Sarango, claimed there were violations in the due process; so they appealed, but the court ratified the sentence. Given this outcome, Julio Clavijo questions "which members of the parliament or opposition will ever dare to lead actions against the government, when they don't have guarantees of due process?"
A Double Standard
In August 2012, Correa gave Julian Assange, founder of WikiLeaks, political asylum in Ecuador's embassy in London. Correa defended Assange, who disclosed classified US information, because he lacked guarantees of due process.
Some Ecuadorian newspapers and leaders in the opposition have pointed out this contradiction and accused Correa of enacting double standards. Last year, Ecuador was also classified as "not free" by Freedom House, and was 134th in the Global Press Freedom Rankings. Deputy assistant director of controversial newspaper El Universo, Cesar Pérez, accused Correa of defending whistle blowers internationally, but silencing them domestically.
To these statements, Correa responded, "They [the media and the opposition] are the ones who have a double standard." He assured the country that he has never defended the theft of information, and justified Assange's asylum based on the absence of procedural guarantees in his case — unlike Ecuador, which has "respected due process" in the case of Jiménez and Villavicencio.
However, the violation of Jiménez's parliamentary immunity has raised a lot of questions regarding the purported "due process" that Correa affirms. Clavijo states, "there's a logic of political power behind this case; one way or another, Correa seems to find ways to show his power through other government bodies, and to make clear that anyone who attempts to mettle with September 30 or corruption cases will be punished for disrespecting the truth, his truth."