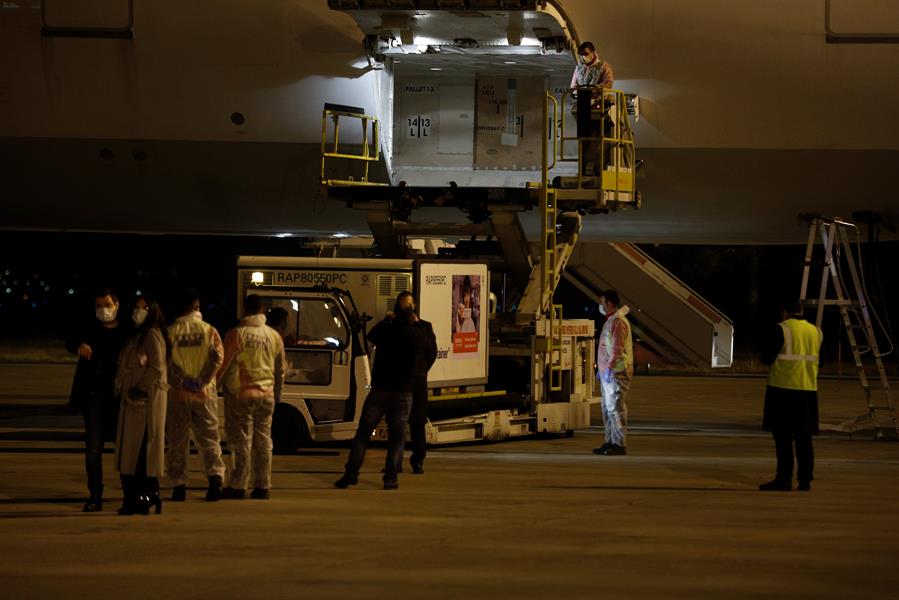 Spanish – About one million Muslims are living in forced labor camps by order of the Chinese Communist Party, now seeking to deport them back to China from Turkey.
On Sunday, December 27, China's nominal legislature ratified the extradition treaty, the same day that the delivery of coronavirus vaccines to Turkey was delayed.
This triggered suspicions that Chinese officials are using the vaccine to pressure the Turkish parliament to allow the persecuted to enter.
"Beijing seems to be taking advantage not only of possible Chinese investment in Turkey but also of the supply of Sinovac vaccines to influence Turkish foreign policy," said former Turkish opposition legislator Aykan Erdemir, a critic of Erdogan at the Foundation for Defense of Democracies.
"Maybe there is some economic interest," Isa added, before recalling the delay in the vaccine delivery this week. "Perhaps the Chinese government [is using] the COVID vaccine [as] a kind of carrot for the Turkish government."
What China is doing against the Uyghurs qualifies as genocide
Uyghurs are persecuted for their ethnicity and their faith. They are sterilized, and the communist regime removes their organs. The birth rate of Uyghurs has fallen by 24% in 2019 in the region of Xinjiang. The situation meets the criteria for classification as genocide since this constitutes a considerable reduction of the population.
"Imposing measures to prevent births within the group" fits the legal definition of genocide, notes Isaac Stone of the Asia Society Center for U.S.-China Relations in an opinion column in The Washington Post.
"The Chinese are really trying hard to get into the Turkish Uyghur communities; they already have spies and everything," Adrian Zenz, a senior fellow at the Victims of Communism Memorial Foundation and an expert on China's abuse of Uyghurs, told Washington Examiner."And they [will] exert significant behind-the-scenes pressure to ratify this agreement."
Chinese Communist officials are applying "significant pressure" on Turkey to ratify a treaty that would allow the deportation of Uighur Muslims fleeing the systematic repression underway in Xinjiang.

And are using a coronavirus vaccine to do so.

— Washington Examiner (@dcexaminer) December 30, 2020
Turkish President Recep Tayyip Erdogan accepted the extradition treaty in 2017, but the pact has not yet entered into force.
However, Uyghur activists hope that the Turkish legislature will block the treaty. "The Turkish government should not be giving such kind of opportunity to the Chinese government to [inflict] such psychological and physical crackdown on the Uyghur diaspora," World Uyghur Congress President Dolkun Isa told the Washington Examiner. "The Chinese government has committed genocide against the Uyghur people, and the Turkish government should understand this."
The reason why Uyghurs have fled to Turkey is because of their cultural and ethnic affinity. It is estimated that more than 35,000 Uyghur Muslims live in Turkey, which has a similar language and common religion.
They currently live in undignified conditions. The Chinese Communist Party has imposed atheism. That is why it persecutes religious minorities.
Uighur Americans joined the members of US congress to express their silent protest against China's mass incarnation of Uighurs in brainwashing ,torture,rape camps.#uighur #Uyghur #eastturkistan #hongkong #Taiwan #box #ufc #hollywood #PremierLeague #china @CECCgov @USA_China_Talk pic.twitter.com/zqtfUBewnO

— UNN-China (@UNNTV1) January 8, 2020
Uyghurs are sent to mass "re-education" camps and work in slave-like conditions as cotton pickers in an attempt to "break their lineage, break their roots, break their connections, and break their origins," as a Chinese Communist official said in 2018.
This repression is spreading abroad. US lawmakers have accused Chinese officials of harassing Uyghur activists and other dissidents in the United States. The Uyghur diaspora in Turkey is considered an especially important and vulnerable community.
The US Congress signed a law to protect Uyghurs
In June 2020, the US Congress signed the Uyghur Human Rights Policy Act of 2020 at the US Capitol in Washington, DC
It was the first law in history dedicated to promoting the rights of Uyghurs and other Muslims in China, who have faced systematic persecution as a result of their religious beliefs.
It seeks to ensure that US policy towards China takes into account violations of religious freedom by the Chinese government.
Although Turkey is a member of NATO, it has close ties to China and Russia. This has alienated many western allies. And given the health and economic crisis that the pandemic has caused, Turkey could give in to the Communist Party.
GOOD NEWS! US Congress has passed the #Uyghur HumanRightsPoliceAct!

CCP has "absolutely no mercy" on Uyghur Muslims and build #Xinjiang concentration camp for ethnic cleansing, according to latest report. Davis4HK stands with Uyghur. pic.twitter.com/YHwri6OgMY

— HKPASS at UCD (Davis4HK) ? (@Davis4Hk) December 4, 2019
"As Western investors continue their exodus from Turkish equities and bonds, the Erdogan government has turned to China as a potential source of capital," former opposition legislator Erdemir observed.
Turkey would get economic relief and the vaccine in exchange for expelling the Uyghurs back to China.
The Turkish government denies that it will expel the Uyghurs
Only on Wednesday, December 30, Foreign Minister Mevlut Cavusoglu announced that an agreement does not imply that "Turkey will hand over the Uyghurs to China."
"Until now, there have been requests for returns from China related to Uyghurs in Turkey. And you know Turkey hasn't taken steps like this," Cavusoglu told reporters in Ankara.
It would be "wrong and unfair to say it's a deal for the extradition of Uyghurs. We are more sensitive to such issues than others," he said.
But he did not say when Turkey's parliament would discuss the agreement.
As fears grow among Uyghurs in exile that their new home will expel them to the place from which they fled persecution.