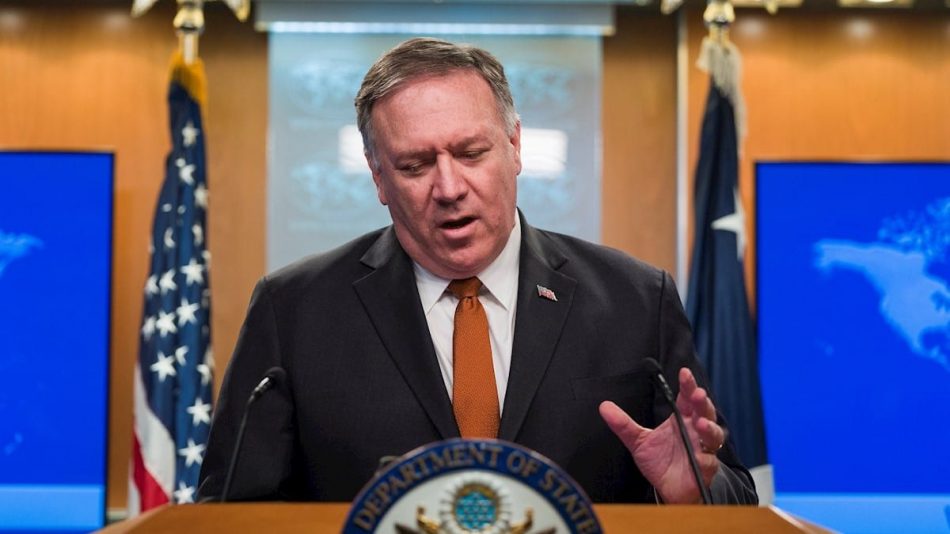 Spanish – Donald Trump will remain president of the U.S. for another four years, Secretary of State Mike Pompeo said.
"There will be a smooth transition to a second Trump administration," Pompeo said at a press conference on Tuesday, November 10.
"The world should have every confidence that the transition necessary to make sure that the State Department is … successful today and successful when the president who is in office on January 20, a minute afternoon, will also be successful," he said regarding the presidential inauguration.
Mike Pompeo (US Secretary of State):

"The transition will be smooth … from a Trump administration to a Trump administration"

I do not support the narrative that "world leaders have to congratulate Joe Biden" On WHAT? Media doesn't decide who is President – Trump Legally Won! pic.twitter.com/ug4eddwbmw

— Amy Mek (@AmyMek) November 10, 2020
Amidst laughter, Pompeo explained how the U.S. Constitution is clear about this. There is a process to be followed that continues, and the votes will continue to be counted.
He also recalled how in the year 2000, it took 37 days to get the election result (Bush finally beat Gore by appealing to the Supreme Court).
The mass media arrogated the power to determine who will be the next president of the U.S. and various world leaders, especially regional ones, believed that the media projection was the official result and congratulated Joe Biden as president of the U.S.
But the official declaration will not be made till December 14. And in the face of multiple allegations of irregularities, Biden could lose votes, and Trump could win.
The state of North Carolina, for example, only released its latest figures on Tuesday, November 10, and shows Trump winning there. This adds up to 15 electoral votes.
Decision Desk HQ Projects Trump (R) Has Won The State Of NC And Its 15 Electoral Votes

Race Called At 11-10 1:41 PM

All Results: https://t.co/mMSMwaoZxw

— Decision Desk HQ (@DecisionDeskHQ) November 10, 2020
"I will not rest until Americans have an honest count," President Trump announced at a press conference.
Similarly, the first lady, Melania Trump, said on social media: "Every legal, not illegal, vote should be counted."
Trump's legal team, headed by former New York City Mayor Rudy Giuliani, has filed lawsuits in several states to demand that illegitimate votes be discarded, including 21,000 allegedly dead Pennsylvania voters.
Giuliani assured that Trump would not concede the presidency to his rival since he is sure of his victory.
Biden's response
Nevertheless, Biden is confident of his victory. "We are already beginning the transition. We are on the right track… Nothing is going to stop that," he said in response to a question about Secretary of State Mike Pompeo's remarks.
"I'm sure that the fact that they're not willing to acknowledge that we won at this point doesn't have much bearing on our planning and what we can do," he added.
BIDEN: "We are already beginning the transition. We're well underway…Nothing's gonna stop that."

"I'm confident that the fact they're not willing to acknowledge we won at this point is not of much consequence in our planning and what we're able to do." pic.twitter.com/9hveV8iowF

— Breaking911 (@Breaking911) November 10, 2020
However, the more visible the irregularities become, the more opportunities there are to reverse the media's projection of Biden as the winner of the election.
This is even more so considering that Trump warned he would take his claim of electoral fraud to the Supreme Court since there is a conservative majority there.
Current conservative judges, including Trump's pre-election nominee, Amy Coney Barrett, stand out as constitutionalists.
And if the election result is determined to be unconstitutional, especially in the case of Pennsylvania, where the Supreme Court ordered the separation of votes that arrived after the deadline, President Trump could be declared the winner.
For now, the count is still going on, and it has not yet been determined which candidate won, although the mainstream media claims otherwise.